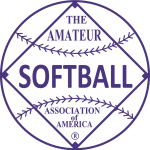 1971 held at George W. Dill Softball Center in Omaha, Nebraska on May 14-16.
---
Champion – John F. Kennedy College Patriettes (92-27)
Runner Up – Iowa State Cyclones
---
The 1971 ASA/DGWS Women's College World Series (WCWS), the third in its history, was held in Omaha, Nebraska. On May 14–16, softball teams from 28 colleges met in that year's national fastpitch softball tournament, still the largest number of teams to play in a single-site WCWS. The tournament consisted of 55 games.
The Patriettes from John F. Kennedy College continue to dominate the Women's College World Series softball, having won another 'championship. The Patriettes fought an uphill the through the loser's racket Sunday, winning five games, including a 4 to 0 triumph over Iowa State in a title game. It was JFK's third straight championship. Gloria Gomez ended Iowa State's title hopes, pitching five innings and allowing only one hit as JFK downed the Cyclones 6-0 forcing a second game to decide the title. Gomez then went the distance in the finale, allowing two striking out seven.
Standout player for JFK, Charlene Thompson finished the season with an average of .335, 18 HR, and 84 RBI.
---
MVP – N/A
Leading Hitter – N/A
HR Champion – N/A
Most Valuable Pitcher – Paula Miller, Arizona State (5-2, 3 shutouts, 2 no-hitters, 1 one-hitter, .320 avg)
Outstanding Manager – Pat Noe, Iowa State
---
ALL TOURNAMENT TEAM
Julie Wykle, Iowa State
Kathy Proescholdt, Iowa State
Val Haraldson, Iowa State
Georgia Gomez, John F. Kennedy
Terri Johnson, John F. Kennedy
Charlene Thompson, John F. Kennedy
Jan Trotter, Southwest Missouri State
Carole Myers, Southwest Missouri State
Judy Hoke, Arizona State
Ginger Kurtz, Arizona State
Donna Stone, Kansas
Jan Smith, Illinois State
---
OTHERS
Paula Miller, Arizona State (5-2, 3 shutouts; 8-25, .320)
---
SCORES
Bracket A
South Dakota State 6 Central Missouri 5
Arizona State 14 Luther 0
Nebraska 12 Midland 2
Iowa State 12 Southwest Baptist 2
Northern Colorado 6 Wisconsin-Eau Claire
Illinois State defeated Simpson
Luther 9 Midland 2 (Midland eliminated)
Wisconsin-Eau Claire 6 Southwest Baptist 4 (Southwest Baptist eliminated)
John F. Kennedy 16 South Dakota State 0
Arizona State 11 Nebraska 0
Iowa State 3 Northern Colorado 2
Illinois State 9 Minnesota-Duluth 4
Luther College 11 Upper Iowa 1 (Upper Iowa eliminated)
Central Missouri 5 Nebraska-Omaha 3 (Nebraska-Omaha eliminated)
Eastern Illinois 3 Wisconsin-Eau Claire 2 (Wisconsin-Eau Claire eliminated)
Wartburg defeated Simpson (Simpson eliminated)
John F. Kennedy 7 Arizona State 6
Iowa State 8 Illinois State 1
Luther 9 Central Missouri 3 (Central Missouri eliminated)
Eastern Illinois 5 Wartburg 2 (Wartburg eliminated)
Illinois State 10 Luther 0 (Luther eliminated)
Arizona State 10 Eastern Illinois 0 (Eastern Illinois eliminated)
Iowa State 7 John F Kennedy 6
Arizona State 4 Illinois State 0 (Illinois State eliminated)
Bracket B
Wartburg 6 Minot State 2
Parsons 11 Wayne State 1
Eastern Illinois 6 Buena Vista 1
Upper Iowa 5 South Dakota 3
Southern Illinois 18 Kearney State 8
Nebraska-Omaha 9 Concordia 1
Wayne State 10 Buena Vista 5 (Buena Vista eliminated)
Kearney State 12 South Dakota 2 (South Dakota eliminated)
Southwest Missouri 6 Wartburg 0
Parsons 7 Eastern Illinois 6
Southern Illinois 8 Upper Iowa 5
Kansas State 12 Nebraska-Omaha 0
Northern Colorado 38 Wayne State 6 (Wayne State eliminated)
Minot State 8 Minnesota-Duluth 2 (Minnesota-Duluth eliminated)
Nebraska 11 Kearney State 10 (Kearney State eliminated)
Concordia 9 South Dakota State 3 (South Dakota State eliminated)
Southwest Missouri 14 Parsons 11
Kansas State 18 Southern Illinois 8
Northern Colorado 12 Minot State 0 (Minot State eliminated)
Nebraska 9 Concordia 1 (Concordia eliminated)
Southern Illinois 5 Northern Colorado 4 (Northern Colorado eliminated)
Nebraska 6 Parsons 3 (Parsons eliminated)
Southwest Missouri 3 Kansas State 0
Nebraska 12 Southern Illinois 11 (Southern Illinois eliminated)
Championship Bracket
Iowa State 12 Southwest Missouri 9
John F. Kennedy 16 Nebraska 2 (Nebraska eliminated)
Arizona State 1 Kansas State 0 (Kansas State eliminated)
John F. Kennedy 5 Arizona State 3 (Arizona State eliminated)
John F. Kennedy 3 Southwest Missouri 0 (Southwest Missouri eliminated)
John F. Kennedy 6 Iowa State 0
John F. Kennedy 4 Iowa State 0 (Iowa State eliminated)
---
FINAL STANDINGS
1. John F. Kennedy College Patriettes (7-1)
2. Iowa State Cyclones (5-2)
3. Southwest Missouri State Bears (3-2)
4. Arizona State Sun Devils (5-2)
5t. Nebraska Cornhuskers (5-2)
5t. Kansas State Wildcats (2-2)
7t. Southern Illinois Salukis (3-2)
7t. Illinois State Redbirds (3-2)
9t. Eastern Illinois Panthers (3-2)
9t. Northern Colorado Bears (3-2)
9t. Luther College Norse (3-2)
9t. Parsons College Wildcats (2-2)
13t. Wartburg College Knights (2-2)
13t. Central Missouri Jennies (1-2)
13t. Minot State Beavers (1-2)
13t. Concordia Bulldogs (1-2)
17t. Wisconsin–Eau Claire Blugolds (1-2)
17t. Nebraska-Kearney Lopes (1-2)
17t. Upper Iowa Peacocks (1-2)
17t. Nebraska–Omaha Maverettes (1-2)
17t. South Dakota State Jackrabbits (1-2)
17t. Wayne State Wildcats (1-2)
17t. Minnesota–Duluth Bulldogs (0-2)
17t. Simpson College Storm (0-2)
25t. South Dakota Coyotes (0-2)
25t. Midland Lutheran Warriors (0-2)
25t. Southwest Baptist Bearcats (0-2)
25t. Buena Vista Beavers (0-2)