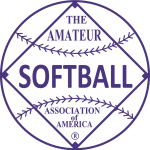 1970 held at George W. Dill Softball Center in Omaha, Nebraska on May 15-17.
---
Champion – John F. Kennedy College Patriettes (74-14)
Runner Up – Southwest Missouri State Bears
---
The second Women's College World Series of softball was conducted in 1970. It was organized by the Omaha Softball Association and recognized by the Division for Girls' and Women's Sports (DGWS) as a championship tournament.
Southwest Missouri State College posted four victories in the womenis Collegiate Softball World Series Sunday here but couldn't post No. 5, falling 7-6 in the title game to defending champion John F. Kennedy College of Wahoo, Neb.
SMS started its drive from the losers' bracket with a 11-4 victory over Luther (Iowa), followed by verdicts over Illinois State University 3-2, University of Nebraska-Omaha 14 1 and John F. Kennedy 2-0.
Debbie Bellman, who blanked JFK on a four-hitter, took the setback in the championship game, yielding 10 hits.
JFK scored four in the third and three in the fourth. SMS closed the gap in the sixth when pinch-hitter Jackie Tekotte drove in a run with a double and later scored, but that was the last rally. Linda Dollar and Launa Goddard each smacked triples for SMS.
Donna Van Camp hurled the Missouri champions past Luther with a four-hitter. Left fielder Mary Shaffer crashed a homer and triple to pave the way.
Van Camp again twirled a four-hitter while stopping Illinois State. Goddard and Karen Bethurem slugged triples for SMS.
Jan Trotter was the victorious pitcher at SMS waltzed over University of Nebraska-Omaha. Dollar hit a homer and Goddard ripped a double and triple.
The Most Courageous Award was awarded to Marlene Donahue of Nebraska-Omaha who played with a fractured ankle.
---
MVP – Kay Camp, John F. Kennedy (4-0 pitching; 7-18, .471)
Batting Leader – Cindy Thompson, John F. Kennedy College (10-20, .500)
HR Leader – Mary Shaffer, Southwest Missouri State – 4
Outstanding Coach – Reba Sims, Southwest Missouri State
---
1970 ALL TOURNAMENT TEAM
Cindy Thompson, John F. Kennedy College
Teri Johnston, John F. Kennedy College (.400, 8-20)
Kay Camp, John F. Kennedy College
Mary Shaffer, Southwest Missouri State
Sue Schuble, Southwest Missouri State
Kay Camp, Southwest Missouri State
Deanna Grindle, Nebraska-Omaha
Barb Filipowicz, Nebraska-Omaha
Jan Smith, Illinois State
Tudy Schmied, Illinois State
Cheri Kolander, Luther
Marcia LaRock, Minnesota-Duluth
Sally Studnicka, Kearney State
---
FINAL STANDINGS
1. John F. Kennedy College Patriettes (5-1)
2. Southwest Missouri State Bears (6-2)
3. Nebraska-Omaha Mavericks (4-2)
4. Illinois State Redbirds (3-2)
5t. Western Illinois Leathernecks (3-2)
5t. Luther College (4-2)
7t. Kearney State Lopers (2-2)
7t. Minnesota-Duluth Bulldogs (2-2)
9t. Midland Lutheran College Warriors (1-2)
9t. Northern Colorado Bears (1-2)
9t. Southern Illinois Salukis (1-2)
9t. Midwestern College Mustangs (1-2)
13t. Minot State Beavers (0-2)
13t. Wayne State Wildcats (0-2)
13t. Concordia College Bulldogs (0-2)
13t. Nebraska Cornhuskers (0-2)
13t. Upper Iowa Peacocks (0-2)
---
SCORES
Nebraska-Omaha 3 Luther 0
John F. Kennedy 2 Upper Iowa 0
Western Illinois 2 Wayne State 1
Southwest Missouri State 4 Nebraska 1
Southern Illinois 7 Minnesota-Duluth 6
Nebraska-Omaha 9 Minot State 2
Northern Colorado 7 Kearney State 1
Illinois State 24 Concordia 5
Midwestern 10 Midland 7
Midland 9 Concordia 8 (Concordia eliminated)
Kearney State 10 Minot State 3 (Minot State eliminated)
Minnesota-Duluth 8 Nebraska 1 (Nebraska eliminated)
Luther defeated Wayne State (Wayne State eliminated)
Luther 16 Upper Iowa 1 (Upper Iowa eliminated)
John F. Kennedy 10 Western Illinois 0
Southwest Missouri State 8 Southern Illinois 3
Nebraska-Omaha 10 Northern Colorado 2
Illinois State 10 Midwestern 4
Western Illinois 10 Midland 0 (Midland eliminated)
Kearney State 7 Southern Illinois 6 (Southern Illinois eliminated)
Minnesota-Duluth 1 Northern Colorado 0 (Northern Colorado eliminated)
Luther 17 Midwestern 7 (Midwestern eliminated)
John F. Kennedy 4 Southwest Missouri State 1
Nebraska-Omaha 7 Illinois State 5
Western Illinois 6 Kearney State 2 (Kearney State eliminated)
Luther 10 Minnesota-Duluth 7 (Minnesota-Duluth eliminated)
Illinois State 8 Western Illinois 0 (Western Illinois eliminated)
Southwest Missouri State 11 Luther 1 (Luther eliminated)
John F. Kennedy 8 Nebraska-Omaha 1
Southwest Missouri State 3 Illinois State 2 (Illinois State eliminated)
Southwest Missouri State 13 Nebraska-Omaha 1 (Nebraska-Omaha eliminated)
Southwest Missouri State 2 John F. Kennedy 0
John F. Kennedy 7 Southwest Missouri State 6 (Southwest Missouri State eliminated)