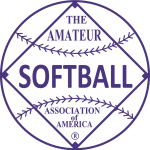 1981 held at Houston, Texas.
---
Champion – Orlando Rebels, Orlando, Florida (76-8)
Runner Up – Raybestos Brackettes, Stratford, Connecticut (66-5)
---
In the 1980s, there were more at-large Berths, plus national regional and qualifiers were starting to be held. This caused more teams to attend the nationals on a yearly basis. It was harder to determine who actually won their respected region and who was the at-large team and who got their due to a national qualifier, etc. From 1981 on, just the standings were listed.
Dot Richardson, Orlando Rebels (led team to 2-1 win in final "if" game). In the bottom of the 7th inning, She broke up Kathy Arendsen's perfect game with a clutch line drive single. A bunt, an intentional walk and a single by Jo Ann Ackerman to load the bases. The next batter hit a ground ball and the play at the plate was close, but the ball eluded Brakettes Catcher Doreen Denman as Richardson slid head first into home with the tying run. Shirley Burton then hit a high chopper that Brakettes second Baseman Allyson Rioux grabbed, but threw wide to the plate. Patty Pyle slid into home giving Rebels Manager Marge Ricker her first National title in 28 years of coaching.
Brakettes won 8 games only to lose the final "if" game to Orlando Rebels. Kathy Arendsen was 2-1 (25 IP) and only gave up 2 runs, the ones that Orlando scored in the bottom of the 7th to win the championship. She pitched the 1-0 no hitter in the first final, winning in the 10th inning on Diane Schumacher's HR. Arendsen (2-1, 2 no hitters) pitched 17 innings and struck out 23 in the 2 games; Vickie Swanson (2-1) and Barbara Reinalda (4-0) were a combined 6-1 for the Brakettes. Arendsen, by the way has been 90-6 over the last 3 years and incredibly has struck out 1368 batters in 738 innings.
---
MVP – Dot Richardson, Orlando Rebels
Bertha Tickey Pitching Award – Lou Piel, Orlando Rebels (5-1, lost first game, pitched 4 straight shutouts and pitched 2-1 final "if" game)
Erv Lind Defensive Award – Dot Richardson, Orlando Rebels
Batting Leader – Pat Cutright, Macomb Magic (9-23) – .391
Home Run Leader – Sue Kragseth, Bloomington MN – 2
---
1981 FIRST TEAM ALL AMERICANS
P – Barbara Reinalda, Raybestos Brakettes
P – Kathy Arendsen, Raybestos Brakettes
P – Lou Piel, Orlando Rebels
C – Marilyn Rau, Sun City Saints
C – Starleen Orullian, Utah Bees
1B – Lisa Clinchy, Sun City Saints
2B – Patty Pyle, Orlando Rebels
3B – Sue Kragseth, Shimers
SS – Dot Richardson, Orlando Rebels
OF – Denette Stottlemyre, Hamilton Bears
OF – Sue Enquist, Raybestos Brakettes
OF – Patty Cutright, Macomb Magic
OF – Barbara Garcia, Sun City Saints
UTIL – Mary Owen, Shimers
1981 SECOND TEAM ALL AMERICANS
P – Debbie Doom, Sun City Saints
P – Vickie Swanson, Raybestos Brakettes
P – Lori Stoll, Hamilton Bears
C – Doreen Denmon, Raybestos Brakettes
C – Val Strachan, Shimers
1B – Gail Scott, Macomb Magic
2B – Allyson Rioux, Raybestos Brakettes
3B – Marty Grzanich, Macomb Magic
SS – Wendy Hedberg, Macomb Magic
OF – Sue Lewis, Long Beach Renegades
OF – Melonie Kent, Utah Bees
OF – Snookie Mulder, Orlando Rebels
OF – Pat Stoffel, Macomb Magic
UTIL – Missy Mapes, Raybestos Brakettes
---
FINAL STANDINGS
1. Orlando Rebels, Orlando, FL (6-1)
2. Raybestos Brackettes, Stratford, CT (8-2)
3. Sun City Saints, Sun City, AZ (3-2)
4. Macomb Magic, Macomb, MI (5-2)
5t. Renegades, Long Beach, CA (2-2)
5t. Bankettes, West Allis, WI (3-2)
7t. Coors, Springfield, MO (3-2)
7t. Shimers, Bloomington, MN (3-2)
9t. Salt Lakers, Salt Lake City, UT (3-2)
9t. Natural Light Comets, Houston, TX (2-2)
9t. Don Coburn, Ashland, OH (1-2)
9t. Lassies, Lansing, MI (1-2)
13t. Langhurst-Collins, Cedar Rapids, IA (1-2)
13t. Sunbirds, Buffalo, NY (1-2)
13t. Stealers, Yakima, WA (1-2)
13t. Patriettes, Allentown, PA (1-2)
17t. Bay Area Bandits, Sepulveda, CA (1-2)
17t. River City Gamblers, Memphis, TN (1-2)
17t. Spirits, Chattanooga, TN (1-2)
17t. Blazers, Sepulveda, CA (0-2)
17t. United Eagles, Conroe, TX (0-2)
17t. Stockman's-Starman, Sioux City, SD (0-2)
17t. Topton VIPs, Topton, PA (0-2)
17t. Westfield Whips, Westfield, MA (0-2)