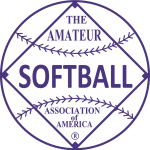 1984 held at Buffalo, New York.
---
Champion – Los Angeles Diamond Blazers, Los Angeles, California (34-9)
Runner Up – Raybestos Brakettes, Stratford, Connecticut (64-8)
---
The Diamonds went undefeated (6-0) during the tournament. They beat Brakettes 1-0 in winner's bracket finals on a Van Wyck shutout. Sue Lewis scored the only run of the game in the top of the first of losing pitcher Kathy Arendsen (2-2). The Brakettes then eliminated the Majestics 2-0 in the losers bracket final. Barb Reinalda (3-0) hurled the shutout. Tracey Compton then took the hill for the Diamonds in the Final and pitched a 1-0 shutout, defeating the Brakettes and Kathy Arendson (both of her losses in this tournament were by 1-0 scores and she gave up only 3 hits in both games). It was the first time the Brakettes had been shutout twice in the same tournament since going back to 1970, when Orange Lionettes turned the trick. Once again, Sue Lewis was the hero as she legged out an infield single allowing Debbie Langevain to score in the fifth inning with the game's only run. The Brakettes finished 5-2. Diane Schumacher delivered the game winning RBI in 3 of the first 4 Brakettes wins.
Tracey Compton, Los Angeles Diamond Blazers (also went 3-0), also won the 1-0 Final Championship Game.
Leslie Partch, Hayward Computerland Hustle (Struck out 32 batters in a 17 inning game).
---
MVP – Sue Lewis, Los Angeles Diamonds
HR Leader – Sue Lewis, Los Angeles Diamond Blazers – 3
Batting Leader – Sue Lewis, Los Angeles Diamond Blazers – .421
Bertha Tickey Pitching Award – Kathy Van Wyk, Los Angeles Diamond Blazers
Erv Lind Defensive Award – Dot Richardson, Raybestos Brakettes
---
FIRST TEAM ALL-AMERICANS
P – Kathy VanWyk, California Blazers (3-0 pitching record)
P – Barbara Reinalda, Raybestos Brakettes
P – Tracy Compton, California Blazers
C – Marilyn Rau, Sun City Saints
C – Suzy Brazney, California Blazers
1B – Sue Lewis, California Blazers (8-19, .421, 3 HR; including driving in the winning run in the 1-0 championship, as well as scoring the only run in the 1-0 winner's bracket final.) In all, she scored 3 game winning hits and drove in 4 game winning runs.
2B – Pam Reinoehl, Computerland Hustle
3B – Terry Oberg, Bettencourt Blast
SS – Dot Richardson, Raybestos Brakettes
OF – Tracy Beadlescomb, LaPalma Restaurant
OF – Linda Thaler, LaPalma Restaurant
OF – Mary Wisniewski, Shamrocks
OF – Kris Bergstorm, Bettencourt Blast
DH – Diane Schumacher, Raybestos Brakettes
UTIL – Pat Dufficy, Raybestos Brakettes
SECOND TEAM ALL-AMERICANS
P – Tippy Borrego, Orange County Majestics
P – Kathy Neal, Budweiser Belles
P – Lori Stoll, Long Beach Renegades
C – Donna McElrea, Long Beach Renegades
C – Andria Sievers, Computerland Hustle
1B – Annette Blandford, Computerland Hustle
2B – Kodee Murray, Orange County Majestics
3B – Pam Lee, LaPalma Restaurant
SS – Debbie Langevain, California Blazers
OF – Mary Ricks, Long Beach Renegades
OF – Tammy McKinney, Sun City Saints
OF – Ann Mattson, Michigan All-Stars
OF – Sherry Popowski, Budweiser Belles
DH – Vickie Schneider, Outbound Travel
UTIL – Jody Oliverius, Outbound Travel
THIRD TEAM ALL-AMERICANS
P – Michelle Thomas, Sun City Saints
P – Rhonda Clarke, Orlando Rebels
P – Kathy Arendsen, Raybestos Brakettes
C – Doreen Denmon, Raybestos Brakettes
C – Maridee Richards, Orange County Majestics
1B – Ella Vilche, Bettencourt Blast
2B – Karen Fellenz, Sun City Saints
3B – Rosie Bardwell, Computerland Hustle
SS – Brenda Thaler, LaPalma Restaurant
OF – Pam Edde, California Blazers
OF – Gina Vecchione, Raybestos Brakettes
OF – Stacy Winsberg, California Blazers
OF – Leslie King, Long Beach Renegades
DH – Emmy Laolagi, Long Beach Renegades
UTIL – Jenny Moore, Orange County Majestics
---
FINAL STANDINGS
1. Los Angeles Diamonds, Los Angeles, CA (6-0)
2. Raybestos Brakettes, Stratford, CT (5-2)
3. Orange County Majestics, Orange, CA (4-2)
4. Sun City Saints, Sun City, AZ (4-2)
5t. Long Beach Renegades, Long BEach, CA (4-2)
5t. Computerland Hustle, Hayward, CA (4-2)
7t. Bettencourt Blast, Hayward, CA (3-2)
7t. Shamrocks, Buffalo, NY (3-2)
9t. Budweiser Belles, Parsippany, NJ (2-2)
9t. LaPalma Restaurant, Flint, MI (2-2)
9t. Outbound Travel, Minneapolis, MN (2-2)
9t. Michigan All-Stars, Flint, MI (2-2)
13t. Lower Bucks Bandits, Levittown, PA (1-2)
13t. Macomb Magic, Macomb, IL (1-2)
13t. Aetna Coeds, Bridgeport, CT (1-2)
13t. Topton VIPs, Topton, PA (1-2)
17t. Orlando Rebels, Orlando, FL (0-2)
17t. Don Coburn Inc., Ashland, OH (0-2)
17t. Speedline, Chattanooga, TN (0-2)
17t. Belco Flyers, Orem, UT (0-2)
17t. Natural Light Comets, Houston, TX (0-2)
17t. Dolls, Downers Grove, IL (0-2)
17t. Iowa Aces, Huxley, IA (0-2)
17t. Tucson Playmakers, Tucson, AZ (0-2)