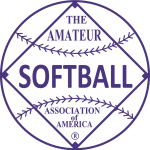 1985 held at Burlington, North Carolina.
---
Champion – Steele's Sports, Grafton, Ohio
Runner Up – Elite Coatings, Gordon, Georgia
---
MVP Craig Elliott had 2 HRs and 4 RBIs in the 29-13 Championship Game win over Elite Coatings. Steele's previously defeated Elite in the Winner's Bracket final by a 27-11 score.
---
MVP – Craig Elliot, Steele's (27-38, .711, 17 HRs, 32 RBIs)
HR Champion – Craig Elliot, Steele's Sports – 17
Batting Champion – Bruce Meade, Elite Coatings (22-27) – .815
---
ASA MEN'S SUPER ALL-AMERICAN FIRST TEAM
P – Greg Fuhrman, Steele's Sports
C – Craig Elliott, Steele's Sports (27-38, .711, 17 HRs, 32 RBIs)
1B – Rick Scherr, Howard's/Western Steer
2B – Kurt Steger, Lilly Air Systems
3B – Charles Wright, Elite Coatings
SS – Greg Whitlock, Steele's Sports
OF – Ken Loeri, Steele's Sports
OF – Bill Schllian, Lilly Air Systems
OF – Bruce Meade, Elite Coatings (22-27, .815)
OF – Ken Parker, Lilly Air Systems
UT – Dennis Graser, Steele's Sports
UT – Tim Rhinehart, Howard's/Western Steer
UT – Bill Pollock, Elite Coatings
UT – Bill Gatti, Elite Coatings
ASA MEN'S SUPER ALL-AMERICAN SECOND TEAM
P – Rick Weiterman, Elite Coatings
C – Dave Steffen, Lilly Air Systems
1B – Cecil Whitehead, Elite Coatings
2B – Mike Macenko, Steele's Sports
3B – Bill Blake, Howard's/Western Steer
SS – Steve Williams, Elite Coatings
OF – Rick Gentry, Greensboro Merchants
OF – Dan Griffin, Steele's Sports
OF – Curtis Williams, Howard's/Western Steer
OF – Clyde Guy, Howard's/Western Steer
UT – Freddie Trice, Elite Coatings
UT – Henry McBeth, Steele's Sports
UT – Darrell Misenheimer, Howard's/Western Steer
UT – Ernie Montgomery, Steele's Sports
---
FINAL STANDINGS
Steele's Sports, Grafton, OH (4-0)
Elite Coatings, Gordon, GA (2-2)
Lilly Air Systems, Chicago, IL (2-2)
Howard's/Western Steer, Denver, NC (0-2)
Greensboro Merchants, Greensboro, NC (0-2)