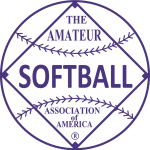 1985 held at Lansing, Michigan.
---
Champion – Hi-Ho Brakettes, Stratford, Connecticut (65-3)
Runner Up – Southern California Renegades, Long Beach, California (40-9)
---
In a tournament where 29 of the 46 games played were shutouts. The Brakettes pitching staff was brilliant in the tournament. Barb Reinalda (2-0, 2 shutouts), Kathy Arendsen (2-0, 2 shutouts) and Lisa Ishikawa (2-0, gave up the only run) allowed only 1 run throughout the tournament. Ishikawa pitched the 4-0 Championship game and needed a little relief help from Kathy Arendsen to beat the Renegades and clinch the title. Pat Dufficy's hit and a subsequent error accounted for 2 runs in the 5th inning to get the ball rolling for the Brakettets. Susan LeFebvre of the Renegades took the loss. She earlier hurled a 1-0 two hitter against defending champs, Los Angeles Diamond Blazers in the loser's bracket final and then came back to pitch the final as well, losing 4-0 to the Brakettes. Lefebvre was 4-2 in the tournament and Lori Stoll was 1-0 for the Renegades pitching staff.
Debbie Doom, Orlando Rebels (2-2).
Beckie Duffin, Sitton Transportation (3-2).
---
MVP – Allison Rioux, Hi-Ho Brakettes (led the Brakettes to a 4-0 championship game win)
Bertha Tickey Pitching Award – Susan LeFebvre, Southern California Renegades (4-2)
Erv Lind Defensive Award – Allyson Rioux, Hi-Ho Brakettes
Batting Leader – Barb Drake, Sitton Transportation (8-16) – .500
HR Leader – Kandi Burke, Orange County Majestics – 3
---
1985 FIRST TEAM ALL AMERICANS
P – Susan LeFebvre, Long Beach Renegades
P – Kathy VanWyk, Los Angeles Diamonds
P – Tracy Compton, Los Angeles Diamonds
C – LeaAnn Jarvis, Hi-Ho Brakettes
C – Doreen Denmon, Hi-Ho Brakettes
1B – Yo Arvizu, Long Beach Renegades
2B – Allyson Rioux, Hi-Ho Brakettes
3B – Sheila Cornell Douty, Los Angeles Diamonds
SS – Donna Whitley, Long Beach Renegades
OF – Kim Nutter, Orange County Majestics
OF – Kris Peterson, Hi-Ho Brakettes
OF – Mary Ricks, Long Beach Renegades
OF – Elise King, Long Beach Renegades
DH – Kandi Burke, Orange County Majestics
UTIL – Donna Michael, Budweiser Belles
1985 SECOND TEAM ALL AMERICANS
P – Kathy Arendsen, Hi-Ho Brakettes
P – Barbara Reinalda, Hi-Ho Brakettes
P – Becky Duffin, Sitton Transportation
C – Donna McElrea, Long Beach Renegades
C – Stacy Lim, Atena Coeds
1B – Sue Lewis, Long Beach Renegades
2B – Pam Reinoehl, Los Angeles Diamonds
3B – Danne Leinger, Twin Cities Sports Print
SS – Dot Richardson, Hi-Ho Brakettes
OF – Gina Vecchione, Hi-Ho Brakettes
OF – Nikki Woo, Tucson Playmakers
OF – Lids Studnicki, Sitton Transportation
OF – Barb Drake, Twin Cities Sports Print
DH – Jackie Gaw, Hi-Ho Brakettes
UTIL – Mary Cassidy, Tucson Playmakers
DH – Diane Schumacher, Hi-Ho Brakettes
---
FINAL STANDINGS
1. Hi-Ho Brakettes, Stratford, CT (6-0)
2. Southern Cal Renegades, Long Beach, CA (5-2)
3. Los Angeles Diamonds, Los Angeles, CA (6-2)
4. Orange County Majestics, Orange, CA (5-2)
5t. Arizona Scorpions, Phoenix, AZ (2-2)
5t. Orlando Rebels, Orlando, FL (3-2)
7t. Tucson Playmakers, Tucson, AZ (3-2)
7t. Twin Cities Sports Print, Minneapolis, MN (3-2)
9t. Sitton Transportation, Jefferson City, MO (3-2)
9t. Uncle Leo's, Salt Lake City, UT (2-2)
9t. Budweiser Belles, Parsippany, NJ (2-2)
9t. Hayward Hustle, Hayward, CA (1-2)
13t. Aetna Coeds, Brodgeport, CT (2-2)
13t. Bandits, Philadelphia, PA (1-2)
13t. Oklahoma Sundowners, Stillwater, OK (1-2)
13t. Wyoming Royals, Wyoming, MI (1-2)
17t. Topton VIPs, Topton, PA (0-2)
17t. Lansing Laurels, Lansing, MI (0-2)
17t. Ashland Girls Softball Club, Ashland, OH (0-2)
17t. Mustangs, West Covina, CA (0-2)
17t. Mid-Michigan Renegades, Lansing, MI (0-2)
17t. Comets, Houston, TX (0-2)
17t. Rockets, Springfield, IL (0-2)
17t. Pacers, Ann Arbor, MI (0-2)