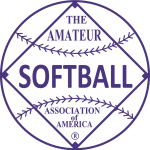 1984 held at Montgomery, Alabama on August 31-September 3.
---
Champion – Sikorsky Aircraft Stratford, Connecticut
Runner Up – General Electric Aces Middleton, Ohio
Sikorsky defeated the GE Aces both in the winners bracket final and then in the Championship game. The final score in the title game was 14-4. Joe Magdon was the winning pitcher in both games, while Al Carfora was the hitting star as he had 4 hits, 2 HR, and 6 RBI in the first game and then 4 more hits, including another homer and 5 RBI. Dennis Apple also hit a HR in the final game.
---
MVP – Tom Follo, Sikorsky Aircraft
Batting Champion – Curtis Still, West Point Pepperell – .647
HR Champion – Albert Carfora, Sikorsky Aircraft – 9
---
ASA INDUSTRIAL MAJOR ALL AMERICANS FIRST TEAM
1B – Tom Follo, Sikorsky Aircraft
2B – Tom Norko, Sikorsky Aircraft
3B – ? Barber, G.E. Wacos
SS – ? Grubb, Coors Bucks
OF – ? Hardesty, G.E. Wacos
OF – Curtis Still, West Point Pepperell
OF – Dennis Appel, Sikorsky Aircraft
OF – ? Renshon, G.E. Wacos
UTIL – Bob Bailey, Control Data/Westwood Sports
UTIL – ? Cafora, Sikorsky Aircraft
UTIL – Bob Kownacki, Sikorsky Aircraft
UTIL – ? Donley, G.E. Aces
C – ? Gardner, Robins' Raiders
P – ? Royer, Phillips 66
ASA INDUSTRIAL MAJOR ALL AMERICANS SECOND TEAM
1B – ? Gongwer, Coors Bucks
2B – ? Goss, Coors Bucks
3B – ? Fullerton, West Point Pepperell
SS – ? Rice, G.E. Wacos
OF – ? Phillips, G.E. Wacos
OF – ? Anderson, B&B Food Service
OF – Mark Trembley, Sikorsky Aircraft
OF – ? Reitfors, Phillips 66
UTIL – Scott Hazard, Phillips 66
UTIL – Scott Middleton, Phillips 66
UTIL – ? Bohannon, Coors Bucks
C – ? Heath, West Point Pepperell
P – Joe Magdon, Sikorsky Aircraft
FINAL STANDINGS
1. Sikorsky Aircraft, Stratford, CT (7-0)
2. General Electric Aces, Middleton, OH (10-2)
3. G.E. Wacos Louisville, KY (5-2)
4. Phillips 66, Okmulgee, OK (8-2)
5t. West Point Pepperell, Fairfax, AL (4-2)
5t. B&B Food Service, Portage, IN (4-2)
7t. Coors Bucks, Fayetteville, GA (6-2)
7t. Scott Paper Company, Chickasaw, AL (5-2)
9t. Control Data/Westwood Sports, Bloomington., MN (3-2)
9t. Martin Marietta/Sports Belle, Clinton., TN (3-2)
9t. Robins Raiders, Bonaire, GA (3-2)
9t. Columbus Police Academy, Columbus., OH (4-2)
13t. General Dynamics, Lima, OH (3-2)
13t. Grumman Tomcats, Bethpage, NY (4-2)
13t. Hercules Bumpers, Pelham, GA (4-2)
13t. Ciba-Geigy, Greensboro, NC (2-2)
17t. Duke Power Plant Allen, Belmont., NC (2-2)
17t. Dallas Flames Fire Department, Dallas, TX (3-2)
17t. Electric Boat, Warwick, RI (2-2)
17t. General Dynamics, Detroit, MI (3-2)
17t. P.H. Glatfelter Company, Hanover, PA (2-2)
17t. Rio Grande Foods, McAllen, TX (3-2)
17t. Stockham Valves, Birmingham., AL (2-2)
17t. Alcoa Alcoa, TN (2-2)
25t. Bayou Steel, La Place, LA (2-2)
25t. Crompton's, Leesburg, AL (2-2)
25t. Economics Laboratory, Wilmington, DE (2-2)
25t. Indiana National Bank, Indianapolis, IN (2-2)
25t. Texas Instruments, Attleboro, MA (2-2)
25t. TRW, Cleveland, OH (2-2)
25t. Village Portage, IN (2-2)
25t. Atlanta Gas & Light, Stockbridge., GA (1-2)
33t. AT&T, Kansas City, MO (2-2)
33t. Beech Aircraft, Wichita, KS (1-2)
33t. Dupont Station Gold, Wilmington., DE (1-2)
33t. Farley, Dothan., AL (1-2)
33t. General Electric (Orange Crush), Rutland., VT (1-2)
33t. Hitchcock Industries, Bloomington, MN (1-2)
33t. Midland Ross, Urbana, OH (1-2)
33t. National Seal, Lima, OH (1-2)
33t. Port Lake Charles, Lake Charles, LA (1-2)
33t. Raffield's Fisheries, Port St. Joe, FL (1-2)
33t. Stephens And Associates, Mossville, IL (1-2)
33t. Tracy's Saloon Minneapolis, MN (1-2)
33t. USAA Eagles, San Antonio., TX (1-2)
33t. U.S. Steel, Lorain, OH (1-2)
33t. Wilsonart International Demolition, Temple., TX (1-2)
33t. American Hoist, St. Paul, MN (0-2)
49t. Armco Steel, Ashland, KY (0-2)
49t. Ashland Oil, Ashland., OH (0-2)
49t. Bendix Autolite, Fostoria, OH (0-2)
49t. Boise Cascade, Boise, ID (0-2)
49t. Central Ohio Coal Company, McConnelsville, OH (0-2)
49t. Hertz Data Black, Oklahoma City., OK (0-2)
49t. Hitchcock Industries, Denison, TX (0-2)
49t. Monsanto, Miamisburg, OH (0-2)
49t. NSP-52 Club, Brooklyn Center, MN (1-2)
49t. Oklahoma Natural Gas, Tulsa, OK (0-2)
49t. Ralston Purina, Davenport, IA (1-2)
49t. Register Redlegs, New Haven, CT (0-2)
49t. Sale Knitting, Martinville, VA (0-2)
49t. Fame Plastic, N/A, NC (0-2)
49t. Union Trust, New Haven, CT (0-2)
49t. C.C. Bell, Corpus Christi, TX (0-2)
65t. G.E.E.A., Rollinsford, NH (0-2)
65t. Publix, Lakeland., FL (0-2)