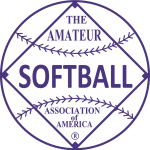 1977 held at Birmingham, Alabama on August 1-6.
---
Champion – Armco Triangles, Middletown, Ohio
Runner Up – Aetna Life & Casualty, Charlotte, North Carolina
---
Armco entered the last day of play with a 3-1 record, then reeled off four straight wins to win the title. They beat Aetna 8-7 to set up the championship showdown in the final game. Armco was trailing 4-3, when MVP James Gomia hit a grand slam in the bottom of the 6th inning giving Armco a 7-4 lead. Aetna scored 2 in the top of the top of the 7th to make it 7-6, but it was not enough.
---
MVP – James Gomia, Armco Triangles (20-28, .714, 1 HR, 9 RBI, 10 Runs)
HR Leaders – Chris Cammack, Aetna (19-36, .528, 13 RBI, 16 Runs) – 5
HR Leaders – Tom Monroe, Armco (11-23, .478, 17 RBI) – 5
HR Leaders – Nick Catania, Grumman (14-27, .519, 14 RBI, 10 Runs) – 5
Batting Leader – James Gomia, Armco – .714
---
ASA INDUSTRIAL MAJOR ALL AMERICANS FIRST TEAM
P – Alex Cheek, Aetna Life & Casualty
P – Joseph Rivera, Grumman Aerospace (17-27, .630, 1 HR, 8 RBI, 10 Runs)
C – Tom Moore, Armco Triangles
C – Vic Worry, Aetna Life & Casualty
1B – Richard Reckart, Armco Triangles (16-25, .640, 1 HR, 12 RBI, 13 Runs)
2B – Michael Gomia, Armco Triangles
3B – Ronald Barber, GE Wacos
SS – Dom Pagnozzi, Grumman Aerospace
OF – James Gomia, Armco Triangles
OF – Bobby Height, Aetna Life & Casualty
OF – Nick Catania, Grumman Aerospace
OF – Joe Brown, Aetna Life & Casualty (24-36, .667, 4 HR, 10 RBI, 19 Runs)
UT – Kenny Haddock, Raffield Fisheries
UT – Jack Dickason, Area Business Local #14
ASA INDUSTRIAL MAJOR ALL AMERICANS SECOND TEAM
P – Clayton Wooten, Raffield Fisheries
P – Kenneth Cummings, Columbus Cummins
C – Glen Dorch, Grumman Aerospace
C – Jerome Coe, Bruce Johnson-Anoka-Henn
1B – Marty Broom, Combustion Engineering
2B – Ray Stauffer, Mack Trucks
3B – Chris Cammack, Aetna Life & Casualty
SS – Edward Bungo, Custom Sound-Packard
OF – Donald Brown, Mack Trucks (12-18, .667)
OF – Bill Yetman, Sikorsky Aircraft
OF – Gerry Pluth, Seattle Police
OF – John Schuchert, Area Business Local #14
UT – John Stack, Birmingham ACIPCO
UT – Wayne Latham, Richmond Philip Morris (7-14, .500, 3 HR, 10 RBI)
---
OTHERS
Jim Mortl, Folk Aces (7-14, .500)
---
FINAL STANDINGS
1. Armco Triangles, Middletown, OH (5-1)
2. Aetna Life & Casualty, Charlotte, NC (8-2)
3. Cummins, Columbus, IN (3-2)
4. Grumman Corporation, Bethpage, NY (6-2)
5t. F.M.C., Fridley, MN (3-2)
5t. Bruce Johnson Construction, Anoka, MN (2-2)
7t. Mack Trucks, Allentown, PA (4-2)
7t. Area Businessmen-Local No. 14, Toledo, OH (4-2)
9t. Sikorsky Aircraft, Stratford, CT (5-2)
9t. Custom Sounds-Packard Electric, Warren, OH (2-2)
9t. G.E. Wacos, Louisville, KY (3-2)
9t. Folk Aces, Milwaukee, WI (2-2)
13t. Seattle Police, Seattle, WA (2-2)
13t. Kerr-McGee Reds, Oklahoma City, OK (2-2)
13t. Raffields Fisheries, Port St. Joe, FL (2-2)
13t. DuPont-Bayers, Victoria, TX (2-2)
17t. Ohio Bell, Cleveland, OH (0-2)
17t. Coors Distributors, Houston, TX (1-2)
17t. Sullivan-Chapman Soles, Sterling, MA (1-2)
17t. Munn Realty-Onan, Fridley, MN (0-2)
17t. Nassau County Police, Mineola, NY (0-2)
17t. Philip Morris, Richmond, VA (2-2)
17t. Combustion Engineers, Chattanooga, TN (2-2)
17t. ACIPCO, Birmingham, AL (2-2)
25t. Local No. 1005, Cleveland, OH (1-2)
25t. Washington F.O.P., Washington, DC (0-2)
25t. Pepsi Cola/Gamble Inc., Portland, OR (1-2)
25t. Minneapolis Police, Minneapolis, MN (0-2)
25t. Columbia Gas, Columbus, OH (0-2)
25t. Coastal States Petroleum, Corpus Christi, TX (0-2)
25t. DuPont, La Place, LA (0-2)
25t. Seaboard Coast Line, Jacksonville, FL (0-2)
33t. Giant Wholesale, Johnson City, TN (0-2)
33t. Anheuser-Busch Industrial Products Division St. Louis, MO (0-2)