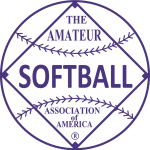 1978 held at Charlotte, North Carolina.
---
Champion – GE Wacos, Louisville, Kentucky
Runner Up – Aetna Life & Casualty, Charlotte, North Carolina
---
The Wacos of Louisville's General Electric led by MVP Donald Hylton defeated Aetna in the finals. This is the second straight year that Aetna has been runner-up. The Wacos, after finishing runner-up twice before, finally won the big one. They finished up 6-1 and defeated Aetna 19-14 in the final Championship game. Chris Cammack set the Home Run Record for the Major Industrial National with 18 HR. Bobby Height hit 15 for Aetna.
---
MVP – Donald Hylton, GE Wacos (15-25, .600, 10 HR, 22 RBI)
HR Leader – Chris Cammack, Aetna Life & Casuality – 18
Batting Leader – Harold Adkins, Solway Hardware (20-25) – .800
---
ASA INDUSTRIAL MAJOR ALL AMERICANS FIRST TEAM
P – Butch Staggs, GE Wacos
P – Bobby Walker Aetna Life & Casualty
C – Donald Hylton, GE Wacos
C – Gerald Honeycutt Aetna Life & Casualty
1B – Dale Wallace, GE Wacos
2B – Jimmy Hardesty, GE Wacos
3B – Donald Wallace, Grumman Tomcats
SS – Chris Cammack, Aetna Life & Casualty
OF – Robert Height, Aetna Life & Casualty (15 HR)
OF – Joe Brown, Aetna Life & Casualty
OF – Rick Gehron, Armco Triangles
OF – Harold Adkins, Solway Hardware
UTIL – Johnnie Devine, GE Wacos
UTIL – Rick Reckart, Armco Triangles
ASA INDUSTRIAL MAJOR ALL AMERICANS SECOND TEAM
P – Joseph Wills, Armco Triangles
P – Joe Rivera, Grumman Tomcats
C – Jerry Gaskin, Raffield's Fisheries
C – Cliff Bell, Fraternal Order of Police #69
1B – Danny Carver, Aetna Life & Casualty
2B – David Fritts, Solway Hardware
3B – Mac Richardson, Aetna Life & Casualty
SS – Rick Montgomery, Armco Triangles
OF – Phillip Burns, GE Wacos
OF – Paul Genardi, GE Wacos
OF – Mike Reckart, Armco Triangles
OF – John Binckley, Phillips Petroleum Company
UTIL – Chuck Connett, Fraternal Order of Police #69
UTIL – Richard Baldwin, Phillips Petroleum Company
---
FINAL STANDINGS
1. GE Wacos, Louisville, KY (6-1)
2. Aetna Life & Casualty, Charlotte, NC (8-2)
3. Armco Triangles, Middletown, OH (5-2)
4. Fraternal Order of Police #69 (4-2)
5t. Grumman Tomcats, Bethpage, NY (5-2)
5t. Solway Hardware, Oak Ridge, TN (4-2)
7t. Raffield's Fisheries, Port St. Joe, FL (4-2)
7t. UAW 1219 Ford, Lima, OH (3-2)
9t. Local 400, Detroit, MI (2-2)
9t. Oskey Sales, Columbus, OH (2-2)
9t. CPSB Brats, San Antonio, TX (2-2)
9t. DMAAC Rebels, St. Louis, MO (3-2)
13t. Phillips Petroleum Co., Bartlesville, OK (4-2)
13t. GMAD, Baltimore, MD (2-2)
13t. Amtrack, Wilmington, DE (2-2)
13t. Cummins, Columbus, IN (2-2)
17t. Magnum Force (TI), Dallas, TX (1-2)
17t. AT Cross, Lincoln, RI (1-2)
17t. Delta Airlines Bucks, Atlanta, GA (1-2)
17t. Sears, Minneapolis, MN (2-2)
17t. Frisco Railway, Springfield, MO (1-2)
17t. Kerr McGee Reds, Oklahoma City, OK (1-2)
17t. Seattle Police, Seattle, WA (1-2)
17t. Donatelle's, Fridley, MN (1-2)
25t. Philip Morris, Inc., Richmond, VA (1-2)
25t. Nassau Count Police Dept., Mineola, NY (1-2)
25t. Local 1098 (USWA), Cleveland, OH (0-2)
25t. FMC, Fridley, MN (0-2)
25t. Hardwick Stove Co., Cleveland, TN (0-2)
25t. Owens Illinois Glass Co., Huntington, WV (0-2)
25t. Sikorsky Aircraft, Stamford, CT (0-2)
25t. PRAC, Jacksonville, FL (0-2)
33t. Falk, Milwaukee, WI (0-2)
33t. Southewestern Bell Roadrunners, Houston, TX
33t. Anne Arundel County Police Dept., Millersville, MD (0-2)