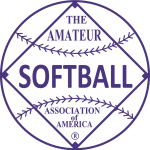 1994 held at Lawton, Oklahoma.
---
Champion – Riverside/Ram/Taylor/TPS, Louisville, Kentucky
Runner Up – Back Porch/Worth, Destin, Florida
---
The ASA Major win two weeks ago in Lawton, Oklahoma, marked the second time Riverside has won the tournament under Mike Glasscock. River­side, which went 6-1 in the double-elimination tournament, went unde­feated when it claimed the 1991 championship in Decatur, Alabama. "That's quite an accomplish­ment," said Kenny Gavin, Louis­ville's ASA director. "There's only one step up from this, and that's su­per. I don't call that a softball game because they score 75 to 80 runs a game."
"What we've done is almost un­heard of," Glasscock said. "We worked hard all year for this. It's very special to us."
After finishing fourth in last year's ASA Major, Riverside was champing at the bit to get back in this year's field.
"We should have won it, and in the back of our minds the boys knew that and just wanted this one really bad," Glasscock said. "De­fense was great and (we got) timely hitting. It was a total team effort. We weren't going to be denied." Riverside has a combined record of 69-27 this season as it heads into the World Series.
At the ASA Major, Riverside was paced by Most Valuable Player and home run champ Dennis Pierce, who had 18 homers and a tourna­ment record 50 RBIs in seven games. The catcher went 25 of 32 with 25 runs scored.
After breezing in its first two games of the ASA Major, Riverside trailed Bee Motors 29.9 heading into the top of the fifth inning of the third game. It scored nine runs to stay alive, then rallied from nine down and scored 20 in the seventh to win 44-33.
"We just kept coming back," Glasscock said:
Moulton Furniture scored 15 runs in the top of the first in the winners' bracket final, but Riverside didn't worry. It rallied to win 40-27.
The only loss came in the final to Back Porch, 32-10. But Riverside re­grouped and ripped Back Porch 30­-18 to win the title.
This week's tournament will be a test for Riverside because USSSA rules differ from the team's normal ASA rules. There is a lower strike zone and the basepaths are longer. "It's going to be different," Glass­cock said. "We're not accustomed to playing that style of ball. But we feel good. We're an experienced team, even though we're young for softball. It'll take an awful lot, but I think (after winning the nationals) I can get them back down."
Joining Pierce on the first-team All-America squad were Ernie Gumm (.769, 11 HR, 27 RBI), Eric Moore (.741, 9 HR, 25 RBI), and pitcher Brian Ellinghausen.
Riverside's other members in­clude David Crawley, Mike Jackson, Eddie McCauley, Cole Elkin, Tom­my Scott, John Mello, Tony Stans­bury, Billy Adams, Dave Elder and Adam Jackson.
---
MVP – Dennis Pierce, Riverside
HR Leader – Dennis Pierce, Riverside – 19
Batting Leader – David Bear, Reece Astros – .896
---
FIRST TEAM ALL-AMERICANS
P – Brian Ellinghausen, Riverside/Ram (16-24, .667, 3 HR, 12 RBI, 19 Runs)
C – Dennis Pierce, Riverside/Ram (26-33, .788, 19 HRs, 49 RBI, 25 Runs)
EH – Russ Earnest, Back Porch (32-41, .780, 18 HR, 56 RBIs, 4 Grand Slams)
1B – Kenny Bean, Thomas Oil
2B – Mike Stanley, Back Porch (34-42, .810, 14 HR)
3B – Butch Hacker, South Dixie
SS – Rob Darhower, Back Porch (.744)
OF – David Bear, Reece Astros (17-19, .896)
OF – Keith Eldridge, Back Porch (32-37, .865, 9 HR)
OF – Eric Moore, Riverside/Ram (20-28, .714, 11 HR, 27 RBI, 20 Runs)
OF – Bob Weidner, Coors/Easton
UTIL – Ronnie Douglas, Back Porch (28-36, .778, 9 HR)
UTIL – Bobby Bryant, RSH/Deep South
UTIL – Ernie Gum, Riverside/Ram (20-25, .800, 11 HR, 29 RBI, 21 Runs)
SECOND TEAM ALL-AMERICANS
P – John Hicks, Back Porch/Worth/Powerade
C – Daryl Meredith, South Dixie/TPS
1B – Parish Burwick, Back Porch/Worth/Powerade
2B – John Cail, Eastern Demolition
3B – Greg Stone, Eastern Demolition
SS – Dennis Mendoza, Roberts Park/St. Louis
OF – Jody Hurst, RSH/Deep South/Worth
OF – Bobby Gilbert, Moulton Furniture/Easton
OF – Mike Jackson, Riverside/Ram/Taylor/TPS
OF – Rick Guy, Moulton Furniture/Easton
UTIL – Brad Overton, Coors/Easton
UTIL – Cody Wyatt, Roberts Park/St. Louis
UTIL – Shane McConnell, Thomas Oil
UTIL – David Crawley, Riverside/Ram/Taylor/TPS
EH – Mike Eppenauer, Lawton/Worth
THIRD TEAM ALL-AMERICANS
P – Ricky Beck, RSH/Deep South/Worth
P – John Bennett, Softball World
C – George Sampton, Moulton Furniture/Easton
1B – Thomas Scott, Riverside/Ram/Taylor/TPS
2B – Brad Beattie, Lawton/Worth
3B – George Solis, Midland Drillers
SS – Joel Obman, Eastern Demolition
OF – Rick Lewis, Lawton/Worth
OF – Troy Pierce, Lawton/Worth
OF – Jody Krupinski, South Dixie/TPS
OF – John Burd, South Dixie/TPS
UTIL – Ricky Beck, RSH/Deep South/Worth
UTIL – Larry Goines, Lawton/Worth
---
OTHERS
Brian Reed, Back Porch (29-37, .784, 10 HR)
John Hicks, Back Porch (28-38, .737)
Mike Jackson, Riverside/Ram (22-30, .733, 4 HR, 20 RBI, 23 Runs)
Barry Gordon, Back Porch (21-29, .724)
David Crawley, Riverside/Ram (20-30, .667, 2 HR, 12 RBI, 24 Runs)
John Mello, Riverside/Ram (16-28, .571, 5 HR, 17 RBI, 20 Runs)
---
FINAL STANDINGS
1. Riverside/Ram/Taylor/TPS, Louisville, KY (7-1)
2. Back Porch/Worth, Destin, FL (8-2)
3. Moulton Furniture/Easton, Moulton, AL (4-2)
4. Thomas Oil/Worth, Benton, AR (4-2)
5t. Coors/Easton, Midland, TX (5-2)
5t. Eastern Demolition/TPS, Upton, MA (4-2)
7t. Midland Drillers, Midland, TX (3-2)
7t. South Dixie/TPS, Louisville, KY (3-2)
9t. Roberts Park/St. Louis Merchants, St. Louis, MO (3-2)
9t. Lawton Cablevision/Worth, Lawton, OK (2-2)
9t. Bee Motors, Dallas, TX (2-2)
9t. Softball World, Norman, OK (2-2)
13t. Reece Astros/TPS, Corbin, KY (2-2)
13t. RSH/Deep South/Worth, Ridgeland, MS (2-2)
13t. Denny Lumber/Merrill Lynch/Steele's, Somerset, KY (2-2)
13t. Battlefield, Springfield, MO (2-2)
17t. Midas Touch Jewelers/Worth, Fairfield, CT (1-2)
17t. Roofmasters, Pensacola, FL (1-2)
17t. Devault/Steele's, Cape Girardeau, MO (1-2)
17t. Nelms Sports, Wichita Falls, TX (1-2)
17t. Brothers & Sisters, Lawton, OK (1-2)
17t. Mid South/Dudley, Tulsa, OK (0-2)
17t. Budweiser/Pepsi, Lawton, OK (0-2)
17t. Wildwood, Madison, MO (0-2)
25t. Stonecold/Star, El Reno, OK (0-2)
25t. Cheyenne Truck, Wichita Falls, TX (0-2)
25t. Little Rock Tavern, Lawton, OK (0-2)
25t. Bailey's, Lawton, OK (0-2)
25t. Jock's Nitch/Worth, Louisburg, KS (0-2)