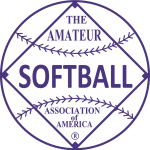 1958 held at Cleveland, Ohio.
---
Champion – Jake Sweeney Turbine Jets, Cincinnati, Ohio
Runner Up – Cincinnati Fire Fighters, Cincinnati, Ohio
---
The Turbine Jets never had to play their half of the 7th inning until their fifth and final game against their hometown rivals, The Cincinnati Firefighters. Pitcher Ray Hein hurled the first victory over the Thunderbirds of Mobile, AL in a 6-4 win. Pete Kennedy's HR was the big blow of the game. Jack Youngbluth pitched a 12-0, 5-hit shutout in their second victory over Tirabassi of Wisconsin. Kennedy hit another HR and Joe Stein also banged one out.
The next game against American Can of Milwaukee, the Jets trailed 8-5 when they exploded for seven runs to take the lead and eventually the win 12-9. Joe Stein was 4-4, including a HR and two doubles. Ray Hein and Joe Flynn also homered for the Jets.  Milt Kress of the Jets hit 2 HR and Walter Kunz hit one as they defeated Pittsburgh Jim's in the 9-7 semi-final.
In the Firemen's victory over American Can of Milwaukee in the loser's bracket final, Dick Luken of the Firefighters blasted 3 straight homers to help eliminate the Milwaukee squad, 8-6. In the 12-5 final victory over city rival, Cincinnati Fire Department, Ray Hein was the winning pitcher and helped himself with a HR. Milt Kress and Bob Kuhlman also hit homers for  the Jets.
A combined Open/Industrial All American team was named, only 3 Industrial players made it – MVP Third Basemen Milt Kress and RF Walt Kunz of the Champion Turbine Jets. Catcher Dick Luken of the Cincinnati Firefighters also made the team.
---
Industrial MVP –  Milt Kress, Turbine Jets
Industrial Home Run Leader – Dick Luken, Cincinnati Firefighters – 6
Industrial Batting  Leader – Ralph Rengering, Cincinnati Firefighters (17-25) – .680
Open MVP – Joe Gauci, East Side Sports (Clutch hits and great defensive plays from short fielder position)
Open HR Leader – Ron Annotico, Sheffield Bronze – 6
Open Batting Leader – Ron Annotico, Sheffield Bronze (13-21) – .619
---
ASA MAJOR INDUSTRIAL ALL AMERICANS FIRST TEAM 
P – Chuck Jacobs – Sheffield Bronze (Open)
C – Dick Lunken – Fire Fighters (Industrial)
1B – Frank Panski – East Side SportsI (Open)
2B – Roy Lombardo – East Side Sports (Open)
3B – Milt Kress – Turbine Jets (Industrial)
SS – Walt Wherry – Boone's Bar (Open)
SC – Joe Gauci – East Side Sports (Open)
LF – Chuck Comella – Sheffield Bronze (Open)
CF – Ron Annotico – Sheffield Bronze (Open)
RF – Walter Kunz – Turbine Jets (Industrial)
---
FINAL STANDINGS
1. Jake Sweeney Turbine Jets, Cincinnati, OH (5-0)
2. Cincinnati Fire Fighters, Cincinnati, OH (6-2)
3. Jim's Sports Shop, Pittsburgh, PA (3-2)
4. American Can, Milwaukee, WI (3-2)
5t. Chewton Eagles-Medusa Cement Co., Wampum, PA (4-2)
5t. East Ohio Gas Company, Cleveland, OH (3-2)
7t. Tirabassi & Sons, Kenosha, WI (3-2)
7t. Combustion Engineers, Chattanooga, TN (2-2)
9t. Lockheed Jet Stars, Marietta, GA (2-2)
9t. General Electric Gremlins, Louisville, KY (2-2)
9t. Local #717, Warren, OH (2-2)
9t. Diamond Power, Lancaster, OH (2-2)
13t. Rogers & Sutton Tool and Die, Rochester, NY (2-2)
13t. Mayrose Meats, St. Louis, MO (1-2)
13t. Lyons Metal, York, PA (1-2)
13t. General Shoe, Frankfort, KY (0-2)
17t. Babcock Dairy, Toledo, OH (0-2)
17t. Brookley AFB Thunderbirds, Mobile, AL (0-2)
17t. Lycoming, Stratford, CT (0-2)
17t. F.O.P., South Bend, IN (0-2)
17t. Dreniks, Cleveland, OH (0-2)
*Sunbeam Bread, Springfield, OH (1-2)
* Declared ineligible and forfeited out of tournament