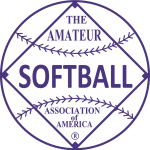 2023 held at Caswell Park in North Mankato, Minnesota on August 3-6.
---
Champion – NY Gremlins, Clifton Park, New York
Runner Up – Hill United Chiefs, Six Nations, Ontario
---
MVP – Eric Ochoa, NY Gremlins
Batting Leader – Braden Ducharme, LC Ostrander Norsemen – .565
Home Run Leader – Braden Ducharme, LC Ostrander Norsemen – 3
---
Coming out on top of the 91st annual USA Softball Men's Major Fast Pitch National Championship was the NY Gremlins after inclement weather in the area forced a cancellation of Sunday's championship action. Clinching a spot in the final contest during Saturday night's semi-final, the Gremlins of Clifton Park, NY remained as the only undefeated team in the tournament – earning them the 2023 National Championship title.
Scheduled to compete in the loser's bracket semi-final on Sunday morning – also cancelled due to weather – Hill United Chiefs finished as the runner-up while AWP Lumberjacks took home third place honors.
Claiming back-to-back victories to open the tournament, AWP Lumberjacks' hot streak ended after meeting Hill United Chiefs on Saturday afternoon – sending them to the loser's bracket where they rebounded with two shutout wins over Omma Tigres and Bear Creek Express, setting them up for a rematch against the Chiefs on Sunday morning. Hill United Chiefs also started the tournament strong with three wins over Ohio Bombers, Wander Spring Chippers and AWP Lumberjacks before dropping to the loser's bracket after falling to the NY Gremlins in a 7-4 battle on Saturday night. With the weather halting play, neither the Chiefs nor the Lumberjacks were able to redeem themselves against their opponents – earning second and third place titles, respectively.
Ending the tournament with a pristine 4-0 record, the NY Gremlins made history while bringing home the hardware – earning its third straight title and becoming the first team in the 21st century to three-peat twice at the Men's Major Fast Pitch National Championship, also clinching three consecutive titles from 2016-2018. Since 2009, the NY Gremlins have improved to a 65-16 record, highlighted by a now eight National Championship titles and a spot in the record books.
The Gremlins outscored its opponents 35-8 during the 2023 event while picking up two shutout wins along the way. Combining for a .393 batting average with a .488 on-base percentage, the squad tallied 42 hits including nine doubles and eight home runs while reaching base a total of 20 times via walk or hit-by-pitch. Ben Enoka led the team at the plate with a .636 batting average, five singles, one double, one home run and 10 runs scored with Erick Ochoa also leading the pack racking up three singles, two doubles and a home run with seven RBI and a .462 batting average.
Holding down the defense for the Gremlins was Jack Besgrove and Andrew Kirkpatrick – splitting time in the circle with two wins apiece and a combined 2.04 ERA. Besgrove shut down his opponents through 15.1 innings, allowing a low of six runs to cross the plate while striking out 29 batters with Kirkpatrick posting 13 K's of his own through 8.2 innings pitched.
---
2023 FIRST TEAM ALL AMERICANS
P – Jack Besgrove, NY Gremlins
P – Bradley Kilpatrick, LC Ostrander Norsemen
P – Marco Diaz, AWP Lumberjacks
C – Cory Timu, LC Ostrander Norsemen
IF – Erick Ochoa, NY Gremlins
IF – Braden Ducharme, LC Ostrander Norsemen
IF – Lenny Villalvazo, JB
IF – Shane Boland, Hill United Chiefs
OF – Tom Czech, LC Ostrander Norsemen
OF – Bradley Ezekiel, Circle Tap Dukes
OF – Ben Enoka, NY Gremlins
UTIL – Fransisco Lombardo, AWP Lumberjacks
UTIL – Codi Pannebecker, AWP Lumberjacks
UTIL – Alan Peker, Hill United Chiefs
2023 SECOND TEAM ALL AMERICANS
P – Andrew Kilpatrick, NY Gremlins
P – Adam Folkard, Hill United Chiefs
P – Roman Godoy, JB
C – Bruno Motroni, Hill United Chiefs
IF – Jerome Raemaki, NY Gremlins
IF – Blake Hunter, NY Gremlins
IF – Brent Meschke, LC Ostrander Norsemen
IF – Sisko Sabate, AWP Lumberjacks
OF – Mathieu Roy, NY Gremlins
OF – Colin Walsh, Bear Creek Express
OF – Quinten Bruce, Bear Creek Express
OF – Bryan Abbrey, NY Gremlins
UTIL – Zenon Winters, NY Gremlins
UTIL – Valdy Terkelson, AWP Lumberjacks
UTIL – Tony Gonzalez, Hill United Chiefs
---
FINAL STANDINGS
1. NY Gremlins, Clifton Park, NY (4-0)
2. Hill United Chiefs, Six Nations, ON (3-1)
3. AWP Lumberjacks, Du Quoin, IL (4-1)
4. Bear Creek Express, Melbourne, ON (3-2)
5t. LC Ostrander Norsemen, Lake Crystal, MN (5-2)
5t. Omma Tigres, Midland, TX (3-2)
7t. J&B Painting, Agoura Hills, CA (4-2)
7t. Circle Tap Dukes, Denmark, WI (2-2)
9t. Kegel Black Knights, Fargo, ND (3-2)
9t. Midland Explorers, Midland, MI (2-3)
9t. Niagara Stompers, Niagara Falls, ON (1-2)
9t. Wander Spring Chippers, Greenleaf, WI (1-2)
13t. AHI Reapers, Kimberly, WI (2-2)
13t. Ohio Bombers, Bainbridge, ON (2-2)
13t. Pueblo Bandits, Pueblo, CO (1-3)
13t. Marchio Sausage Company, St. Paul, MN (1-3)
17t. Czech U18 National Team, Prague, CZ (1-2)
17t. San Antonio Glowworm, San Antonio, TX (0-3)
17t. The Bar Buzz, Appleton, WI (0-3)
17t. Southside Stingers, Brisbane, AU (0-3)
---