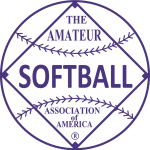 2009 held at ASA Hall of Fame Stadium Complex in Oklahoma City, Oklahoma on August 2-9.
---
Champion – Sorcerer Gold Phil, Concord, California
Runner Up –Gold Coast Hurricanes Gold, Plantation, Florida
---
In 2009, Premier Girls Fastpitch was formed. The premise of the organization was to compete with the Amateur Softball Association as admitted to on their Wikipedia page. Their claim was Gold Nationals should be held in Southern California every year because that was where the best teams were located. Southern California team success was chipped away at by teams in the southeast and Texas during the couple of years prior to the departure as the girls fastpitch game thrived.
---
FINAL STANDINGS
1. Sorcerer Gold Phil, Concord, CA (7-0)
2. Gold Coast Hurricanes Gold, Plantation, FL (10-2)
3. Worth Firecrackers, Huntington Beach, CA (5-2)
4. So Cal Athletics, Upland, CA (6-2)
5t. Team North Florida, Wewahitchka, FL (4-2)
5t. NW Bullets Gold, Tualatin, OR (4-2)
7t. CA Cruisers, Mission Viejo, CA (4-2)
7t. Jersey Intensity, Farmingdale, NJ (4-2)
9t. So Cal Pumas, Ventura, CA (4-2)
9t. Wagners Gold, Arnold, MD (4-2)
9t. AZ Desert Thunder, Tucson, AZ (5-2)
9t. Valley Breeze, Granada Hills, CA (5-2)
13t. Texas Glory Gold Shelton, McKinney, TX (3-2)
13t. Arizona Hotshots, Scottsdale, AZ (4-2)
13t. Nebraska Gold, Omaha, NE (4-2)
13t. Georgia Elite, Douglasville, GA (4-2)
17t. East Cobb Bullets, Kennesaw, GA (2-2)
17t. So Cal Choppers, Valencia, CA (2-2)
17t. Alabama Crusaders, McCalla, AL (2-2)
17t. Texas Impact Gold, Houston, TX (2-2)
17t. Atlanta Vipers Vallery, Atlanta, GA (2-2)
17t. Nashville Cruisers, Nashville, TN (2-2)
17t. The Next Level, Encinitas, CA (3-2)
17t. Georgia Knockouts, Norcross, GA (3-2)
25t. O.C. Batbusters, Anaheim, CA (2-2)
25t. Corona Angels Red, Corona, CA (2-2)
25t. Explosion Gold, Tustin, CA (2-2)
25t. Houston Power, Houston, TX (2-2)
25t. Texas Challengers Gold, Helotes, TX (2-2)
25t. Lady Magic, Elk Grove, CA (2-2)
25t. St. Louis Chaos, St. Louis, MO (2-2)
25t. Texas Magic Gold, Missouri City, TX (2-2)
33t. Sorcerer Gold Pete, Volcano, CA (1-2)
33t. Finesse, Commerce, MI (1-2)
33t. Texas Eclipse Gold, Hockley, TX (1-2)
33t. Texas Glory Gold Beard, Mesquite, TX (1-2)
33t. Indy Dreams, Indianapolis, IN (1-2)
33t. Beverly Bandits, Orland Park, IL (1-2)
33t. Fury Fastpitch, Chattanooga, TN (1-2)
33t. San Diego Renegades, San Diego, CA (1-2)
33t. New Jersey Breakers, Wilmington, NJ (1-2)
33t. Texas Hawks Gold, Conroe, TX (1-2)
33t. Atlanta Vipers Seamon, Marietta, GA (1-2)
33t. Norcal Shockers, Martinez, CA (1-2)
33t. Oregon Reign, Eugene, OR (1-2)
33t. So Cal Breakers, Encinitas, CA (1-2)
33t. Louisiana Blazers, Walker, LA (1-2)
33t. MN Irish Gold, Rosemount, MN (1-2)
49t. Texas Blaze, Round Rock, TX (0-2)
49t. Texas Fusion, Irving, TX (0-2)
49t. Polar Crush, Ashby, MA (0-2)
49t. IL Southern Force, Aurora, IL (0-2)
49t. TC Tremors, Endicott, NY (0-2)
49t. Wichita Mustangs, Wichita, KS (0-2)
49t. Miami Valley Xpress, Xenia, OH (0-2)
49t. Severna Park Hornets-Miller, Owings, MD (0-2)
49t. Tulsa Shootout, Tulsa, OK (0-2)
49t. Texas Express Gold, Katy, TX (0-2)
49t. Washington Sidewinders, Arlington, WA (0-2)
49t. Texas Bombers, New Braunfels, TX (0-2)
49t. Louisiana Patriots, Baton Rouge, LA (0-2)
49t. Olathe Rockets, Olathe, KS (0-2)
49t. Washington Bulldogs, Vancouver, WA (0-2)
49t. Georgia Impact, Canton, GA (0-2)