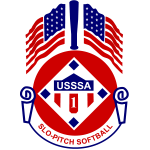 2020 held at Melbourne, Florida at Space Coast Stadium on October 7-10.
---
Champion – Resmondo/Smash It/Sonny's/JJ's/RDD, Winter Haven, Florida (55-20)
Runner Up – Anarchy/MPT Rentals, Manahawkin, New Jersey (40-28)
---
Resmondo knocked off Anarchy/MPT Rentals in the winner's bracket championship game Friday night 32-31 on a walk off homer by Daniel Cayton and beat them again in the Championship 38-8 in 3 innings to win the 50th Annual USSSA Major World Series.  MPT though put on a show 3 nights in a row as they knocked off the #1 team in the nation Dan Smith on Thursday night in the semifinals and again Saturday night and played Resmondo very close on Friday night.
---
MVP – Kevin Bazat, Resmondo/Smash It/Sonny's/JJ's/RDD
Offensive MVP – Kyle Pearson, Resmondo/Smash It/Sonny's/JJ's/RDD
Defensive MVP – Filip Washington, Anarchy/MPT Rentals
Home Run Leader – Phil Matte, Dan Smith/Menosse/Steven Smith/FAI
---
USSSA MAJOR WORLD SERIES ALL TOURNAMENT TEAM
Chris Greinert, Anarchy/MPT Rentals
Kevin Bazat, Resmondo/Smash It/Sonny's/JJ's/RDD
Greg Connell, Resmondo/Smash It/Sonny's/JJ's/RDD
Brock Frentzel, Anarchy/MPT Rentals
Jeremy Yates, Resmondo/Smash It/Sonny's/JJ's/RDD
Travis Clark, Resmondo/Smash It/Sonny's/JJ's/RDD
Colin Baartman, Pure Sports
Austyn Dawe, WestPoint
Andrew Collins, Dan Smith/Menosse/Steven Smith/FAI
Johnathon Williams, Anarchy/MPT Rentals
Buddy Wolf, Bad Draw/TDB/RapidFire/T2/BAF/Pauer
Filip Washington, Anarchy/MPT Rentals
Josh Riley, Resmondo/Smash It/Sonny's/JJ's/RDD
Tyler Wilson, Bad Draw/TDB/RapidFire/T2/BAF/Pauer
Orlando Castillo, Anarchy/MPT Rentals
Kyle Pearson, Resmondo/Smash It/Sonny's/JJ's/RDD
Phil Matte, Dan Smith/Menosse/Steven Smith/FAI
Bubba Mack, Resmondo/Smash It/Sonny's/JJ's/RDD
Everett Williams, Bad Draw/TDB/RapidFire/T2/BAF/Pauer
Zackary Smith, Riot/Klutch/Treedem/Pure
Bradley Jones, Dan Smith/Menosse/Steven Smith/FAI
---
FINAL STANDINGS
1. Resmondo/Smash It/Sonny's/JJ's/RDD, Winter Haven, FL (5-0)
2. Anarchy/MPT Rentals, Manahawkin, NJ (4-2)
3. Dan Smith/Menosse/Steven Smith/FAI, San Jose, CA (4-2)
4. Bad Draw/TDB/Rapidfire/T2/BAF/Pauer, Charlotte, NC (3-2)
5t. Pure Sports, Charleston, SC (4-2)
5t. Westpoint, Noblesville, IN (4-2)
7t. Riot/Klutch/Treedem/Pure, Tampa, FL (3-2)
7t. Premier/T&W/Easton/BAF, Cincinnati, OH (2-2)
9t. Smash It/Precision/3rd St/Bulldawg, Downers Grove, IL (2-2)
9t. Sports Reach/Crunchtime/H&H/Grizzy, Campbellsville, KY (1-2)
9t. Bay Area Legends/Easton, Oakland, CA (1-2)
9t. Xtreme/Miken/Worth/Athlon/ASP, Medina, MN (1-2)
13t. Category5/Nager/Atrium/M&S/Grizzy,  Cincinnati, OH (1-2)
13t. Worksteer/Bell's Lawncare, New Bern, NC (1-2)
13t. Turnkey/CCP/Dan Smith/Worsham's,  Wilmington, NC (1-2)
13t. Classic Glass/Easton, San Jose, CA (1-2)
17t. Cheap Suits/Republic Realty/EA, Stockton, CA (0-2)
17t. Baugh Ford/HDLNS/Hub's Pub, Clanton, AL (0-2)
17t. Primetime Easton/FAI/Riot/Klutch, Macon GA (0-2)
17t. Maroadi/SNI/Easton, Orlando, FL (0-2)