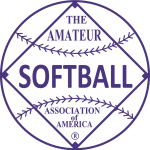 1994 held on August 26-28 in Las Vegas, Nevada.
---
Champion – Capital X-Ray, Fairfax, Virginia
Runner Up – New Mech, Bloomington, Minnesota
---
Capital X-Ray of Fairfax, Virginia defeated New Mech of Bloomington 19-17 on Sunday in the finals of the ASA Over-40 slow pitch softball national tournament in Las Vegas.
"We were given up for dead a couple of times," said Bubba Crismond, an outfielder for Capital X-Ray. "The first time was when we got thrown into the losers' bracket."
Capital X-Ray won two games before losing to New Mech.
"It came down to us having to play six games in one day on Sunday," said Crismond, who hit .778 in 10 games. "We started at 7:30 in the morning winning seven inning games and played until 5:30 in the afternoon. I was exhausted toward the end, but playing on adrenaline. We won all six games we played"
En route to the title, Capital X-Ray beat the tournament's five top rated teams. It defeated defending champion Nothdurft (Warren, Mich.) and New Mech twice.
"And in the final, we were down 10-1 to them in the third inning," Crismond said. "We looked finished. But we had a seven run inning. Later, I hit a three run homer to put us ahead 11-10."
"What a time to hit it. And we just kept rolling from there and won 18-13. And it was a big thrill catching a fly ball for the game's final out. I was playing right center and had to move on the ball. It wasn't that easy of a catch."
"We were the last unbeaten," New Mech manager and designated hitter Ron Ploog said. "We lost twice in the finals to Capital X-Ray from Virginia. The last game was 19-17 and we had two on and two out in the seventh inning and their right-center fielder made a nice catch on a line drive to end the game."
---
MVP – Dale Chenault, Capital X-Ray
HR Leader – Tom Malvich, Capital X-Ray
Batting Leader – Cranston Edwards, Miller Beer
Batting Leader – Dale Yates, Lindsey Funeral Home
---
FIRST TEAM ALL AMERICANS
P – Wesley "Bubba" Crostic, Capital X-Ray
P – George Murray, Bob's Transmission
1B – Conrad Pressley, Bunn Communication
2B – David Swain, Winchell Chiropractic
3B – Gary Morris, New Mech
SS – Mike McDowell, Nothdurft
OF – James Crissmond, Capital X-Ray
OF – Terry Nutter, New Mech
OF – Tom Malvich, Capital X-Ray
OF – Phil Wolak, Nothdurft
UTIL – Keith Bressman, Magoo's
UTIL – Cranston Edwards, Miller Beer
UTIL – Bill Cameron, Capital X-Ray
UTIL – Phil Gladhill, New Mech
UTIL – Ron Ploog, New Mech
SECOND TEAM ALL AMERICANS
P – Rich Thobord, Nothdurft
P – Dale Gulley, Bunn Communication
1B – Tom Rashi, Lindsey Funeral Home
2B – Sherwood Driver, Bunn Communication
3B – Mike Hanlin, Bankers Life
SS – Doug Turman, Miller Beer
OF – Ray Dickson, New Mech
OF – Keith McFarland, Randy's Restaurant
OF – Dale Yates, Lindsey Funeral Home
OF – Dave Marks, Bunn Communication
UTIL – John VonWagoner, Winchell Chiropractic
UTIL – Jim Goodwin, Winchell Chiropractic
UTIL – Rich Smith, Randy's Restaurant
UTIL – Marvin Allison, Winchell Chiropractic
DH – Mike Taylor, Nothdurft
---
FINAL STANDINGS
1. Capital X-Ray, Fairfax, VA (9-1)
2. New Mech, Bloomington, MN (6-2)
3. Nothdurft, Warren, MI (4-2)
4. Winchell Chiropractic, Evansville, IN (7-2)
5t. Electrical Installation, Mount Vernon, WA (4-2)
5t. Miller Beer, Akron, OH (4-2)
7t. Bunn Communication, Raleigh, NC (6-2)
7t. Motown Stars, Lathrup, MI (3-2)
9t. Centex Bombers, Austin, TX (3-2)
9t. Lindsey Funeral Home, Paducah, KY (4-2)
9t. Randy's Restaurant, Troy, IL (5-2)
9t. Solano Roofing, Fairfield, CA (2-2)
13t. Bob's Transmission, Orlando, FL (4-2)
13t. Bankers Life, Eau Claire, WI (3-2)
13t. Magoo's, Salem, OR (4-2)
13t. Spokane Masters, Spokane, WA (4-2)
17t. Stewart's Lounge, Pittsburgh, PA (3-2)
17t. Pepsi Cola, Corbin, KY (2-2)
17t. Texas Merchants, Arlington, TX (3-2)
17t. McArdle Ins./Ingersoll Rand, Olney, MD (2-2)
17t. W.E. Ruth Realty, Kent, WA (2-2)
17t. Kazu Electric/Hansen Sports, Honolulu, HI (3-2)
17t. G-Men, Enid, OK (2-2)
17t. The Fossils, San Diego, CA (2-2)
25t. Four Star Travel, Warren, OH (2-2)
25t. Skipper's Restaurant, Mobile, AL (2-2)
25t. All State/Sox Softball, Evansville, IN (1-2)
25t. Animals, Manteca, CA (1-2)
25t. Bonanza Produce, Reno, NV (1-2)
25t. All Star Trophies, Collingswood, NJ (2-2)
25t. Villa Café, Stamford, CT (2-2)
25t. Dan Smith Plastering, San Jose, CA (1-2)
33t. Sportsman Of Auburn/Volk, Auburn, CA (1-2)
33t. Frank-N-Stein, Pittsburgh, PA (0-2)
33t. Brite-Way, Wausau, WI (1-2)
33t. Jo's Saloon Geezers, Portland, OR (1-2)
33t. Sun Devils, Orange, CA (0-2)
33t. G&A Coasters, Santa Barbara, CA (1-2)
33t. Liberty Motors, Grass Valley, CA (1-2)
33t. FB/QL, Elk City, OK (1-2)
33t. Broosters, Cedar Falls, IA (0-2)
33t. Skinny Dugans, Las Vegas, NV (0-2)
33t. Home Plate Cocoa Beach, Merritt Island, FL (1-2)
33t. Team America, Little Rock, AR (1-2)
33t. Balder/L&P, Fort Smith, AR (1-2)
33t. California Burgers, Citrus Heights, CA (1-2)
33t. Fox's Sports Center, Bartonville, IL (0-2)
33t. Casey Jones/Boston Communication, Terre Haute, IN (0-2)
49t. PC's Of Naperville, Naperville, IL (0-2)
49t. Cross Country Courier, Bismarck, ND (0-2)
49t. Portland Rain, Portland, OR (0-2)
49t. Harmony Farms, Paso Robles, CA (0-2)
49t. High Street Sids, Baltimore, MD (0-2)
49t. Villa Old Timers, Lewiston, ID (0-2)
49t. P&P Appliance, Elkworth, ME (0-2)
49t. Utah Players, Provo, UT (0-2)
49t. Buccaneer, Hastings, MN (0-2)