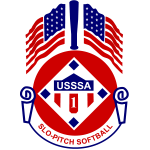 2020 held at Melbourne, Florida at Space Coast Complex on October 2-3.
---
Champion – Sports Reach/Crunchtime/H&H/Grizzy, Campbellsville, Kentucky (40-27)
Runner Up – Primetime Easton/FAI/Riot/Klutch, Macon, Georgia (33-24)
---
SportsReach/Crunchtime/H&H/Grizzy rolled through the winner's bracket but then stumbled in the 1st championship game against PrimeTime/Easton/FAI/Riot/Klutch.  In the "if" necessary game SportsReach offense recovered and run rule PrimeTime 28-13.  PrimeTime lost their 2nd game of the tournament Friday, won a game in the loser's bracket late Friday night then started play at 8 AM Saturday morning and won 7 straight games with the championship finishing at midnight.  3rd place was WorkSteer/Bell's LawnCare from North Carolina and 4th was Classic Glass/Easton from California.
---
MVP – Brandon Jonas, Sports Reach/Crunchtime/H&H/Grizzy
Offensive MVP – Angel Ortega, Primetime Easton/FAI/Riot/Klutch
Defensive MVP – Aaron Miller, Sports Reach/Crunchtime/H&H/Grizzy
---
USSSA MAJOR WORLD SERIES ALL TOURNAMENT TEAM
Derrick Roland, Sports Reach/Crunchtime/H&H/Grizzy
Kaden Watson, Sports Reach/Crunchtime/H&H/Grizzy
Billy Waltrip, Classic Glass/Easton
Casey Jones, WorkSteer/Bell's LawnCare
Curtis Cornett, Sports Reach/Crunchtime/H&H/Grizzy
Bryan Dezern, WorkSteer/Bell's LawnCare
Robert Blackburn, Sports Reach/Crunchtime/H&H/Grizzy
Roderick Armour, PrimeTime Easton/FAI/Riot/Klutch
William Cullen, PrimeTime Easton/FAI/Riot/Klutch
Aaron Jackson, PrimeTime Easton/FAI/Riot/Klutch
Jarvis Riggins, PrimeTime Easton/FAI/Riot/Klutch
Brian Renner, WorkSteer/Bell's LawnCare
James Scott, Sports Reach/Crunchtime/H&H/Grizzy
Brandt Eaton, Classic Glass/Easton
Robert Fow, Sports Reach/Crunchtime/H&H/Grizzy
---
FINAL STANDINGS
1. Resmondo/Smash It/Sonny's/JJ's/RDD, Winter Haven, FL (5-0)
2. Anarchy/MPT Rentals, Manahawkin, NJ (4-2)
3. Dan Smith/Menosse/Steven Smith/FAI, San Jose, CA (4-2)
4. Bad Draw/TDB/Rapidfire/T2/BAF/Pauer, Charlotte, NC (3-2)
5t. Pure Sports, Charleston, SC (4-2)
5t. Westpoint, Noblesville, IN (4-2)
7t. Riot/Klutch/Treedem/Pure, Tampa, FL (3-2)
7t. Premier/T&W/Easton/BAF, Cincinnati, OH (2-2)
9t. Smash It/Precision/3rd St/Bulldawg, Downers Grove, IL (2-2)
9t. Sports Reach/Crunchtime/H&H/Grizzy, Campbellsville, KY (1-2)
9t. Bay Area Legends/Easton, Oakland, CA (1-2)
9t. Xtreme/Miken/Worth/Athlon/ASP, Medina, MN (1-2)
13t. Category5/Nager/Atrium/M&S/Grizzy,  Cincinnati, OH (1-2)
13t. Worksteer/Bell's Lawncare, New Bern, NC (1-2)
13t. Turnkey/CCP/Dan Smith/Worsham's,  Wilmington, NC (1-2)
13t. Classic Glass/Easton, San Jose, CA (1-2)
17t. Cheap Suits/Republic Realty/EA, Stockton, CA (0-2)
17t. Baugh Ford/HDLNS/Hub's Pub, Clanton, AL (0-2)
17t. Primetime Easton/FAI/Riot/Klutch, Macon GA (0-2)
17t. Maroadi/SNI/Easton, Orlando, FL (0-2)