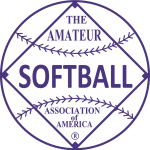 1949 held at Portland, Oregon.
---
Champion – Tip Top Tailors, Toronto, Ontario, Canada
Runner Up – Clearwater Bombers, Clearwater, Florida
---
Herb Dudley, Clearwater Bombers (5-1, 5 Shutouts, no hitter, two 1-hitters, 130 K, 70 IP, allowed only 3 runs, all coming the last game – set record with 55 K in a 1-0, 21 inning win over Phillips 66 Oilers, He had 89 K in last 3 games – over span of 46 IP.
Gerald Overcash of Clearwater Bombers was 1-1, 17 IP, 13 K, 1 Shutout. He pitched the 2 Sunday games as Dudley could not pitch due to his religious beliefs.
Art Upper of Tip Top Tailors hit 2-run double in 18th inning to give Charlie Justice and the Tailors a 3-1 victory in the final game. Upper finished the game 4-8 with a single, 2 doubles and a triple with 2 RBI.
Charlie Justice of Tip Top went 3-0, 26 IP, 34 K, 1 Shutout, 1 no hitter, 2 Runs, 3 hits.
Russ Johnston of Tip Top went 2-0, 20 IP, 14K, 2 shutouts, both 1-hitters. Together with Justice they surrendered 2 runs, 11 hits in 5 games over 46 innings. The third pitcher, Percy McCracken was not really used.
Arno Lamb of Phillips 66ers was 3-2, 2 Shutouts, 49 IP, 54 K.
After Dudley won the 1-0, 21 inning game against the Oklahoma Oilers, he came back 15 minutes later and pitched a 1-hitter, with 12 K over Mercedes, TX, the team that beat them 5-1 and sent them to the losers bracket. Dudley struck out 67 batters on the night. Then in the finals, Dudley had a 1-0 lead over Toronto and a no hitter going into the 7th inning. He walked Lew Gull. Art Upper broke up the no hitter with a double. Dudley walked Joe Spring to load the bases. Charlie Justice pinch hit for Ray Pulfer and delivered a clutch single to tie the score at 1 and move the game to extra innings.
Russ Johnson started the game pitching for Toronto, going 6 innings, then moved to CF in the 7th when Justice came in to pitch 12 scoreless innings for Toronto striking out 13 and surrendering only 1 hit. Dudley pitched all 18 innings for Clearwater and had 23 K. The Clearwater shortstop, John Chestnut was 4-7 in the game.
In what many consider one of the greatest games ever played and one of the most incredible individual performances in ASA Softball History, Herb Dudley pitched all 21 innings against the Phillips 66ers and their star pitcher, Arno Lamb. Lamb also pitched every inning. Dudley surrendered only 3 hits in the game and registered an incredible 55 Strikeouts. Lamb had 26 K. Myron Guthrie (4-9 in the game) doubled in the bottom of the 21st inning. Catcher Harry Hancock who was 2-9 in the game knocked a base hit to score Guthrie to end the three and a half hour game. Buster Zeigler was 2-8 for the bombers in the game. For the 66ers, Pitcher Arno Lamb accounted for 1 of the hits Dudley allowed.
Sixth Ward Boosters of Newport, KY finished 5th with a 3-2 Record. Future Slow Pitch stars Myron Reinhardt (ASA HOF), Hal Wiggins (ASA HOF) and Bo Stuntebeck (KY ASA HOF) all played for the Boosters.
---
MVP – Herb Dudley, Clearwater Bombers
Batting Leader – N/A
HR Leader – N/A
---
FIRST TEAM ALL-AMERICANS
P – Charlie Justice, Tip Top Clothiers
P – Arno Lamb, Phillips 66
P – Herb Dudley, Clearwater Bombers
C – Mack Phillips, Briggs Beautyware
1B – Myron Guthrie, Clearwater Bombers
2B – Sam Bova, Raybestos Cardinals
3B – Bobby Reed, O.E. Watson
SS – Woody Sweeney, Phillips 66
OF – Gene Faull, O.E. Watson
OF – Art Upper, Tip Top Clothiers
OF – Julius Caesar Schreiber, 6th Ward Boosters
---
FINAL STANDINGS
1. Tip Top Tailors, Toronto, ON (5-0) (Canada)
2. Clearwater Bombers, Clearwater, FL 6-2 (Southern)
3. Buddy Watson Vegetable Co., Mercedes, TX (3-2) (Texas)
4. Sixth Ward Boosters, Newport, KY (3-2) (West Central)
5t. Phillips 66 Oilers, Okmulgee, OK (3-2) (Southwestern)
5t. Briggs Beautyware, Detroit, MI (2-2) (Defending Champs)
7t. Rubenstein Furniture, Eugene, OR (2-2) (Northwestern)
7t. Crown Carpets, San Diego, CA (2-2) (South Pacific Coast)
9t. Harmon, Russell & Roush, Cincinnati, OH (1-2) (East Central)
9t. Smack's Candy, St. Louis, MO (1-2) (Western)
9t. Murphy-Mahoney Chevrolet, Denver, CO (1-2) (Rocky Mountain)
9t. Raybestos Cardinals, Bridgeport, CT (1-2) (North Atlantic)
13t. Frankie's Steak House, Wilmington, DE (0-2) (Central Atlantic)
13t. Gigantes (DF Giants), Mexico, City (0-2) (Mexico)
13t. Grumman Aircraft Yankees, Bethpage, NY (0-2) (Mid-Atlantic)
13t. Stork Club, Little Rock, AR (0-2) (Host)
* Won a game by forfeit.
---
NOTES
Manchester Biscuits, Fargo, ND (Northern) withdrew, could not attend. Western Gravel, San Jose, CA (North Pacific Coast) could not attend.