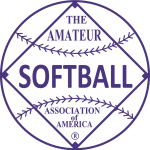 2017 held at Oklahoma City, Oklahoma on September 30-October 2.
---
Champion – Precision Chicago, Illinois
Runner Up – ASP/KV Weld/A&A Utility/OA Labs/LGE Foundation Fort Worth, Texas
---
A perfect 4-0 record resulted in Precision earning the Men's Class A Slow Pitch National Championship title.
With the help of Tournament MVP Steele Lewis, Precision earned the trophy after defeating ASP/KV Weld/A&A Utility/OA Labs 29-19 in the Championship Game. The two teams had met previously in the winner's bracket finals with Precision earning the same fate with a closely fought 27-26 win over ASP.
Precision jumped out to a two-run lead in the bottom of the first inning and never looked back. Scoring in all but one inning during the game, Precision was powered by Lewis who went 3-for-5 with six RBI in the contest, including two home runs. Travis Clark, Pat Elwanger and John Williams each had four RBI in the win for Precision, with Clark and Williams also hitting out two home runs in the win.
ASP earned a spot in the Championship Game after defeating FK/Pauer Sports 36-7 in four innings earlier in the day.
Jason Hoynowski of FK/Pauer Sports was named batting champion after leading the tournament with a .857 batting average.
FK/Pauer Sports teammate Ryan Stovall was named home run champion after hitting 11 home runs.
---
MVP – Steele Lewis, Precision (16-21, .762, 8 HR, 22 RBI, 14 Runs)
HR Leader – Ryan Stovall, FK/Pauer Sports (27-32, .844, 28 RBI, 23 Runs) – 11
Batting Leader – Jason Hoynowski, FK/Pauer Sports (30-35, 6 HR, 23 RBI, 22 Runs) – .857
---
ASA A FIRST TEAM ALL AMERICANS
Ben Dunn, ASP/KV Weld/A&A Utility/OA Labs (16-20, .800, 3 HR, 11 RBI, 16 Runs)
Adam Aceto, OC (11-13, .846, 3 HR, 10 RBI, 13 Runs)
Jason Hoynewski, FK/Pauer Sports (30-35, .857, 6 HR, 23 RBI, 22 Runs)
Cory Briggs, ASP/KV Weld/A&A Utility/OA Labs (16-21, 762, 5 HR, 11 RBI, 16 Runs)
Ryan Stovall, FK/Pauer Sports (27-32, .844, 11 HR, 28 RBI, 23 Runs)
Orlando Castillo, T's 13 (14-17, .824, 4 HR, 17 RBI, 10 Runs)
Mickey Rowland, T's 13 (12-15, .800, 4 HR, 10 RBI, 15 Runs)
Steele Lewis, Precision (16-21, .762, 8 HR, 22 RBI, 14 Runs)
Shannon Smith, ASP/KV Weld/A&A Utility/OA Labs (18-24, .750, 5 HR, 13 RBI, 18 Runs)
Brad Reckart, Precision (11-15, .733, 3 HR, 7 RBI, 7 Runs)
Travis Clark, Precision (16-21, .762, 6 HR, 13 RBI, 14 Runs)
Kyle Pearson (LA), ASP/KV Weld/A&A Utility/OA Labs (13-22, .591, 5 HR, 18 RBI, 14 Runs)
Jeff Keske, Precision (13-18, .722 3 HR, 12 RBI, 10 Runs)
Patrick Elwanger, Precision (14-21, .667, 3 HR, 11 RBI, 11 Runs)
Darren Nelson, OC (15-21, .714, 5 HR, 13 RBI, 14 Runs)
---
FINAL STANDINGS
1. Precision, Chicago, IL (4-0)
2. ASP/KV Weld/A&A Utility/OA Labs/LGE Foundation, Fort Worth, TX (3-2)
3. FK/Pauer Sports Bothell, WA (4-2)
4. T's 13/Monsta Omaha, NE (2-2)
5t. WC Monsta Calimesa, CA (1-2)
5t. OC, Grimes, IA (3-2)
7t. Sprizzi, Novi, MI (1-2)
7t. Seminoles, Stillwell, OK (1-2)
9t. Evolution/Klutch/Easton, Rowlett, TX (1-2)
9t. TPS/Boompas Burgers, Elgin, OK (0-2)
9t. All Armed Forces, San Antonio, TX (0-2)
---
OTHERS
Dexter Avery, All Armed Forces (10-10, 1.000, 2 HR, 3 RBI, 5 Runs)
Jason Matusik, Sprizzi (12-14, .857, 5 HR, 10 RBI, 14 Runs)
Dale Brungardt, WC Monsta (10-12, .833, 1 HR, 10 RBI, 13 Runs)
Filip Washington, WC Monsta (10-12, .833, 3 HR, 8 RBI, 12 Runs)
Ryan McClanahan, WC Monsta (12-15, .800, 3 HR, 7 RBI, 12 Runs)
Jeremy Yates, FK/Pauer Sports (24-34, .706, 8 HR, 18 RBI, 20 Runs)
Ryan Harvey, ASP/KV Weld/A&A Utility/OA Labs (15-24, .625, 10 HR, 28 RBI, 12 Runs)