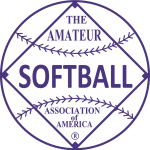 1965 held at Orlando, Florida.
---
Champion – Orange Lionettes, Orange, California
Runner Up – Raybestos Brakettes, Stradford, Connecticut (60-8)
---
The final game was a 12 inning pitchers duel between Joan Joyce of Orange Lionettes and Donna Lopiano of Brakettes. In the top of the 12th inning, Joan Joyce walked to lead off the inning for the Lionettes. Nancy Ito's sacrifice bunt moved her to second base. Sally Palmer hit a ground ball up the middle that Brakettes second basemen, Mary Bennet made a nice play to get the out at first and held Joyce on second base. Louise Albrecht then hit a line drive single down the right field line to score Joyce. In the bottom of the 12th, Joyce retired the side in order to claim the championship for the Orange.
Lou Albrecht, Orange Lionettes (1-0, Won other game with a 2-hit shutout to give the Lionettes 5 straight shutouts wins).
Jackie Rice was 2-2 with a shutout for Erv Lind Florists and Hap Piper was 2-0 as she hurled 2 shutouts.
Jan Berkland of Minneapolis Comets won the batting title by going 5-11, .455, 2 RBI, 3 Runs.
---
MVP – Joan Joyce, Orange Lionettes
HR Leader – N/A
Batting Leader – Jan Berkland, Minneapolis Comets – .455
Outstanding Pitcher – N/A
Erv Lind Defensive Award – Nera Sally White, Oak Motors Mustangs
---
FIRST TEAM ALL-AMERICANS
P – Joan Joyce, Orange Lionettes (4-0, 4 shutouts, no-hitter, 49 K/34 IP, gave up 6 hits, scored winning run in 12th inning of 1-0 final on a hit by Lou Albrecht)
P – Bertha Ragan-Tickey, Raybestos Brakettes (3-1, 22 IP, 34 Ks, 3 shutouts, 2 no hitters)
P – Lorene Ramsey, Pekin Lettes (5-2, 57 IP)
C – Ann Mullins, Pekin Lettes
C – Nancy Ito, Orange Lionettes
1B – Shirley Topley, Orange Lionettes (6-17, .353, 4 Runs)
2B – Donna Lopiano, Raybestos Brakettes (2-1, 2 shutouts)
3B – Carol LaRose, Raybestos Brakettes
SS – Nera "Sally" White, Oak Motors Mustangs
OF – Kathryn "Sis" King, Raybestos Brakettes
OF – Marlene Piper, Erv Lind Florists
OF – Rose Bonovito, New Haven Wonderettes
OF – E. Louise Albrecht, Orange Lionettes
UTIL – Rosemary "Micki" Stratton, Raybestos Brakettes
SECOND TEAM ALL-AMERICANS
P – Lottie Jackson, Oak Motors Mustangs – 49 years old was 4-2 with 4 consecutive shutouts.
P – Nancy Welborn, McCullough Chain Saw
P – Hap Beryl Piper, Erv Lind Florists
C – Laura Malesh, Raybestos Brakettes
C – Ann Allen, Oak Motors Mustangs
1B – Gloria May, Fresno Rockets
2B – Sue Gunter, Oak Motors Mustangs
3B – Dorothy "Dot" Dobie, Erv Lind Florists
SS – Carol Spanks, Orange Lionettes (7-18, .389, 1 RBI, 3 Runs)
OF – Chris "Pettina" Miner, Erv Lind Florists
OF – Fran Sekata, Pekin Lettes
OF – Willie Roze, New HavenWonderettes
OF – Brenda Foey, McCullough Chain Saw
UTIL – Marlys Taber, Pekin Lettes
---
FINAL STANDINGS
1. Orange Lionettes, Orange, CA (5-0) (South Pacific Coast)
2. Raybestos Brakettes, Stratford, CT (5-2) (Host)
3. Pekin-Lettes, Peoria, IL (5-2) (West Central)
4. Oak Motors Mustangs, Nashville, TN (5-2) (South Atlantic)
5t. Wonderettes, New Haven, CT (2-2) (New England)
5t. Fresno Rockets, Fresno, CA (2-2) (North Pacific Coast)
7t. Erv Lind Florists, Portland, OR (4-2) (Defending Champ)
7t. McCullough Chain Saw, Eugene, OR (2-2) (Northwestern)
9t. Utah Shamrocks, Saly Lake City, UT (1-2) (Rocky Mountain)
9t. Orlando Rebels, Orlando, FL (1-2) (Southern)
9t. LeSabres, Rahway, NJ (1-2) (Mid-Atlantic)
9t. Perkasie Glenettes, Perkasie, PA (1-2) (Central Atlantic)
13t. Minneapolis Comets, Minneapolis, MN (1-2) (Northern)
13t. PBSW Ramblers, Phoenix, AZ (1-2) (Cactus)
13t. Pyramid Life Insurance, Kansas City, KS (0-2) (Western)
13t. V.F.W., Adrian, MI (0-2) (East Central)
17t. Marshall Plumbing Rebels, Fort Worth, TX (0-2) (Texas)
17t. Memphis Chicks, Memphis, TN (0-2) (Southwestern)
17t. Aladdin Rug, Toronto, ON (0-2) (East Canada)
---
NOTES
Aladdin Rug, Toronto (East Canada Champ) went in place of Canadian Champ, CUAC Blues, Winnipeg, who could not attend.