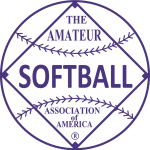 2013 held at Ridgeland, Mississippi on September 27-29.
---
Champion – Long Haul/JJ's/Doerflinger/Easton, Albertville, Minnesota
Runner Up – O&S Cattle, Stillwater, Minnesota
---
Long Haul/JJ/Doerflinger/Easton went undefeated (4-0) at Ridgefield, MS to capture the ASA Class-A National Championship. They defeated the All Armed Forces All Star team 29-18 in the winners bracket final. Kevin Filby was 5-5 with 3 HR and 8 RBI in that game to lead Long Haul. Cory Large and Brad Reckart each had 4 hits. The O&S Cattlemen then defeated the Armed Forces
30-21 in the losers bracket final behind Dale Drungardt's 6-6 performance which included a HR and 4 RBI. Pitcher Geno Buck had 3 HR and 7 RBI. Lee Powers and Dennis Rulli combined for 9 hits for the Cattlemen. The Championship Game was won handily by the Long Haul squad 41-29. Long Haul had a 24-23 lead after 4, but then broke it open with 17 runs in the final 3 innings.
They recorded 49 hits in the game. Tourny MVP Brian Wegman was 7-7 with 3 HR, 8 RBI and 7 Runs Scored. Cory Large, Brandon Dillon, Kevin Filby and Mike Umscheid all had 6 hits apiece. For the O&S squad, Dennis Rulli (5-6), Lee Powers (4-6) and Geno Buck (4-5) led the way for O&S. Dale Brungardt of O&S was the HR champ with 11. Kyle Pearson (FL) of Rip City/Iron Hawk/DeMarini
won the batting title with a perfect 14 for 14 performance.
---
MVP – Brian Wegman, Long Haul/JJs/Doerflinger/Easton (18-20, .900, 8 HR, 19 RBI, 19 Runs)
HR Leader – Dale Brungardt, O&S Cattle (27-37, .730, 36 RBI, 20 Runs) – 11
Batting Leader – Kyle Pearson, Long Haul/JJs/Doerflinger/Easton (14-14, 4 HR, 9 RBI, 11 Runs) – 1.000
---
2013 FIRST TEAM ALL AMERICANS
P – Travis Clark, Long Haul/JJs/Doerflinger/Easton (10-22, .455, 1 HR, 10 RBI, 6 Runs)
IF – Brian Wegman, Long Haul/JJs/Doerflinger/Easton (18-20, .900, 8 HR, 19 RBI, 19 Runs)
IF – Brad Reckert, Long Haul/JJs/Doerflinger/Easton (14-19, .737, 2 HR, 6 RBI, 15 Runs)
IF – Dennis Rulli, O & S Cattle (27-38, .711, 7 HR, 25 RBI, 23 Runs)
IF – Jake Alienben, All Armed Forces (13-17, .765, 5 HR, 13 RBI, 10 Runs)
IF – Dale Brungardt, O & S Cattle (27-37, .730, 11 HR, 36 RBI, 20 Runs)
OF – Cory Large, Long Haul/JJs/Doerflinger/Easton (20-23, .870, 4 HR, 12 RBI, 20 Runs)
OF – Kyle Pearson (LA), Long Haul/JJs/Doerflinger/Easton (14-14, 1.000, 4 HR, 9 RBI, 11 Runs)
OF – Nick Santana, O & S Cattle (25-36, .694, 5 HR, 14 RBI, 24 Runs)
OF – Neil Haglund, Chempak/WC Lazers/Louisville Slugger (12-18, .667, 10 HR, 23 RBI, 15 Runs)
UTIL – Cory Boothe, Sonnys (12-13, .923, 7 HR, 16 RBI, 11 Runs)
UTIL – Bryce Oliveira, Sonnys (11-13, .846, .4 HR, 12 RBI, 10 Runs)
UTIL – Kevin Bazat, Long Haul/JJs/Doerflinger/Easton (12-18, .667, 2 HR, 4 RBI, 13 Runs)
UTIL – Kevin Filby, Long Haul/JJs/Doerflinger/Easton (17-22, .773, 8 HR, 21 RBI, 15 Runs)
UTIL – Lee Powers, O & S Cattle (27-36, .750, 9 HR, 20 RBI, 21 Runs)
2013 SECOND TEAM ALL AMERICANS
P – Geno Buck, O & S Cattle (21-39, .538, 5 HR, 22 RBI, 14 Runs)
IF – Brandon Gooding, 4 the Fallen/Miken (11-15, .733, 4 HR, 6 RBI, 8 Runs)
IF – Chris Greinert, Sonnys (11-15, .733, 1 HR, 6 RBI, 9 Runs)
IF – Chente Granados, Chempak/WC Lazers/Louisville Slugger (16-22, .727, 2 HR, 6 RBI, 14 Runs)
IF – Kenneth Turlington, All Armed Forces (18-25, .720, 5 HR, 13 RBI, 12 Runs)
IF – Bubba Mack, O & S Cattle (21-35, .600, 9 HR, 22 RBI, 17 Runs)
OF – Kyle Cowart, Chempak/WC Lazers/Louisville Slugger (11-16, .688, 2 HR, 7 RBI, 6 Runs)
OF – Matt Schrage, Rip City/Iron Hawk/DeMarini (8-12, .667, 3 HR, 11 RBI, 7 Runs)
OF – Brendan Dillon, Long Haul/JJs/Doerflinger/Easton (15-20, .750, 3 HR, 12 RBI, 14 Runs)
OF – Frank Deaver, 4 the Fallen/Miken (12-16, .750, 4 HR, 7 RBI, 7 Runs)
UTIL – Mickey Rowland, Tharaldson/Easton/Xtreme (7-11, .636, 3 HR, 4 RBI, 8 Runs)
UTIL – Chris Larsen, Rip City/Iron Hawk/DeMarini (11-14, .786, 6 HR, 13 RBI, 6 Runs)
UTIL – Reggie Schulte, O & S Cattle (19-30, .633, 5 HR, 16 RBI, 20 Runs)
UTIL – Dustin Roberts, Chempak/WC Lazers/Louisville Slugger (14-21, .667, 8 HR, 17 RBI, 12 Runs)
UTIL – Denny Crine, 4 the Fallen/Miken (11-14, .786, 2 HR, 3 RBI, 9 Runs)
---
OTHERS
Ryan Parfitt, 4 the Fallen/Miken (13-19, .684, 4 HR, 10 RBI, 10 Runs)
Jason Branch, Long Haul/JJs/Doerflinger/Easton (14-22, .636, 1 HR, 8 RBI, 11 Runs)
Jared Krasselt, O&S Cattlemen (20-32, .625, 1 HR, 7 RBI, 15 Runs)
Robert Blackburn, Chempak West Coast Laserz (13-21, 619, 9 HR, 16 RBI, 13 Runs)
Lee Payne, O&S Cattlemen (19-32, .594, 6 HR, 12 RBI, 19 Runs)
Brett Helmer, Long Haul/JJs/Doerflinger/Easton (4-13, .308, 1 HR, 4 RBI, 2 Runs)
Jeremy Yates, O&S Cattlemen (22-39, .564, 6 HR, 16 RBI, 24 Runs)
---
FINAL STANDINGS 
1. Long Haul/JJ's/Doerflinger/Easton Albertville, MN (4-0)
2. O&S Cattle Stillwater, MN (5-2)
3. All Armed Forces Washington, D.C. (3-2)
4. Chempak/WC Lazers/Louisville Slugger Perris, CA (4-2)
5t. Tharaldson/Easton/Xtreme Fargo, ND (2-2)
5t. Rip City/Iron Hawk/Demarini Denver, IA (1-2)
7t. 4 The Fallen/Miken Anthem, AZ (2-2)
7t. Sonny's Casper, WY (1-2)
9t. Pro Gutter/Hemphill Construction Flora, MS (0-2)
9t. Buzini/BWW/Worth Brandon, MS (0-2)
9t. Red's Astros/Louisville Slugger Indianapolis, IN (0-2)