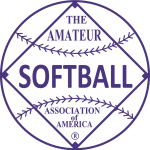 Year Champion Runner-up
1991 Red's Sporting Goods, Brandon, FL California Bar & Grill, Gardenia, CA
1992 Tom's Tavern, ??? Melton Motors, Southgate, MI
1993 Liberty Motors, Grass Valley, CA Nicky D's Dill, Livingston, NJ
1994 Beaumont Stingers, Beaumont, TX Middleton Sportsland, Frederick, MD
1995 Pat Murphy & Associates, Fairfax, VA Jake Steel, Auburn, NH
1996 Diamond Pro, Faulkville, AL Plant VI, Buffalo, NY
1997 Gamecocks, Cookstown, NJ Crabby Bills, Acworth, GA
1998 Get Huge, San Diego, CA Succah Punch, Gardena, CA
1999 Gaithersburg Rental, Gaithersburg, MD Driving Force, Pasadena, CA
2000 * Mike's Grocery, Birmingham, AL KME, Oak Park, CA
---
From 2001-2006, ASA went to separate East and West Class-D Nationals, the 2 winners met in a best of 5 National Championship Series
---
2001 Laserbeam, Simi Valley, CA (West) Slammers, Frankfort, IL (East)
2002 Team Dickies, Diamond Bar, CA (West) Coors Light, Parsippany, NJ (East)
2003 Woodies, San Diego, CA (West) T. D. Waterhouse/Miken, Middle Village, NY (East)
2004 Team Worth/Vanguard, Hollister, CA (West) Coors Light, Parsippany, NJ (East)
2005 Brackins/All State, Dothan, AL (East) 3N2 So Cal, Arcadia, CA (West)
2006 Easton Properties, Hartselle, AL (East) Mid Valley Plastering, French Camp, CA (West)
---
Starting in 2007, ASA went to the "4 Corners" Class-D Nationals, the East, West, North and South winners met in a National Tournament
---
2007 White's/Riverdogs, W. Forest, NC (East) Lugo's Heavy Hitters/Mar Designs, Mission, TX (South)
2008 Joe Corbis, New Windsor, MD (East) Blue Water, San Diego, CA (West)
2009 Virginia Select, Crozet, VA (East) LA Strokers, Duson, LA (South)
2010 Team Dynasty, Marietta, GA (South) Vinntrans/HIG, Waynesville, NC (East)
2011 Softball Junkies, Citrus Heights, CA (West) Boar's Butt, Auburn, AL (South)
2012 Titans, Murfeesboro, TN (South) Galindo, Buena Park, CA (West)
---
Starting in 2013, ASA selected the top-4 from each Area to meet in a 16 team Double Elimination National Tournament
---
2013 Faith & Hope JN42, Denham Springs, LA (South) Linedrive, Winder, GA (South)
2014 DIA/Water Conn./Dutch Mafia, Madera, CA (West) Chingon, Indio, CA (West)
2015 Classick Sports/Monsta, San Bernardino, CA (W) Meredith Digital, Los Angeles, CA (West)
2016 OTW/Elite-State Champions, San Dimas, CA (W) DCL, Glen Allen, VA (East)
2017 SFI Spurgeon Trucking, Martinsburg, WV (East) ADL/Swing Nation, Florissant, MO (North)
2018 – Class-D National Championship Discontinued, just Area Nationals were held in D.
* Disqualified; KME, Oak Park, CA awarded 1st and Jim's Cabinet, Charlotte, NC awarded 2nd.
Note-1: from 2001-present, the ASA went to separate Eastern and Western National Championships.
Note-2: In 2007, the Class-D Program went to the "Four Corners" and had East, South, North and West National Championships and the Champion from each would meet in Oklahoma City in a 4-team round robin to determine the National Champion. The Class-C Program adopted this format in 2008. When the Class-E Program started, they just had the four corners be their own "champion". There was no unified Class-E National Championship held. Class-B later went back to just one National, followed by Class-C in 2013. Also in 2013, the Class-D four corners was expanded to include the top four teams in each area and a 16-team double elimination was held to determine the "D" Champ.
Year Area – Winner Runnerup
2001
East – Slammers, Frankfurt, IL Angle Inn Assault II, Baltimore, MD
West – Laserbeam, Simi Valley, CA Tribe, Lee's Summit, MO
---
2002
East – Coors Light, Parsippany, NJ Palm Harbor Paper, Brandon, FL
West – Team Dickies, Diamond Bar, CA Rawlings Silverbacks, Chula Vista, CA
---
2003
East – T.D. Waterhouse/Miken, Middle Village, NY James R. Smith, Cullman, AL
West – Woodies, San Diego, CA Gamecocks, La Habra, CA
---
2004
East – Coors Light, Parsippany, NJ RK Construction Fredericksburg, VA
West – Team Worth/Vanguard, Hollister, CA Team Nitro/Pierce Auto Highland, CA
---
2005
East – Brackins Softball/Allstate, Dothan, AL Priority One Softball, Charlotte, NC
West – 3N2 So Cal, Arcadia, CA Solberg's, Cedar Rapids, IA
---
2006
East – Easton Properties, Hartselle, AL Priority One Softball Charlotte, NC
West – Mid Valley Plastering, French Camp, CA SB Performance Cycles, Hollister, CA
---
2007
East – Whites/Riverdogs, Wake Forest, NC J&R Trucking, Anmoore, WV
North – Storm/Bosch Financial, Cedar Rapids, IA Mississippi Heat, Columbus, MS
South – Lugo's Heavy Hitters/Mar Designs, Mission, TX Turn Two, Emory, TX
West – 3 Legged Monkeys, South El Monte, CA Blue Water, Fallbrook, CA
---
2008
East – Joe Corbi's, New Windsor, MD Manhatten Beer/Club Rouge, Harrison, NY
North – Dust-Tex, Mandan, ND Elbow Room/Presort Plus/CVB, Bismark, ND
South – Softball Express, Gainesville, GA Elite Sporting Goods, Dacula, GA
West – Blue Water, San Diego, CA Demarini Elite, Portland, OR
---
2009
East – Virginia Select, Crozet, VA Elite Sports of Virginia, Tapp, VA
North – Next Generation/Just 1 More, Owatonna, MN Voodoo Lounge, Buffalo Grove, IL
South – LA Strokers, Duson, LA Glover & Company, Dothan, AL
West – Victory Custom Athletics, Saugas, CA Hitmen, Grand Terrace, CA
---
2010
East – Vinntrans/HIG, Waynesville, NC Plumbright/EC Mnagement, Mechanicsville, VA
North – Team Dynasty, Marietta, GA Central Iowa Hawks, Des Moines, IA
South – Jasper Medical Supply, Jasper, AL Tay's Barbeque, Haughton, LA
West – Oregon Outlaws, Keizer, OR Nova/PCR, Garden Grove, CA
---
2011
East – Northwesterm Mutual, Hagerstown, MD Chris's Band Box, West Carrollton, OH
North – Russell's Paint & Body Shop, Longwood, FL Abe's Softbal Club, Kingman, KS
South – Boar's Butt, Auburn, AL Hustlers, Boonville, MS
West – Softball Junkies, Citrus Heights, CA BPS/Beyond the Glory, Petaluma, CA
---
2012
East – Torco Supply, Bethlehem, PA Voodoo Lounge, Buffalo Grove, IL
North – TABU, Cedar Rapids, IA PIPAC, Cedar Falls, IA
South – Titans, Murfeesboro, TN Pawn Your Bond, Gardendale, AL
West – Galindo, Buena Park, CA Relentless Chaos, Menifee, CA
---
2013
East – T2W HMD Mojo, Columbus, OH Casali Liquors, Cranston, RI
North – Comatose Spiderz Softball, Beloit, WI Roofing Services, Kingman, KS
South – Linedrive, Winder, GA Faith & Hope JN42, Denham Springs, LA
West – LCP, Los Angeles, CA AVC, Sacramento, CA
---
2014
East – Kings Court, Bridgeport, CT Barberini Nissan/Pure Coffee, Southington, CT
North – PIPAC/Miken, Winthrop, IA Players Choice/Elite Training, Holt, MI
South – Lehigh Valley Polish Water Ice, Bethlehem, PA HATA, Inc., Bethlehem, PA
West – DIA/Water Connection/Dutch Mafia, Madera, CA Chingon/Monsta Athletics, Indio, CA
---
2015
East – Diamond and Ice, Haymarket, VA Shinetime/Pit Stop, Seneca, PA
North – Gap City, Batesville, MS Fantasyland, Caledonia, MS
South – Kass & Company, Peosta, IA Men's Hair House/The Box/MMG, Fargo, ND
West – Wavy, Murrieta, CA Apex/GS Sports, Fair Oaks, CA
---
2016
East – DCL, Glen Allen, VA MOJO, Stephens City, VA
North1 – Cancelled
North2 – Jethros/Iconic Apparel, Ankeny, IA Versatile Roofing Fanatics, Kearney, NE
South1 – Cancelled
South2 – DBO, Enid, OK Dominators, Mannsville, OK
West – CP/Sewer Septic Pros, Palm Springs, CA OTW/Elite-State Champions, San Dimas, CA
---
2017
East – Dirt Dogs, Meriden, CT RSB, Jackson, NJ
North1 – Square One, Oconomowoc, WI Tranberg Roofing, Blair, WI
North2 – ADL/Swing Nation, Florissant, MO MWL, Lincoln, NE
South – Cancelled
West – Oregon Elite, Portland, OR Future Rerates, Santa Clarita, CA
---
2018
East – Ascension/Rascals, Oswego, NY Rocky Hill Painting, Whitehouse Station, NJ
North1 – Cedar Creek, Topeka, IN Rock Run/Demarini/S&L, Millersburg, IN
North2 – Frank's Butchers, Omaha, NE Thunderhead Sports Bar, Des Moines, IA
South – Cancelled
West – Athletes vs Cancer, Citrus Heights, CA Knee Deep Brewing, Sacramento, CA
---
2019
East – iFitness/eShore, Bridgeton, NJ Sour Patch Kids, Utica, NY
North1 – Buz'z/Valpo Family Dentistry/Luke Oil, Valparaiso, IN ST Reloaded, Midland, MI
North2 – NAP/Shoals Pharmacy, Gardendale, AL GHR, Chippewa Falls, WI
South – Cancelled
West – JCS/Coastline, Bellingham, WA Smash It Sports, Vancouver, WA