2012 held at Kissimmee, Florida on August 17-19.
---
Champion – R&M Metals/Troupe/Pipac/S&R/Easton, Waterloo, Iowa
Runner Up – Taylormade/TM Sports/Mizuno, Spotsylvania, Virginia
---
The 2012 'A' World tournament was full of close games, walk off homers, low scores, and good hardnosed competition.  In the end it was R&M Metals/Troupe/Pipac/S&R/Easton based out of Waterloo, Iowa that went an undefeated 5-0 to win the tournament!  R&M trailed Taylormade/TM Sports/Mizuno on Saturday night in the winner's bracket championship game 7-3 most of the game.  In the bottom of the 7th they rallied and capped off the comeback win with a walk off grand slam homer with one out by middle infielder Steve Whaley.  On Sunday around noon, R&M met Taylormade again in the finals and jumped out to a big early lead and won the game and the title 25-5 in just 4 innings.
There were 17 teams from 11 different states in the tournament.  9 'A' teams, 5 'B' teams, and 3 'C' teams.  14 of the teams were from the Nationwide Conference USSSA.  The tournament had 11 games decided by 4 runs or less and 9 games were decided in the last at bat with 5 walk off home runs!
The tournament began on Friday night at 7 PM and the games Friday and Saturday were played under overcast skies and a very real threat of rain.  The tournament was only delayed once however for two hours on Saturday afternoon by a downpour and lightning.  On Friday night those first 3 games at 7 PM were decided in the last at bat on each field.  Headhunter/Cancooker/SHSsports.com used a walk off homer by second baseman Robert Canceran to beat their in state Georgia rivals Down2EarthSports.com/SBC/Worth 19-17.  R&M Metals/Troupe/Pipac/S&R/Easton overcame an early 13-0 deficit to beat Blitz/Weller/Watanabe/K&G/Easton 19-16 on a walk off homer by third baseman Joe Gordon.  And Taylormade/TM Sports/Mizuno used a walk off gap shot by shortstop Branden Blake and the subsequent steal of home by second baseman Billy Moran on an errant throw to beat Primetime/Easton 15-14.
The Friday night upsets continued as Line Drive Sportz/SSS Softball knocked off West Coast Doerflinger – Easton 24-14 and Westshore Pizza/TPS capped the night with a walk off homer by Dan Dillingham to beat Shoppe/Team TPS/Elite 22-20.  Team 454 also run ruled local Florida 'C' team Demarini Headbangers.  TYJA – Suncoast Reebok run ruled Sonny's / Louisville Slugger and Demarini/Dirty/3n2/ATWLDesigns came from a 19-13 deficit on the power of two Adam Rockoff homer's late in the game to beat upstart Jolt 25-19.
With the first round over and the typical Friday night upsets occurring, the tournament moved to Saturday where it became quickly evident that with the heat index hovering around 100 degrees and the home runs and scores very low, each game became just a "flip of the coin".  It didn't matter if you were a top 'A' team, a bottom 'A' team, or a 'B' team.  With the 325 foot fences and a soft ball it was a "small ball" game with teams earning their home runs.
The quarterfinals started with a 10:30 AM game between R&M Metals who had won on the walk off the night before playing TYJA who had looked like the only seed that had the "eye of the tiger" on opening night.  The "eye" quickly faded as the TYJA offense managed just 3 runs? in a 16-3 beating from R&M.
Then Line Drive Sportz shocked the softball world with a 19-14 win over Demarini/Dirty.  Taylormade knocked off Team 454 13-12.  And Headhunters powered past Westshore Pizza 17-12.  So the final 4 in the winner's bracket would have an unprecedented two 'B' teams in the running, Headhunters and Line Drive Sportz.
In the semi-finals Headhunters let up too many walks to Taylormade but made things interesting in the highest scoring game of the tournament, a 30-27 win for Taylormade.  In the other semi, R&M Metals held off Line Drive Sportz 11-6.
In the winner's championship as previously discussed Taylormade held a 7-3 lead until the 7th when R&M came back and Steve Whaley hit the walk off grand slam with one out.
Also on Saturday in the loser's bracket Team 454/Emerald/Worth scored 14 runs in the bottom of the 7th against Sonny's to win 21-19 on a walk off homer by Jason Branch with two outs.  Then Linedrive knocked out 454 and TYJA knocked out Headhunters to make it to Sunday.
On Sunday morning TYJA lost to Line Drive Sportz 11-10 with the bats in their hands in the bottom of the 7th and Taylormade then sent Line Drive Sportz home 15-9 with the help of a big pinch hit homer by Nate Holcomb.
---
Co-MVP – Brendt Newbill, R&M Metals/Troupe/Pipac/S&R/Easton
Co-MVP – Brandon Dillon, R&M Metals/Troupe/Pipac/S&R/Easton
Defensive MVP – Steve Whaley, R&M Metals/Troupe/Pipac/S&R/Easton
Offensive MVP – Jeremy Yates, TaylorMade/TM Sports/Mizuno
---
USSSA A ALL WORLD TEAM
Joel Ramos – Line Drive Sportz/sSs Softball
Billy Barrett – Line Drive Sportz/sSs Softball
Christopher Kirian – Taylor Made/TM Sports/Mizuno
Thomas Luna – Line Drive Sportz/sSs Softball
Kyle Yerkes – R&M Metals/Troupe/Pipac/S&R/Easton
Kevin Lucas – R&M Metals/Troupe/Pipac/S&R/Easton
Brandon Jonas – Taylor Made/TM Sports/Mizuno
Dustin Roberts – TYJA/Suncoast Reebok
Brian Logan – TaylorMade/TM Sports/Mizuno
Joseph Gordon – R&M Metals/Troupe/Pipac/S&R/Easton
Keith Anderson – R&M Metals/Troupe/Pipac/S&R/Easton
William Moran – Taylor Made/TM Sports/Mizuno
Luis Reyna – TYJA/Suncoast Reebok
Michael Umscheid – R&M Metals/Troupe/Pipac/S&R/Easton
Richard Salazar – R&M Metals/Troupe/Pipac/S&R/Easton
---
FINAL STANDINGS
1. R&M Metals/Troupe/Pipac/S&R/Easton, Waterloo, IA (5-0)
2. Taylormade/TM Sports/Mizuno, Spotsylvania, VA (4-2)
3. Line Drive Sportz/Easton, Detroit, MI (4-2)
4. TYJA/Suncoast/Reebok, Great Neck, NY (4-2)
5t. Team 454/Emerald, Glen Allen, VA (3-2)
5t. Headhunter/Cancooker/SHSSports.com, Fayetteville, GA (2-2)
7t. Sonnys/Louisville Slugger, Casper, WY (2-2)
7t. DeMarini/Dirty/3n2/AtwlDesigns, Orlando, FL (2-2)
9t. Jean Shoppe/Team TPS/Elite, MacKenzie, TN (1-2)
9t. Primetime/Easton, Macon, GA (1-2)
9t. West Coast Doerflinger/Easton, Los Angeles, CA (1-2)
9t. Westshore Pizza/TPS, Tampa, FL (1-2)
13t. Miami Blitz/Westpark, Miami, FL (1-2)
13t. Jolt, Huntington, FL (1-2)
13t. DeMarini Headbangers, Palm City, FL (0-2)
13t. Blitz/Weller/Watanabe/K&G/Easton, Cincinnati, OH (0-2)
17t. Down2EarthSports.com/SBC/Worth, Baxley, GA (0-2)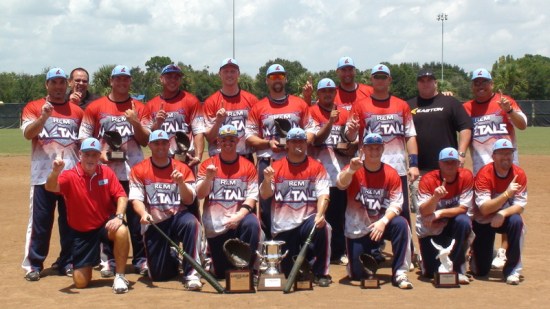 ---
TOURNAMENT WEBSITE – http://www.usssa.com/slowpitch/event_home/?eventID=88932