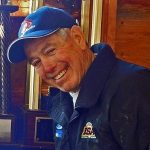 A Softball Legend Dies
Sept. 8, 2021
Bill E. Ruth (1934 – 2021)
It is with a great deal of sadness that Senior Softball USA announces the death of longtime SSUSA President Bill Ruth.
Bill, 87, died this morning after suffering a major stroke a few days ago in his home in Kent, Washington.
Bill has sponsored, managed and played on Senior Softball teams for almost 30 years. In fact, he has either played or managed baseball, softball, basketball and soccer teams for more than 60 years. His teams played at the highest level for many years.
Bill was also President of the Independent Sports Association (ISA), and was a partner in fishing lodges in Alaska, as well as a gold mine near the Yukon. Bill's main business was in real estate throughout the Northwest and in Cabo San Lucas in Mexico.
Bill was elected into four Hall of Fames: The USSSA (Washington) Hall of Fame, the National Senior Softball Hall of Fame, the SSUSA Hall of Fame, and the ISA Hall of Fame.
Bill became President of Senior Softball USA in 2000 and was a guiding voice behind the growth of SSUSA in both America and around the world.
Bill was a very close friend and partner, a fierce competitor with a wry sense of humor and a twinkle in his eye every time he, his wife Susan and I started a new adventure.
Terry Hennessy
Chief Executive Officer
Senior Softball-USA
---
William E. Ruth was born in Seattle at Providence Hospital to Walter and Zella Ruth. He lived in Riverton until age 7 when his family moved to a small farmhouse off the Benson Highway in Renton (now Kent). Bill graduated from Kent Meridian High School and went on to graduate from Washington State University.
Bill's business ventures took him to many places. Real estate developments in the Pacific Northwest and Mexico, Fishing lodges in Alaska and Softball adventures throughout the US, Europe and Asia.
Bill is survived by his wife, Susan; brother Jerry A. (Cynthia) Ruth; children Jon (JB) Ruth, Demarest (Bruce) Sherwood, Steven (Debbie) Hehr, Starlene (Michael) Ward, Koranne (Michael) Randow and 'adopted sons' Brent Freeman and Jake Call; 8 Grandchildren and 13 Great Grandchildren. Preceded in death by brother John W. Ruth in 2008.
Bill was a fierce competitor with a wry sense of humor and a twinkle in his eye.