The Greatest Softball Writer of All Time
Jerome Earnest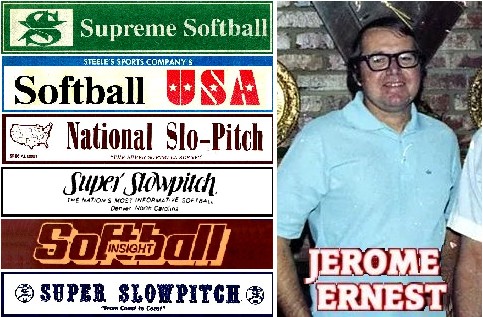 If you don't know by now, there is a fellow named Jerome Earnest from Florida who has been writing about the slow pitch scene for many years. Jerome was born April 5, 1942 in Apalachicola, Florida. He moved to Panama City in the fourth grade and became interested in ball since he saw his mother washing and pressing the uniforms for the town team in Apalachicola. He played softball before and after school. His teacher in the fifth grade even let him out to go set up the bases for a softball game during break. Jerome played little league and high school ball and went to the state tournament in his junior and senior year. His team played against former major league star Boog Powell's.
got his start at sports writing upon winning a contest in the local newspaper. It was titled "What Professional Baseball Means to The Community." The prize was getting to be the batboy of the Panama City Flyers. This inspired him to go on and cover the Flyers and eventually led to his reporting of the Alabama-Florida League statistics.  While in the ninth grade, he started doing little league and midget football for the Panama City News-Herald and this led to his covering the high school games during his 10th grade year. He even wrote the baseball articles while he was still a player. Eventually, he became sports editor of the News-Herald and remained there for several years (until 1976). Jerome was the sports editor when ASA Hall of Famer H.T. Waller (who played at the little school of Vernon), was presented the paper's "Thom McAnn Award" for the best athlete in the area back in the 1960's.
Softball received great coverage from this paper. Jerome Earnest was the one who started the Southeastern Invitational in 1963. This tournament is still active today. Jerome even managed his own team for 13 years, until 1976. None of his teams ever made it to the nationals, but that doesn't mean they weren't good… back then it was very hard to make it there. You could have three of the best teams in the country in the same regional, but only two advanced.
His Commander's Real Estate team in 1973 was probably the most successful team he had – they finished 4th in the Pick of Dixie tournament in Chattanooga, TN and fourth in the Smoky Mountain Classic in Maryville, TN that same year. He had many sponsors. Included amongst his players is a veritable who's who of softball history: H.T. Waller, Luther Ates, Harold Kelley, Charlie Mitchell, Steve and Curtis Williams. In 1977 he merged his team with Buddy Brandt's in Tallahassee. Buddy's team was around for many years and even went to nationals in 1960 and 1961. In 1977, they tried to get to the nationals but did not make it. They were third behind Ken Sanders Ford and Jerry's Caterers in the regionals, and only two teams got to advance.
Jerome started doing a softball newspaper in 1977. He says he's been fortunate to be tied up with such teams as Nelson's Painting, Dave Carroll, Howard's Furniture, Ken Sanders, Elite Coatings and Steele's Sports. The first paper he had was "Super Slowpitch". That's how he got involved in the big time, with R.T. Nelson, owner of the famous Nelson's Painting team, after Mr. Nelson saw one of Jerome's articles. All Mr. Nelson did was move Jerome out to Oklahoma City in 1978. That's where and when the National Slo-Pitch Conference (NSPC) started. Jerome oversaw getting on the phone and contacting every elite team (ASA or USSSA) from coast to coast. They included Jerry's Caterers, Ken Sanders, Howard's Furniture, Dave Carroll's Sports, Hillcrest Tavern, York Barbell, Campbell's Carpets, Capitol Insulation, Snyder's Softball Club, Taylor Brothers Jewelers and, of course, Nelson's Painting. Jerome speaks very highly of many sponsors, especially R.T. Nelson: "Mr. Nelson was a great man … he treated me like a son and my three sons like grandkids."  Richard Howard also was highly respected by Jerome. "Mr. Howard was another great man, very generous."  Dave Neale is another of Jerome's favorites; "Dave Neale is another one who loved softball …. he would go to tournaments on weekends, then go out to league games during the week."
In Jerome's first year he wrote mostly about the Southeast teams like Howard's Furniture, Kobax, Valley Merchants, Jo's Pizza, Warren Motors, Ken Sanders Ford and Jerry's Caterers.  Mr. Nelson encouraged him to branch out and begin writing about the national scene. With the NSPC, Jerome was the publicity man when Dave Carroll was the executive director. He started an NSPC paper called "National Slo-Pitch". It was a league paper and a national paper also. Jerome was the executive director of the NSPC in 1979 and 1980. Robert Brown (who was the Director of the Professional North American Softball League in 1980) took over in 1981 and Jerome became his assistant.
After the NSPC folded in its regular season format in 1982 (They did still have a National Championship in 1983), Jerome made his way over to Elite Coatings in Gordon, GA and did the "Softball Insight" magazine for Gary Hargis of Elite in 1984 and 1985. Jerome was also very fond of Gary Hargis… "He was very generous."
Jerome then got hooked up with Steele's Sports and was responsible for all the PR, scheduling and statistics when Steele's went on their barnstorming tours in the mid to late 1980's. He did everything including driving the team van. "Sports Illustrated" did a big article on the Men of Steele back in 1986 and they talked about Jerome being the guy who knew everything. There was a saying: "Ask Jerome, he knows."  He left Steele's for a brief stint with the "Atlanta Journal" Newspaper in 1988 and 1989 but came back to Steele's in 1990. He started the "Softball USA" publication for Steele's that year and continued it up into 1991 when Steele's folded the team for the year.
He covered softball in 1991 and 1992, mostly on his own… he didn't have a publication then, but he did have National Rankings and Statistical Leaders published in special editions of Softball USA printed in 1992. He has written articles that have been published in both the ASA's "Balls and Strikes" and USSSA's "Slo-Pitch News".  He started Softball USA up again in late 1993 and continued it until 1995, when he changed the name to "Supreme Softball".
Supreme Softball covered the major softball scene and when Jerome did an article on a tournament or national championship event, after you read it, you walked away with no questions whatsoever. You felt as if you were there. He explained the entire event to you inside and out, complete with stats, comments and quotes. He created the Supreme Softball Web Site and turned it into one of the best softball web sites there ever was for information and cold, hard facts.
I want to thank Jerome Earnest for taking the time to give me some details about his life and times as a writer. I feel honored, having sensed that his sharing of information with me was the result of a recognized joint love of the game. I know one thing… words cannot describe the extent to which Jerome has assisted me in my effort to chronicle the history of our beloved sport. I wouldn't have my web site if it weren't for him. Anyone that reads any softball publication should give Jerome Earnest a thank you, because without him, softball would be an afterthought when it comes to media coverage. Sure, they'll be reports of a certain national championship taking place in Anytown, USA. It will have the winner listed and maybe who they beat for the championship. Jerome Earnest made it possible to create a national publication that deals strictly with softball.
There is a sad epilogue to this story. Jerome was stricken with a brain hemorrhage and placed in intensive care before passing away on April 9, 2000 from heart failure.  He will be remembered for all he has done for the sport. I hope someday there is a place in the Hall of Fames for this person who, in recent years, brought published softball information to unprecedented heights. He recognized the value of the internet as to how it could provide immediate information to the great fans of this game and used this medium to cover the national events that commanded our interests. Reading a Jerome Earnest article was tantamount to a front row seat at these events. Jerome Earnest was posthumously inducted into the ISA National Hall of Fame in 2000.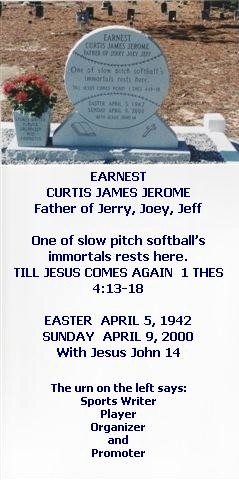 Jerome Earnest (1942-2000) Rest in Peace