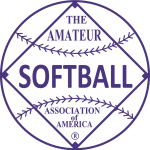 2010 held at Oklahoma City, Oklahoma on October 1-3.
---
Champion – Dan Smith/Menosse/Shirts & Logos, Spokane, Washington
Runner Up – Long Haul Trucking, Albertville, Minnesota
---
Dan Smith/Menosse may have entered the weekend with a first game 41-40 disappointing loss, but it didn't matter because they proceeded to win eight consecutive games in capturing its first ASA Class-A National title. The 2010 Champions capped the impressive performance by winning three games on the last day, including beating defending champion Long Haul twice, 36-21 and
37-24 at the ASA Hall of Fame Complex. The Dan Smith team was very impressive because in 9 games they scored 339 runs and allowed 217. They hit 65 homers with Brian Wegman, Dan Smith's Middle Infielder leading the way with 12 dingers and 47 RBI. Wegman was named the tournament MVP and sparkled on defense as well. He was an incredible 41-51 on the weekend with an .804
batting average. The Dan Smith team compiled a .705 average while holding their opponents to a .601 average. Wegman was also the tournament HR champ with 12. Fence Broker's John Glidewell was the batting champ going 13-15 with 6 HR and 14 RBI. He had an .867 average.
---
MVP – Brian Wegman, Dan Smith/Menosse/Shirts & Logos (41-51, .804, 12 HR, 47 RBI, 39 Runs)
HR Leader – Brian Wegman, Dan Smith/Menosse/Shirts & Logos – 12
Batting Leader – John Glidewell, Fence Broker/Gametimesupply/Worth (13-15, 6 HR, 14 RBI, 12 Runs) – .867
---
2010 FIRST TEAM ALL AMERICANS
P – Geno Buck, Dan Smith/Menosse/Shirts & Logos (37-50, .740, 11 HR, 35 RBI, 34 Runs)
C – Scott Brown, NW Combat (26-31, .839, 8 HR, 25 RBI, 18 Runs)
IF – John Glidewell, Fence Broker/Gametimesupply/Worth (13-15, .867, 6 HR, 14 RBI, 12 Runs)
IF – Brian Wegman, Dan Smith/Menosse/Shirts & Logos (41-51, .804, 12 HR, 47 RBI, 39 Runs)
IF – Tom Bowser, Fence Broker/Gametimesupply/Worth (16-20, .800, 7 HR, 19 RBI, 15 Runs)
IF – Bryson Baker, Long Haul Trucking (20-27, .741, 4 HR, 14 RBI, 19 Runs)
OF – Jason Branch, Long Haul Trucking (15-22, .682, 5 HR, 17 RBI, 12 Runs)
OF – Rick Baker, Dan Smith/Menosse/Shirts & Logos (39-49, .796, 9 HR, 43 RBI, 36 Runs)
OF – Chad McLamb, Dan Smith/Menosse/Shirts & Logos (36-52, .692, 26 RBI, 42 Runs)
OF – Jeremy Isenhower, Long Haul Trucking (22-29, .759, 7 HR, 27 RBI, 18 Runs)
UTIL – Brett Helmer, Dan Smith/Menosse/Shirts & Logos (35-47, .745, 9 HR, 41 RBI, 34 Runs)
UTIL – Kyle Moyer, Long Haul Trucking (16-26, .615, 6 HR, 17 RBI, 13 Runs
UTIL – Dennis Rulli, Long Haul Trucking (22-29, .759, 2 HR, 7 RBI, 17 Runs)
---
 OTHERS PLAYERS
Oliver Forest, NW Combat (20-25, .800, 1 HR, 13 RBI, 16 Runs)
Johnny Bailey, Dan Smith/Menosse/Shirts & Logos (34-47, .723, 4 HR, 26 RBI, 30 Runs)
Jeff McGavin, Dan Smith/Menosse/Shirts & Logos (34-47, .723, 2 HR, 22 RBI, 31 Runs)
JD Genter, Dan Smith/Menosse/Shirts & Logos (34-49, .694, 8 HR, 30 RBI, 35 Runs)
John Gallegos, Dan Smith/Menosse/Shirts & Logos (32-48, .667, 6 HR, 42 RBI, 31 Runs)
Adam Rockoff, Long Haul Trucking (15-26, .577, 7 HR, 27 RBI, 13 Runs)
Brad Reckart, Dan Smith/Menosse/Shirts & Logos (28-55, .509, 4 HR, 23 RBI, 25 Runs)
---
FINAL STANDINGS
1. Dan Smith/Menosse/Shirts & Logos, Spokane, WA (8-1)
2. Long Haul Trucking, Lakeland, MN (4-2)
3. Fence Broker/Gametimesupply/Worth Bryant, AR (3-2)
4. NW Combat, Kent, WA (4-2)
5t. Laser Vision/Team Combat, Kent, WA (2-2)
5t. Spurs/Nichols Transportation/Premier Sports, Kilgore, TX (2-2)
7t. Mr D's/Custom Apparel, Becker, MN (1-2)
7t. Tings Moving/Hr Sports/Orioles, Oklahoma City, OK (2-2)
9t. Pipac/TCP/Easton, Burlington, IA (1-2)
9t. Armed Forces USA., DC (0-2)
9t. SW OK Outlaws, Altus, OK (1-2)
9t. Famous Sports/Johnny Blaze, Montclair, CA (1-2)
13t. P-Town Boyz, Stillwater., OK (0-2)
13t. Checking/Worth, New Haven, CT (0-2)
13t. Rent King/Ambush, Norman, OK (0-2)