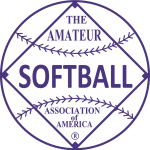 1968 held at Stratford, Connecticut.
---
Champion – Raybestos Brakettes, Stratford, Connecticut (69-6)
Runner Up – Orange Lionettes, Orange, California
---
Bertha Tickey, who retired after the 1967 National, came back in 1968 to pitch one last year.  She only pitched two games, but made them memorable.
In the fist game she hurled, she pitched a 8-0 perfect game and struck out 14 batters, 11 of them in succession to start the game.
In her next and last game in her illustrious career, she pitched a 13 inning no-hitter in the winner's bracket final to beat Fresno 1-0. Donna Hebert doubled in Donna Lopiano with the games winning run in the bottom of the 13th inning.  Tickey struck out 19 batters in the game. She finished the tournament with a 2-0 record, pitched 20 innings, struck out 33 batters, walked none and gave up no hits.
What an incredible way to end a career. For the second straight year, the Brakettes ran the table, going 6-0. They did not give up a run until the final game. They surrendered 10 hits in 6 games and struck out 76 in 48 innings. In the past 2 years, their pitching staff has been 12-0, 11 by shutout. They have struck out 151 batters in 91 innings. They only surrendered 17 hits and 1 run, which was unearned.
The Women's Pitching Award would forever be known as the Bertha Tickey Pitching Award.
---
MVP – Joan Joyce, Raybestos Brakettes
HR Leader – Pat Harrison, Raybestos Brakettes – 1
Batting Leader – Toni Swartout, Orlando Rebels – .500
Outstanding Pitcher Award – Bertha Ragan-Tickey, Raybestos Brakettes
Erv Lind Defensive Award – Carol Spanks, Orange Lionettes
---
FIRST TEAM ALL-AMERICANS
P – Joan Joyce, Raybestos Brakettes (4-0, 3 shutouts, 25 IP, 42 K, won 3-1 final; also 10-23, .435, 6 RBI, 5 Doubles)
P – Bertha Ragan Tickey, Raybestos Brakettes (2-0, 20 IP, 33 K, gave up 0 hits, 1 no hitters, 1 perfect game)
P – Pat Whitman, Perkasie Glenettes (4-2, 3 shutouts)
C – Nancy Ito, Orange Lionettes
C – Peggy Kellers, Raybestos Brakettes
1B – Shirley Topley, Orange Lionettes
2B – Veronica Maurek, Perkasie Glenettes
3B – Toni Swartout, Orlando Rebels (6-12, .500)
SS – Carol Spanks, Orange Lionettes (2-0, 2 shutouts)
OF – Pat Harrison, Raybestos Brakettes (7-19, .368, 3 2B, 1 3B, 1 HR, 5 Runs, 2 RBI)
OF – Marlene Piper, Raybestos Brakettes (9-22, .409) – 2-run Double in final game was key in 3-1 victory.
OF – Pat Walker, Orlando Rebels
OF – Mickey Davis, Orange Lionettes
UTIL – Donna Lopiano, Raybestos Brakettes
SECOND TEAM ALL-AMERICANS
P – Jean Daves, Orlando Rebels
P – Gloria Helms, Fresno Rockets (3-2)
P – Jackie Rice, Orange Lionettes (4-2)
C – Linda Izatt, Utah Shamrocks
C – Mary Jane Boyd, Perkasie Glenettes
1B – Pat Lynch, Perkasie Glenettes
2B – Sue Gunter, Brentwood TN Sportettes
3B – Carol LaRose, Raybestos Brakettes
SS – Phyllis Shaak, Perkasie Glenettes
OF – Willie Roze, Raybestos Brakettes
OF – Judy Stine, Wooster Lumber
OF – Sheila Patterson, Fresno Rockets
OF – Nera "Sally" White, Brentwood TN Sportettes
UTIL – Gerry Murphy, Fresno Rockets
---
FINAL STANDINGS
1. Raybestos Brakettes, Stratford, CT (6-0) (Defending Champ)
2. Orange Lionettes, Orange, CA (6-2) (South Pacific Coast)
3. Fresno Valley Rockets, Fresno, CA (3-2) (North Pacific Coast)
4. Perkasie Glenettes, Perkasie, PA (4-2) (Central Atlantic)
5t. Brentwood Sportettes, Nashville, TN (2-2) (South Atlantic)
5t. Ohse Meat Company, Topeka, KS (2-2) (Western)
7t. Utah Shamrocks, Salt Lake City, UT (2-2) (Rocky Mountain)
7t. Wooster Lumber Girls, Wooster, OH (2-2) (East Central)
9t. Anchor Fence Anchorettes, Indianapolis, IN (1-2) (West Central)
9t. JH Rose Truckline Comets, Houston, TX (1-2) (Texas)
9t. Bridgeport Co-Eds, Bridgeport, CT (1-2) (Host)
9t. Orlando Rebels, Orlando, FL (2-2) (Southern)
13t. Schaeferettes, Plainfield, NJ (0-2) (Mid-Atlantic)
13t. Panza Const. Superiorettes, West Haven, CT (1-2) (New England)
13t. Yakima Webb Cats, Yakima, WA (0-2) (Northwestern)
13t. Superior 400, Bloomington, MN (1-2) (Northern)
17t. Hull-Dobbs Ford, Memphis, TN (0-2) (Southwestern)
17t. Sun City Saints, Sun City, AZ (0-2) (Cactus)
---
NOTES
Alaska Champ – Anchorage Gold Nuggets, Anchorage, AK did not attend. Hawaii Champ – no representative was listed. Canada Champ – Toronto Carpetland, Toronto, ON did not attend.