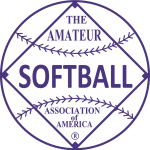 2007 held at Oklahoma City, Oklahoma.
---
Champion: Armed Forces, Washington, D.C.
Runner Up: Juice, Houston, Texas
---
The 2007 ASA Women's Open Slow Pitch National Championship had a patriotic feel as the red, white and blue of the All Armed Forces team captured the championship. After Juice of Houston, Texas, forced the if necessary game by beating the Armed Forces 19-2 in the first championship game, the Armed Force rebounded in the final "if" game to win 13-7. Shannika Taylor of Fort Huachuca, AZ, was named the tournament MVP for Armed Forces. The Armed Forces all played tremendous softball to over shadow an incredible hitting performance by Juice's Christan Dowling, who hit some of the longest balls ever hit by a Woman softball player.
---
MVP – Shannika Taylor, Armed Forces (9-17, .529, HR, 12 RBI)
Batting Leader – Christan Dowling, Juice (14-19, 3 HR, 13 RBI) – .737
Home Run Leader – Christan Dowling, Juice (14-19, .737, 13 RBI) – 3
---
2007 FIRST TEAM ALL AMERICANS
P – Laurie Doughty, Armed Forces
C – Carly Edwards, Armed Forces
1B – Christan Dowling, Juice
2B – Cara Coughenhour, Juice
3B – Mary Hoff, Juice
SS – Brandi Jackson, Armed Forces
OF – Buffy Arms, Juice
OF – Candace Dugo, Armed Forces
OF – Yen Wilson, Juice
OF – Shannika Taylor, Armed Forces
UT – Lillie Davis, Juice
UT – Toni Epps, Armed Forces
UT – Stacie Symonds, Juice
UT – Roxie Finks, Armed Forces
UT – Chris Wellendorf, Juice
---
FINAL STANDINGS
1. Armed Forces, Washington, DC (4-1)
2. Juice, Houston, TX (3-2)
3. Macken/Excel, Rochester, MN (1-2)
4. No Chit, Huntington Beach, CA (1-2)
5. Predators, Comanche, OK (0-2)