Year   	AB	Hits	HR	Avg	Team
1991					Holiday Jack's/Farrell's
1992			35	.669	Taylor Brothers
1993	218	148	68	.679	Taylor Brothers
1994	294	200	89	.680	DJ's Sports/TPS
1995	362	250	121	.691	Lighthouse/Worth
1996	407	295	133	.725	Lighthouse/Worth
1997	383	269	93	.702	Ritch's-Superior
1998	390	286	106	.733	Team TPS
1999	339	235	122	.693	Team Easton
2000	437	323	144	.739	Team TPS
2001	340	239	99	.703	Long Haul/TPS
2002	360	247	88	.686	Long Haul/TPS
2003	- retired			Dan Smith/Easton
TOTAL	3530	2492	1063	.706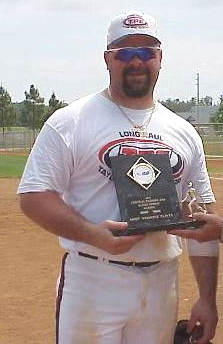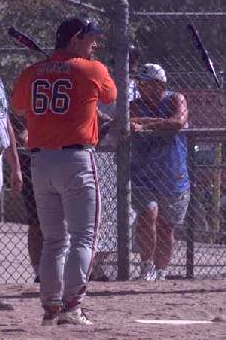 Click on the link to see Mike Shenk's interview with Mike Macenko
http://www.bigcat844.com/legends_shenk.html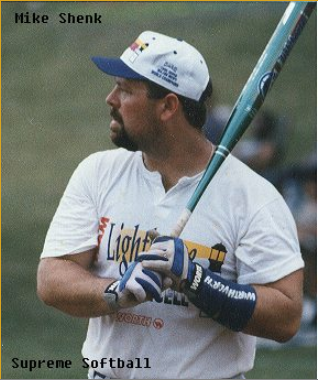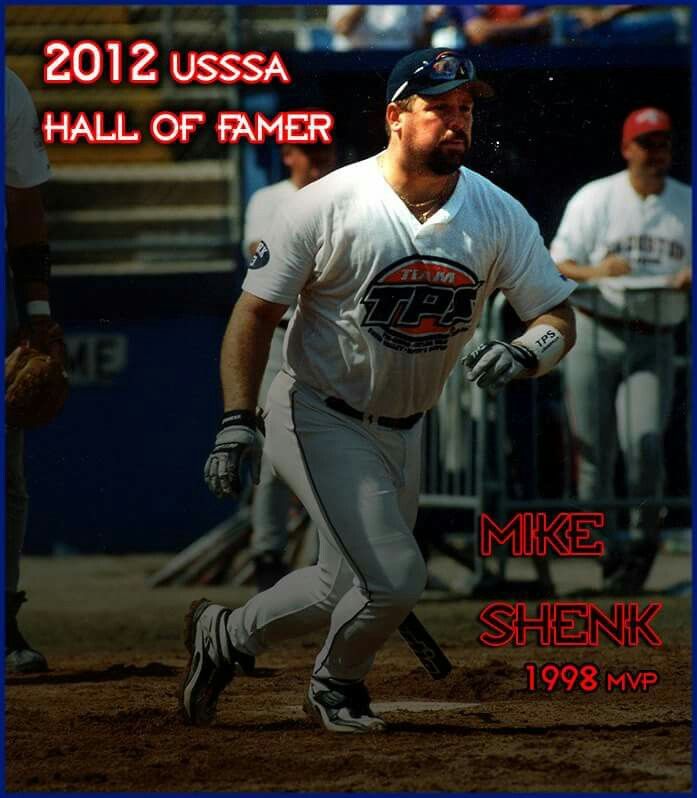 I want to thank Mike Shenk for his many years of friendship and for teaching me the proper way to play this game. Don't worry about what YOU do, worry about what your TEAM does. This man honestly had no idea that he had all these accomplishments, the ONLY thing he ever counted was Championships. To this day, he still wears his 2001 Grand Slam Ring he got for playing with Long Haul when they won all four Associations Super National Championships. He told me many times, he would rather wear that instead of any of the Hall of Fame Rings he has. He is humbled by the Accolades and appreciates them, but what he values to this day are the people he played with and the friendships he made while winning Championships. He is a GOOD man and I am honored that we are friends. Thank You Mike Shenk.
Mike Shenk, Ephrata, PA (Third-Base)
Mike Shenk began playing softball after high school as a fast pitch player. He played fast pitch for two years and switched to slow pitch in order to be able to play the game with his friends. In his eleven-year career in the major and super division he batted over 600 every year, hitting over 700 in five of those years. He hit a total of 1,098 home runs in those eleven years. Remember most of those major and super games were played in baseball fields or fields with baseball type fence distances. The stats he compiled for playing only at the highest level in the country was incredible. And one has to remember, he played with and against the best of the best and still compiled these incredible numbers. All the championships he won were at a time when there were consistently between 10-20 Major or Super teams in the country, unlike today, when it is luck if you find 3 Major teams in the whole country. He competed in a hitting demonstration in Detroit at Tigers' Stadium and hit balls off the Press Box with a couple balls hitting the facing of the right field roof of the stadium. Truly amazing. Mike and his wife Kathy and two children reside in Ephrata, Pennsylvania. He is currently the ASA of Pennsylvania State Slow Pitch Deputy Commissioner and is a great ambassador for this sport in his home state, always saving time to help a young player with batting lessons and even though he is an imposing figure to say the least, still weighing in at a solid 290 lbs of muscle, his "Bulldog" nickname is a far cry from his real personality of a genuine person, great husband, father and loyal friend to those who know him best. He brings an aura of respect and integrity to the whole ASA of Pennsylvania softball program with his presence alone.
Mike was Inducted into the ASA of PA Hall of Fame by Andy Loechner in 2007. He played locally in the state when he started and won the 1987 and 1988 Class-A ASA of PA State Championship with is local team, Farrell's Maintenance of Lititz, PA. His team finished in the top 7 for the next three years (1989-4th, 1990-5th & 1991-7th) in ASA of PA State Class-Major/Class-A competition. He went to a local tournament in Delaware and was discovered by the late Bill Taylor of Taylor Brothers in Providence, RI and played ASA Major ball for Taylor Brothers for the next 2 years. (1992 and 1993). In 1994, he joined Shen Valley of Virginia and Played at the highest level in the country, ASA Super Softball until his retirement in 2002. He played for some of the best teams of all-time including Shen Valley, Lighthouse, Ritch's-Superior, Team TPS and arguably the greatest team ever, the 2001 Long Haul/TPS team that compiled an incredible 70-6 Record in Super-Major play that season including winning the Grand Slam title (ASA, NSA, ISA and USSSA world titles), going undefeated in all four Association's Championship play. Mike Shenk was a 9-time ASA National All-American selection and his teams won the ASA Super National Championship an incredible six (6) times, including four (4) in a row from 1999-2002. He also led teams that won the ASA's Prestigious Smokey Mountain Classic on three (3) occasions. Mike Shenk's team never finished less than 4th in the Super Softball Final rankings from 1994-2002. His teams finished in the top-2 for 7 of the 9 years he played the Super level. He was considered the ultimate team player and furthermore -simply – a winner as his career record in Super-major play was 569-172 (77% Winning Pct.). From 1996 through 2001, Mike Shenk was selected to the National Media All-Star teams by Famous Softball writers Jerome Earnest and Gordie Heagle. Here is the official information: (1996, 1st team Utility; 1997, Honorable Mention third baseman; and from 1998 through 2001, 1st team third baseman). He also was selected as the 2nd team – Third-baseman to the 1990's All-Decade team by Jerome Earnest (behind only Charles Wright). And also fitting, Jerome Earnest selected Mike Shenk to the All-Time All-Century team as an Honorable Mention Third-baseman. (Behind only ASA Hall of Famer Paul Tomasovich and Charles Wright). He is widely regarded one of the top-3 third basemen of all-time and also one of the top-10 left handed hitters of all-time. Including his ASA Championships, he has won over 15 National Championships at the highest level counting all associations. And also including his ASA honors, he has garnered over 22 National All-American/All-World team selections counting all associations, including three (3) National MVP awards plus a Defensive MVP award.
Mike Shenk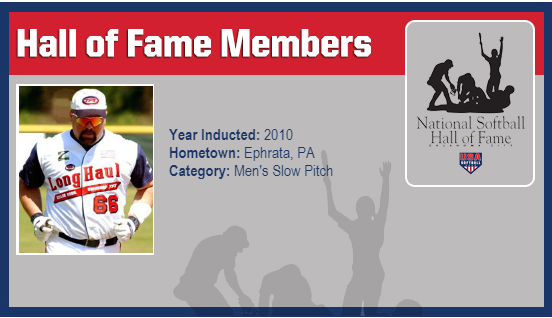 Although he started out playing fast pitch, Hall of Fame inductee Mike Shenk made his mark playing major level slow pitch softball from 1992 through 2002, playing for various teams throughout his career. Shenk began playing fast pitch softball after high school and played for two years before switching to slow pitch to play with his friends. During his 11-year career, Shenk has been named All American 22 times and has won 16 National Championships along with a lifetime batting average of.701 and has hit more than 1,500 home runs during his softball career. He batted .700 or higher five times of which his highest batting average was .739 in 2000 which included personal-high 144 homers. In the past years, Shenk had to shorten his softball career because of kidney problems but after receiving a kidney transplant, he is back on the ball field playing 40 & over. In the Super Nationals, Shenk batted .755, (117-for-155), hit 42 homers and drove in 113 RBI. Some of the top slow pitch teams boasted Shenk on their roster including Farrell Maintenance (1987-1989), Taylor Brothers (1990-1992) Shen Valley, Lighthouse (1995-1996), Ritch's-Superior (1997), Team TPS, Team Easton and Long Haul/TPS in 2001 when the won the "Grand Slam of Softball." In 2007, Shenk was inducted into the ASA of Pennsylvania Hall of Fame. He played for a local team in 1987 and 1988 and helped it win two ASA of PA state titles. In 1994, he joined Shen Valley and continued to play at the top level of men's slow pitch until he retired after playing the 2002 season.
ASA Major/Super All America Team Honors (Tournament Stats listed if available):
These are the events where Mike Shenk was named ASA All-American
1992 ASA Major Nationals – Taylor Brothers of RI (no stats available)
1993 ASA Major Nationals – Taylor Brothers of RI (no stats available)
1994 ASA Super Nationals – Shen Velley/TPS of VA (15 RBIs, only available stat)
1995 ASA Super Nationals – Lighthouse/Worth of GA (16-22, .727, 3 HRs, 13 RBIs)
1996 ASA Super Nationals – Lighthouse/Worth of GA (25-31, .806, 11 HRs, 22 RBIs)
1997 ASA Super Nationals – Ritch's-Superior/TPS of CT (23-32, .719, 7 HRs, 18 RBIs)
2000 ASA Super Nationals – Team TPS of KY (30-35, .857, 10 HRs, 20 RBIs)
2001 ASA Super Nationals – Long Haul/TPS of MN (10-18, .556, 6 HRs, 18 RBIs)
2002 ASA Super Nationals – Long Haul/TPS of MN (13-17, .765, 5 HRs, 7 RBIs)
Available Totals for ASA Super Nationals – (117-155, .755 average, 42 HRs, 113 RBIs)
ASA Major/Super National Championship Results
(also the final team ranking and final overall season record in Super-Major play)
Year – Team Played for – ASA Result Final Standings (Record)
1992 – Taylor Brothers, Providence, RI – Major and Super Nationals – 25th -final rank (record unavailable)
1993 – Taylor Brothers, Providence, RI – Major and Super Nationals – 18th -final rank – (41-19 Record)
1994 – Shen Valley/TPS, Bridgewater, VA – 4th ASA Super Nationals – 4th -final rank – (record unavailable)
1995 – Lighthouse/Worth, Stone Mountain, GA – 1st ASA Super Nationals – 2nd -final rank – (56-25 Record)
1996 – Lighthouse/Worth, Stone Mountain, GA – 3rd ASA Super Nationals – 2nd -final rank – (60-27 Record)
1997 – Ritch's-Superior/TPS, Windsor Locks, CT – 1st ASA Super Nationals – 1st -final rank – (67-19 Record)
1998 – Team TPS, Louisville, KY – 3rd ASA Super Nationals – 1st -final rank – (70-17 Record)
1999 – Team Easton, Burlingame, CA – 1st ASA Super Nationals – 2nd -final rank – (56-27 Record)
2000 – Team TPS, Louisville, KY – 1st ASA Super Nationals – 1st -final rank – (79-15 Record)
2001 – Long Haul/TPS, Albertville, MN – 1st ASA Super Nationals – 1st in final rank – (70-6 Record)
2002 – Long Haul/TPS, Albertville, MN – 1st ASA Super Nationals – 3rd in final rank – (70-17 Record)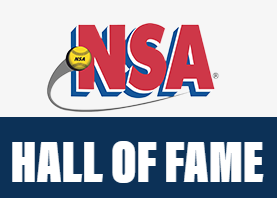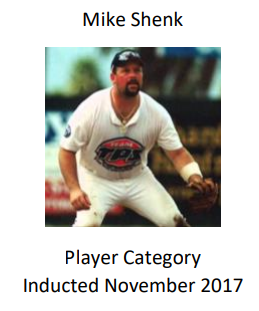 Mike Shenk is a player who has Hall of Fame numbers including the World Championship Teams he has played on to his batting average. But Mike will be the first to say that none of these accolades would be possible without the team mates he had over his career. Mike has won five NSA World Championship, Runner-up twice and Third twice. While playing NSA from 1993 to 2001, Mike was selected to the All World Team seven times, was World Series MVP once and All World Defensive Player once. During his years playing the NSA Major level, Mike had a batting average of .735 with 52 Homeruns and 112 RBIs. Those who witnessed Mike's play, all will say he was the best 3rd Baseman to play the game. Mike's wife Kathleen and their children Derrick and Kristina have stood by his side while he played the game he loves. For years Mike traveled the country but never faltered as being a husband and father. Any NSA umpire that worked a game that Mike played in will attest that he was a true gentleman on and off the field. Due to being unable to attend the Class of 2016 Induction Ceremony, Mike Shenk was inducted into the NSA Sports Hall of Fame in the Player Category on November 2, 2017.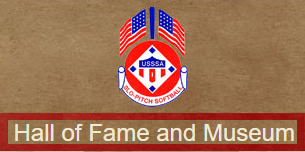 Name – Mike Shenk
Position – Third Base
Year – 2012
Mike Shenk is a 2-time USSSA Major World Series Champion, a 4-time All-World Series Selection, the 1998 World Series MVP and now, a USSSA Hall of Fame member. A third basemen who has been affiliated with the association since 1990, Mike remembers the World Series of 1998 like it was yesterday. "I was playing for TPS and we were told on Saturday that we were part of the leaders bracket playing Sunday morning," he reminisces, "We headed out to a 7am batting practice for an 8am game and after playing five games in a row, we didn't step off of that field until 9 at night. We came back and became the 1998 World Series Champions, winning the final game on a walk off walk. I'll never forget it." With an impressive career behind him, Mike has made his mark on USSSA history.
Bob Holland, USSSA's Atlantic Coast Vice President for 30 years running, re-iterates Mike's accomplishments and athletic talents, "Mike Shenk was the best slow pitch player to come out of Pennsylvania." Bob adds, "I had the pleasure to watch him grow as a young raw talent, to one of the best that slow pitch has seen in his era." When asked what it means to be inducted into the Hall of Fame, Mike said "This means everything to me. I was fortunate enough to play for some of the best teams to ever play. Throughout my career, the goal was to be there and give 110% to my team. That's why it's hard to go into the Hall of Fame, because without my team this wouldn't be possible." His advice to young and aspiring baseball and softball players, "You can never take enough batting practice and always be prepared and there for your teammates."

TEAM USA
Mike Shenk and Bruce Meade – Honorary Captains for Team USA