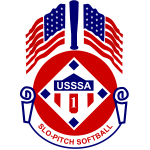 1994 held at Salem, Virginia.
---
Champion – Cannan's Illusion, San Antonio, Texas
Runner Up – Papa John's, Louisville, Kentucky
---
Cannan's Illusions, after a tough runnerup finish last year, won the Championship this year with a 7-3 title game victory. Sandy Mader's 3 hits each drove in a run to lead the Cannan's offense. Everyone in attendance was waiting for the big matchup between Cannan's and Lady Blue for the Championship, but that never materialized. Cannan's played Lady Blue in the semi-final of the winner's bracket and smoked them 20-3. Lady Blue dropped down to the Loser's Bracket and had to watch as Papa John's caught fire and eliminated Empress Chili 7-6 and then upset Lady Blue 10-9 and then Leaverne's Roadrunners in the lowers bracket finals 6-3 to make it to the finals.
---
MVP – Sandy Mader, Cannan's Illusions (10-18, .556, 6 RBI, 6 Runs)
Batting Leader – Teresa Held, Spooks (10-15, 6 Runs) – .667
HR Leader – Marie Eckoff, Cannan's Illusions (5-13, .385, 5 Runs) – 1
HR Leader – Sue Kozoil, Lady Blue – (11-20, .550, 4 Runs) – 1
HR Leader – Shannon Ellingsworth, Papa Johns (15-32, .469, 7 Runs) – 1
HR Leader – Trish Fox, Leaverne's Roadrunners (8-17, .471, 3 Runs) – 1
HR Leader – Pat Burns, Spooks (6-11, .545, 2 Runs) – 1
HR Leader – Denise Day, Lady Blue/TPS (8-21, .381, 6 Runs) – 1
HR Leader – Kim Edmondson, Leaverne's Roadrunners (5-18, .278, 8 Runs) – 1
Defensive MVP – Laura Troutman, Papa Johns
Offensive MVP – Allison Cole, Lady Blue/TPS (13-21, .619, 6 Runs)
---
1994 ALL WORLD TEAM
P – Marie Eckoff, Cannan's Illusions/TPS (5-13, .385, 1 HR)
P – Shiela Gilmore, Papa Johns (12-29, .414)
C – Deborah Bell, Leaverne's Roadrunners (
1B – Lori Erpenbeck, Lady Blue/TPS (9-15, .600)
1B – Laura Troutman, Papa Johns (14-27, .519)
1B -Barb Lindgren, Cannan's Illusions/TPS (7-16, .438)
2B – Shannon Ellingsworth, Papa John's (15-32, .469, 1 HR)
2B – Mayre Tames, Lady Cougars (
3B – Sandy Mader, Cannan's Illusions/TPS (10-18, .556)
3B – Faye Smith, Leaverne's Roadrunners (
SS – Jolanda Clayton, Leaverne's Roadrunners (
SS – Andrea Wadsworth, Papa Johns (15-31, .484)
SS – Sue Koziol, Lady Blue/TPS (11-20, .550, 1 HR)
OF – Tina May, Empress Chile/TPS (
OF -Trisha Fox, Leaverne's Roadrunners (8-17, .471)
OF -Tammi Terrel, Cannan's Illusions/TPS (7-14, .500)
OF -Allison Cole, Lady Blue/TPS (13-21, .619)
OF -Kathy Riley, Cannan's Illusions/TPS (7-16, .438)
Manager – Al Campbell, Cannan's Illusions/TPS
FINAL STANDINGS (Incomplete – 16 teams)
1. Cannan's Illusions/TPS, San Antonio, TX (5-0)
2. Papa John's, Louisville, KY (6-2)
3. Leaverne's Road Runners, Pinehurst, NC (3-2)
4. Lady Blue/TPS,Dearborn, MI (3-2)
5t. Empress Chili/TPS, Cincinnati, OH (2-2)