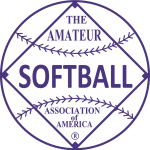 2003 held at Midland, Michigan on July 10-13.
---
Champion – The Farm Tavern, Madison, Wisconsin
Runner Up – Circle Tap, Denmark, Wisconsin (48-13)
---
Farm Tavern went undefeated (5-0) and beat Circle Tap (5-2) in final behind the pitching of Todd Martin (3-0), who won his 3rd game of the tournament. Jason Hanson hit a home run for the Farm Tavern. Hanson put Farm out ahead on a lead-off homer in the first inning and Farm expanded its margin to 4-0 on RBI singles by Todd Budke, Cliff Widsom and Smet. All of the runs in the second were unearned off losing pitcher Rob Scheller (2-1).
Circle Tap closed the gap to 4-1 when it scored its first run in the third on an RBI double by Delarwelle, bringing across Jess Ellestad who had walked after one out. In the fourth inning with one out, Circle Tap pitcher Rob Scheller and his catcher, Don Garvey, were both ejected from the game by home plate umpire Bryan Smith. Garvey went first and Scheller, who threw his glove after Garvey was ejected, followed.
Trevor Wardell replaced Scheller on the mound and third baseman Todd Malnory went behind the plate. Malnory, however, didn't last long as he was ejected in his next at-bat for arguing a called third strike.
Chad Huebner replaced Malnory behind the plate to start the fifth inning and Circle Tap coach Wayne Kruger even inserted himself into the lineup at first. Circle Tap decided to call the game after batting in the sixth inning so it wouldn't miss their airplane flight.
Scheller was the loser, hurling 3 1/3 innings, allowing six hits and one earned run. Wardell hurled 2 2/3 innings and gave up one hit. He fanned two. Budke of Farm Tavern had three hits in four at-bats.
A record 62 HR were hit by the 22 teams entered.
Gerald Muizelaar, Kelso; Jody Henniger, Fed Lock and Trevor Wardell, Circle Tap (all were 3-1). Wardell's pitching mate, Rob Scheller was 2-1 for Circle Tap.
---
MVP – Chris Delarwelle, Circle Tap
Batting Leader – Dan Smet, The Farm Tavern – .615
HR Leader – Chris Delarwelle, Circle Tap  – 4
HR Leader – Todd Garcia, Team Lyons – 4
Herb Dudley Pitching Award – Paul Algar, Farm Tavern
---
FIRST TEAM ALL-AMERICANS
P – Paul Algar, Farm Tavern (2-0, 14 IP, 24 K, 0 ER, 2 Hits, 2 shutouts, no hitter)
P – Todd Martin, Farm Tavern (3-0, 22 IP, 37 K)
P – Trevor Wardell, Circle Tap
C – Todd Garcia, Team Lyons (13 RBI)
1B – Dan Smet, Farm Tavern (8-13)
2B – Jason Hanson, Farm Tavern
3B – Todd Budke, Farm Tavern
SS – Chad Boom, Midland Explorers
OF – Colin Abbott, Farm Tavern
OF – Chris Delarwelle, Circle Tap (13-25, .520, 4 HR, 13 RBI)
OF – Bill Kranz, Fred's Interiors
OF – Steve Schucker, Fedlock Falcons
UTIL – Jess Ellestad, Circle Tap
UTIL – Steve Price, Team Lyons
UTIL – Steve Schott, Kelso Fast Pitch
SECOND TEAM ALL-AMERICANS
P – Frank Cox, Kelso Fast Pitch
P – Jody Hennigar, Fedlock Falcons
P – Jeremy Manley, Pueblo Bandits
C – Ray Reinagel, Kelso Fast Pitch
1B – Gerry Kennedy, Team Lyons
2B – Steve Horning, Midland Explorers
3B – Marc Santillano, Team Lyons
SS – Mark Moziejko, Pueblo Bandits
OF – Ehren Earleywine, Midland Explorers
OF – Steve Mullaley, Ashland Coors Light
OF – Jeremy Schaeffer, Fred's Interiors
OF – Brad Sprau, Pueblo Bandits
UTIL – Gin Barnes, Page Brake
UTIL – Joe Morales, HIS Construction
UTIL – Jason Porto, Team Lyons
---
FINAL STANDINGS
1. Farm Tavern, Madison, WI (5-0)
2. Circle Tap, Denmark, WI (5-2)
3. Team Lyons, Fresno, CA (4-2)
4. Fedlock Falcons, Washington, DC (3-2)
5t. Kelso Fast Pitch, Kelso, MO (5-2)
5t. Pueblo Bandits, Pueblo, CO (3-2)
7t. Midland Explorers, Midland, MI (3-2)
7t. Fred's Interiors, Dubuque, IA (3-2)
9t. His Construction, Houston, TX (2-2)
9t. Page Brake, Salt Lake City, UT (2-2)
9t. Andreas Construction/Bernie'S Tavern, Homer, MI (1-2)
9t. Frontier Players Casino, St. Joseph, MO (1-2)
13t. Ashland Coors Light, Ashland, OH (2-2)
13t. Dolan And Murphy, Aurora, IL (2-2)
13t. Priority Mortgage, Charleviox, MI (1-2)
13t. Bloomington Stix, Bloomington, IL (0-2)
17t. Can-Am Windmillers, Reading, PA (0-2)
17t. Frankenmuth Driving School, Frankenmuth, MI (0-2)
17t. Masterkey Northern, Ann Arbor, MI (0-2)
17t. Plangger's Furniture, Benton Harbor, MI (0-2)
17t. Up To Date Printing, Millington, MI (0-2)
17t. Winterset A's, Winterset, IA (0-2)