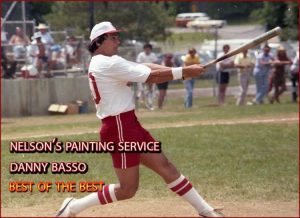 Softball legend Danny Basso has passed away. He played for many years with Nelson's Painting Service.
Daniel Carl "Danny" Basso, aka "Papa D", died unexpectedly in San Angelo, Texas at the age of 66 years old with his loving wife by his side.
Danny is survived by his wife May Basso; children Chris Basso and wife Laura, Jennifer Matthews and husband Chris, Stephanie Cravens and husband David; grandchildren Collin Cravens, Kendall Cravens, Cooper Matthews, Jillian Matthews, and Piper Gatlin; sister Susie Hutchinson of Pearland, Texas, and brothers Mike Basso of Pearland, Texas, and James Whitfield of Rowlett, Texas, father-in-law and mother-in-law, Steve and Mary Pat Schifani, as well as many nieces, nephews, cousins and dear friends.He was preceded in death by his mother and father, Constance and James Basso of Pearland, Texas.
Danny was born on April 9, 1952 in Hopkinsville, Kentucky to Constance and James Basso.  He graduated from Mt. Carmel High school in 1970, followed by three and a half years at the University of Houston. He married Alicia Cotrone in 1974. Over the next several years they welcomed Chris and Jennifer in to the world and began raising their family in Houston, Texas.  In 1995, Danny married May Schifani and later moved to League City, Texas in 2005.  His children remember Danny as the "rock" of the family who supported and guided them throughout their lives and always encouraged them to pursue their dreams.  His grandchildren will always remember Papa D as the gentle giant and prankster that he was, and will miss him dearly.
Danny was a great baseball player and later professional softball player.  Beginning in 1975 and over the course of the next 10 years, Danny played for many different teams across the largest professional softball leagues around while traveling throughout the United States.  After retiring from softball, Danny began his long and successful career as a sporting goods salesman, where he formed many lifelong friendships, ending his career with Barcelona.  He was a dedicated and selfless family man who loved his kids and grandkids more than words can describe.  He was an avid outdoorsman; enjoying golf, hunting and fishing with his family and friends, and always loved and talked about the beautiful Texas hill country.
A celebration of life followed by rosary service is scheduled for 6:00 P.M. to 8:00 P.M. on Monday, October 22, 2018 at Mary Queen Catholic Church, 606 Cedarwood Dr., Friendswood, Texas.  A funeral mass is scheduled for 10:00 A.M. on Tuesday, October 23, 2018 at Mary Queen Catholic Church with Rev. Sibi Kunninu, M.S. officiating, with a reception to follow. All are welcome to attend and celebrate Danny's life.
The family would like to thank all of our friends and family for your prayers, support, and help throughout this tragic time.
Condolences can be sent to the Basso family in care of Jeter Memorial Funeral Home at www.jeterfuneralhome.com.