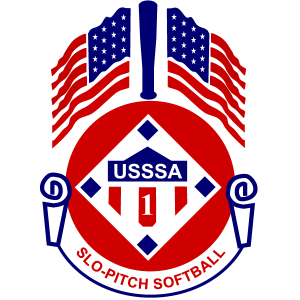 1995 held in Garland, Texas on September 2-3.
---
Champion – Spectrum/Easton, Plymouth, Minnesota
Runner Up – Hague/R&D/Ohio/TPS, Columbus, Ohio
---
The Spectrum/Easton slow-pitch softball team of Plymouth won the USSSA Class AA World Series in Garland, Texas, last weekend.
Todd Volkers, who went 14- for-15 with 11 home runs, was named the tournament MVP. Spectrum-Easton's Gary Johnson was named the top manager in the event and Ted Larson, Doug Johnson, Jeff Franks and Rich Alliotti were selected to the all-world team.
---
MVP – Todd Volkers, Spectrum/Easton (14-15, .933, 11 HR)
HR Leader – Mike McColeman, Superior/Southland (23-28, .821) – 17
Batting Leader – Todd Volkers, Spectrum/Easton – .933
Defensive MVP – Jim Burbrink, Hague/R&D/Ohio/TPS
Offensive MVP – Todd Volkers, Spectrum/Easton (.933, 11 HR)
---
1995 USSSA MEN'S CLASS "AA" WORLD TEAM
Rich Aliotti – Spectrum/Easton
Jeff Franks – Spectrum/Easton
Todd Volkers – Spectrum/Easton
Doug Johnson – Spectrum/Easton
Ted Larsen – Spectrum/Easton
Mark Cobb – Hague/R&D/Ohio Transport/TPS
Steve Dickinson – Hague/R&D/Ohio Transport/TPS
Howie Krause – Hague/R&D/Ohio Transport/TPS
Tommy Thompson – Hague/R&D/Ohio Transport/TPS
Lance Peterson – O&S Cattle/TPS
Tim Putrah – O&S Cattle/TPS
John Whaley – O&S Cattle/TPS
Mike McColman – Superior/Southland
Dewayne Frizzell – Superior/Southland
Phil Jobe – Superior/Southland
Mike Cellura – D's Dynasty
Jeff Vargo – ANC/Reebok/Whips/TPS
Manager – Gary Jost – Spectrum/Easton
---
FINAL STANDINGS
1. Spectrum/Easton, Golden Valley, MN (4-0)
2. Hague/R&D/Ohio Transport/TPS, Columbus, OH (4-2)
3. O&S Cattlemen/TPS, South St. Paul, MN (5-2)
4. Superior/Southland/TPS, Gainesville, GA (3-2)
5t. Whips/TPS, Milwaukee, WI (4-2)
5t. D's Dynasty/Easton, Valley Center, CA (2-2)
7t. Worth/AJ's, Richmond, VA (3-2)
7t. Herb's/TPS, San Diego, CA (2-2)
9t. Chips's/Nashville, TN (2-2)
9t. Sports World/Worth, Lebanon, TN (2-2)
9t. Joe Black's/Worth, Chicago, IL (2-2)
9t. Liberty Park/TPS, Sterling Heights, MI (1-2)
13t. Texas Softball Club, Gravevine, TX (2-2)
13t. Sports Extra, Garland, TX (1-2)
13t. Davault Softball Club, Cape Girardeau, MO (1-2)
13t. South Dixie/TPS, Elizabethtown, KY (0-2)
17t. RSH/Deep South/Worth, Ridgeland, MS (1-2)
17t. Dan Smith/Easton, San Jose, CA (1-2)
17t. Jock's Nitch/Worth, Louisberg, KS (1-2)
17t. Rainier/TPS, Seattle, WA (1-2)
17t. Pace/Leisure Time/Worth, Rochester, NY (0-2)
17t. Back Porch/Moulton Furniture/TPS, Destin, FL (0-2)
---
SCORES
Spectrum/Easton 30 Liberty Park 8
Spectrum/Easton 30 D's Dynasty 16
Spectrum/Easton 25, Hague 17
Spectrum/Easton 24, Hague 4