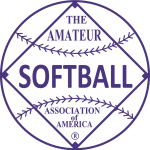 1994 held at Clem Kelly Park in Bismarck, North Dakota on September 2-5.
---
Champion – Vector Security, Harrisburg, Pennsylvania
Runner Up – Tharaldson Insurance, Fargo, North Dakota
---
Sailing into uncharted waters suited the Harrisburg Vector Security slow-pitch softball team just fine.
The Pennsylvania club didn't venture almost 1,200 miles to Bismarck to jump in over its head or to tread water in the ASA Men's Masters 35-and-Over tournament
They came to North Dakota to win. And win they did, capturing the national title with a 6-1 record. Previously undefeated Vector Security closed the books on the championship Monday by splitting two games with Fargo Tharaldson Insurance at the Clem Kelley Complex.
Tharaldson Insurance, the losers bracket survivor, trimmed Vector Security 18-15 in the first game but fell 13-11 in the decisive game.
A 19-7 win over TJ's Bud (Great Falls, Mont.) put Tharaldson's in the finals. Earlier in the day, TJ's eliminated St. Joseph, Minn., Anderson Plumbing in a 19-9 nine-inning thriller.
Vector Security handed Tharaldson's its first loss of the tourney, 18-16, on Sunday.
"We thought we had a good shot, or we wouldn't have come out here," said Vector Security pitcher and tournament MVP Don King.
Third baseman Randy Beckley, who popped two homers and drove in four runs for Vector Security in the second championship game, reiterated King's viewpoint. "We believe in ourselves, and we thought we had a chance, seeing how well we did at state," Beckley said.
In the Pennsylvania Masters-35 tourney, Vector Security went 5-0 for the state title. That was the first five games of Masters competition for the club this season. As a Class B team, Vector Security was 75-7.
Tharaldson's seemed to be in the driver's seat early in the finale of the 31-team, double-elimination tourney. After winning the first championship game, the Fargoans jumped ahead 2-0 on Ken Terfehr's homer and opened a 7-0 gap in the first inning of the final.
That was clearly the most damaging frame of the tournament against Vector Security , which was adept at avoiding killer innings. Beckley said Vector took it philosophically. "We just don't give up," he said.
"When you're up against great teams like that, they're going to have a big inning and get up. You've got to have a big inning and come back."
Vector Security failed to match Tharaldson's seven-run burst, but chipped away bit-by-bit while holding the Fargo team to four runs the rest of the way.
Beckley's two-run homer was the key to a three-run home first inning for Vector Security. Five singles and a double produced four more in the second to tie the game.
Tharaldson's took its last lead, 10-9, on Terry Stargardt's inside-the-park homer and Mike Jastram's RBI single in the top of the fourth. Vector Security answered with three runs on a four-single flurry and sacrifice flies by Carl Miller and Jim Smith. That made it 12-10 and the Pennsylvania club was in charge for good.
Bob Piatz, a pickup player from Jamestown who played brilliant defensive ball in right field, could hardly believe Tharaldson's produced just one fence-clearing shot in the final. "If you'd told me before the game, we wouldn't use all three homers (a three-homer limit was in effect) I'd never have believed you," he said. "… But I'd never have guessed we'd only score four runs in the last six innings, either."
Piatz said he really felt Tharaldson's had Vector Security on the run after the seven-run first inning.
"But we didn't keep the pressure on them. Our bats went dead."
King believes some of that may have been due to the pride his team takes in defense. "We play good defense," he said. "We had some timely hitting, but basically we play good defense."
Championships are nothing new for Vector Security. This is their seventh of the season. But King has never enjoyed that national championship feeling before. "We've won a lot of tournaments this year," he said, "but this is by far the best feeling I've ever had."
And all it took was six victories — and 1,200 miles.
---
MVP – Don King, Vector Security
HR Leader – Karl Upton, TJ's/Bud – 6
Batting Leader – Tim Henecke, Buccaneers – .792
---
FIRST TEAM ALL AMERICANS
P — Don King, Vector Security
C — Dan Waldorf, Anderson Plumbing
1B — Ed Catelli, Catamero Ltd.
2B — Rick Walberg, Purcell's Plumbery
3B — Ken Olthoff, Tharaldson Insurance
SS — Terry Stargardt, Tharaldson Insurance
OF — Tim Henecke, Buccaneers
OF — Jerry Coates, Houge's Bar
OF — Wayne Johnson, Purcell's Plumbery
OF — Bob Miller, TJ's Bud
DH — Jerry Chapman, Al T's Tackle Twill Lettering
UTIL — Ron Ploog, New Mech Companies
UTIL — Bo Gantz, Vector Security
UTIL — Roger Bzdok, Anderson
UTIL — Tom Long, Vector Security
SECOND TEAM ALL AMERICANS
P — Mike Jastram, Tharaldson Insurance
C — Chris Makos, Minneapolis Merchants
1B — Tom Klein, Buccaneers
2B — Rick Goodsel, Minneapolis Merchants
3B — Robert Dulka, Barnum PGT
SS — Tim Michelsen, Advanced Fluid Controls
OF — Tim Krahler, Advanced Fluid Controls
OF — Mike Dzivra, Al T's Tackle
OF — Dennis Holt, KFC
DH — Dave Rowe, Minneapolis Merchants
UTIL — Mike Beahan, Hague's
UTIL — Dave Mayer, Tharaldson Insurance
UTIL — Bill Kinshier, Anderson Fluid Controls
UTIL — Gordy Smith, Advanced Fluid Controls
THIRD TEAM ALL AMERICANS
P — Bret Hagel, TJ's/Bud
C — Roy Simmons, Tharaldson Insurance
1B — Nuie Gregory, TJ's/Bud
2B — John Rygg, Tharaldson Insurance
3B — Glenn Vadney, Catamero Ltd.
SS — Kyle Kanuckel, KFC
OF — Phil Gladhill, New Mech Companies
OF — Bruce Isaacson, Purcell's
OF — Fred Williams, KFC
OF — Ken Fullerton, Catamero Ltd.
DH — Randy Pribek, Hogue's
UTIL — Bob Montague, New Mech Companies
UTIL — Bob Roth, Al T's Tackle
UTIL — Roger Weigel, Advanced Fluid Controls
UTIL — Don Groth, Buccaneers
---
FINAL STANDINGS
1. Vector Security, Harrisburg, PA (6-1)
2. Tharaldson Insurance, Fargo, ND (6-2)
3. TJ's Bud, Great Falls, MT (5-2)
4. Anderson Plumbing, St. Joseph, MN (4-2)
5t. Buccaneers, Hastings, MN (4-2)
5t. KFC, Coshocton, OH (3-2)
7t. Advanced Fluid Controls, Bismarck, ND (4-2)
7t. Purcell's Plumbery, Annandale, MN (3-2)
9t. New Mech Companies, Bloomington, MN (3-2)
9t. Catamero Ltd., Johnston, RI (3-2)
9t. Minneapolis Merchants, 3-2
9t. Eagle Tire, Annapolis, MD (2-2)
13t. Universal Media, Enola, PA (2-2)
13t. Barnum PGT, Fairfield, CT (2-2)
13t. Hogue's Bar, Oshkosh, WI (2-2)
13t. Al T's Tackle-Twill Lettering, Utica, NY (2-2)
17t. Hogan's-Bagby's, Altoona, IA (1-2)
17t. Frontier Directory-Whiskey Point Saloon, Bismarck, ND (1-2)
17t. Shangri-La, Grand Forks, ND (1-2)
17t. Suds Hut, Helena, MT (1-2)
17t. Ice Draft Budweiser, Moorhead, MN (1-2)
17t. VFW-Leyks, Sauk Rapids, MN (1-2)
17t. Simons Insurance, Selby, SD (1-2)
17t. A&G Auto-Dakota Imaging, Bismarck, ND (0-2)
25t. Pro Image-Lonesome Dove, Bismarck, ND (0-2)
25t. Rooters Bar, Fargo, ND (0-2)
25t. Executive Radiator, Glen Burnie, MD (0-2)
25t. Garden Bar, Great Bend, ND (0-2)
25t. It'll Do Budweiser, Great Falls, MT (0-2)
25t. Gentle Touch, Norfolk, NE (0-2)
25t. Tioga LDH, Inc., Pineville, LA (0-2)