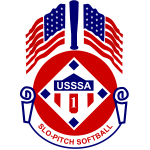 1992 held at Garland, Texas.
---
Champion – Lady Blue, Plymouth, Michigan (40-3)
Runner Up – Salem Hawks, Bellville, Illinois
---
Sue Kozoil was named MVP for the third time in her illustrious career as she led Lady Blue to the World Series title. She has the second highest batting average and was the co-HR leader as well. She went 3-4 in the Championship game as Lady Blue rolled to a 15-3 win. Lady Blue defeated Cannan's Illusions in the winners bracket final 10-5 (Kozoil was 3-3 with 5 RBI) and then the Salem Hawks eliminated Cannan's Illusions in the losers bracket final 13-12. Lady Blue ended the season with a 40-3 record and also a 32 game winning streak.
---
MVP – Sue Kozoil, Lady Blue (13-18, .722, 5 HR, 13 RBI, 11 Runs)
Batting Leader – Venisa Dinius, Spooks (13-17, 3 RBI, 5 Runs) – .765
HR Leader – Sue Kozoil, Lady Blue – 5
HR Leader – Sherri Lynn France, Hawks (11-18, .611, 12 RBI, 9 Runs) – 5
Defensive MVP – Trina Hertzog, Salem Hawks
Offensive MVP – N/A
---
1992 ALL WORLD TEAM
P – Mary Hoff, Lady Blue (10-14, .714, 1 HR)
P – Jackie McCarver, Mr. A's Express (8-14, .571, 2 HR)
P – Mitzi Davis, Cannan's Illusions (10-16, .625)
C – Marie Pesch, Cannan's Illusions (8-17, .471, 2 HR)
1B – Lori Ergenbeck, Salem Hawks (10-23, .435, 3 HR)
2B – Sue Wehrman, Salem Hawks (8-18, .444)
3B – Julie Shackleford, Salem Hawks (11-22, .500)
SS – Sue Kozoil, Lady Blue (13-18, .722, 5 HR)
SS – Shelly Cummins, Auto Body Parts (14-23, .609)
SS – Trina Hertzog, Salem Hawks (12-22, .545)
OF – Andy Anthony, Auto Body Parts (12-21, .571)
OF – Sherri Lynn France, Salem Hawks (11-18, .611, 5 HR)
OF – Venisa Dinius, Spooks (13-17, .765)
OF – Allison Cole, Lady Blue (10-16, .625, 1 HR)
OF – Denise Day, Lady Blue (9-17, .529, 1 HR)
OF – Kathy Riley, Cannan's Illusions (11-18, .611, 1 HR)
OF – Meme Vencl, Lady Blue (7-17, .412)
Manager – Al Campbell, Lady Blue
FINAL STANDINGS (Incomplete)
1. Lady Blue, Plymouth, MI
2. Salem Hawks, Bellville, IL
3. Cannan's Illusions, San Antonio, TX