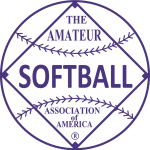 1990 held at Oklahoma City, Oklahoma.
---
Champion – Steele's Silver Bullets, Grafton, Ohio (226-9)
Runner Up – Lighthouse/Sunbelt, Stone Mountain, Georgia (61-21)
---
Bill Blake hit 6 HR and drove in 10 runs to lead Steele's to a 65-50 Championship game win over Lighthouse. Steele's beat Superior/Apollo 53-44 in the semi finals.  The Men of Steele hit 70 HR over the course of the tournament (4 games). Steele's led Lighthouse 32-5, before the Stone Mountain squad woke up and came back.
Wendell Rickard hit 6 HR for Lighthouse in the game. Ricky Huggins and Steve Craven combined for 9 HR and 12 RBI to lead the comeback. Kenny Carver chipped in with 7 RBI.
All Time Home Run Leader, Mike Macenko was named Co-MVP along with Monsterous Monty Tucker. Both had incredible tournaments tournaments at the plate for Steele's.  Both players had 18 HR, emerging superstar Carl Rose of Lighthouse, had 17 HR, but all three fell short to Doug Roberson of Steele's who won the Home Run crown with 20.
A record of 763 home runs were hit in the tournament, an average of about 36 per game.
---
Co-MVP – Mike Macenko, Steele's Silver Bullets
Co-MVP – Monty Tucker, Steele's Silver Bullets
HR Leader – Doug Roberson, Superior/Apollo – 20
Batting Leaders – Carl Rose, Lighthouse – .900
Batting Leaders – Wes Lord, Budweiser – .900
Wilson Field Master Award – Doug Roberson, Superior/Apollo
---
FIRST TEAM ALL-AMERICANS
P – Monte Tucker, Steele's Silver Bullets (23-26, .880, 18 HR, 26 RBI, 27 Runs)
C – Mike Macenko, Steele's Silver Bullets (27-31, .871, 18 HR, 34 RBI, 29 Runs)
1B – Rich Plante, Superior/Apollo (31-39, .795, 16 HR, 26 RBI)
2B – Carl Rose, Lighthouse/Sunbelt/Worth (27-30, .900, 17 HR, 25 RBI)
3B – Charles Wright, Ritch's/Kirk's (20-27, .741, 15 HR, 27 RBI)
SS – Doug Flynn, Starpath (11-16, .688)
OF – Doug Roberson, Superior/Apollo (30-41, .732, 20 HR, 35 RBI)
OF – John Grissom, Steele's Silver Bullets (18-22, .818, 9 HR, 13 RBI, 20 Runs)
OF – Scott Virkus, Steele's Silver Bullets (19-25, .760, 14 HR, 20 RBI, 25 Runs)
OF – Curtis Williams, Lighthouse/Sunbelt/Worth (20-28, .714)
EP – Dale Mayo, Starpath (14-18, .778)
UT – Dirk Androff, Steele's Silver Bullets (23-30, .767, 13 HR, 27 RBI, 25 Runs)
UT – Wendall Rickard, Lighthouse/Sunbelt/Worth (25-29, .862, 16 HR, 25 RBI)
UT – Dave Steffen, Superior/Apollo (25-30, .868, 16 HR, 32 RBI)
UT – Sylvin Little, Lighthouse/Sunbelt/Worth (20-29, .690)
UT – Tim Millette, Budweiser (11 HR, 23 RBI)
SECOND TEAM ALL-AMERICANS
P – Ken Craver, Lighthouse/Sunbelt/Worth (23-30, .767, 10 HR)
C – Mark Hierlmeier, Ritch's/Kirk's (19-23 .826, 11 HR)
1B – Sandy Sandoval, Budweiser (16-19, .842)
2B – Dennis Graser, Superior/Apollo (25-36, .694, 30 RBI)
3B – Ricky Huggins, Lighthouse/Sunbelt/Worth (24-31, .774, 12 HR)
SS – Todd Joerling, Steele's Silver Bullets (19-31, .636, 8 HR, 14 RBI, 16 Runs)
OF – Cecil Whitehead, Ritch's/Kirk's (20-29, .690, 13 HR)
OF – Britt Hightower, Ritch's/Kirk's (20-26, .769, 14 HR)
OF – Wes Lord, Budweiser (18-20, .900, 10 HR, 21 RBI)
OF – Andy Sanzaro, Superior/Apollo (26-34, .765, 10 HR, 18 RBI)
UT – Jim Fuller, Superior/Apollo (34-40, .850, 17 HR, 25 RBI)
UT – Dave Johnson, Starpath
UT – Fred Shipley, Starpath (14-19, .737)
UT – Billy Blake, Steele's Silver Bullets (26-31, .839, 17 HR, 26 RBI, 27 Runs)
---
OTHERS
Hal Harlan, Bell Corp (14-15, .933, 12 HR)
Greg Schulte, Steele's (13-14, .929, 8 HR, 21 RBI, 13 Runs)
Cliff Carpenter, Bell Corp (14-20, .700, 11 HR)
Rick Weiterman, Steele's (7-10, .700, 1 RBI, 7 Runs)
Danny Williams, Steele's (16-23, .696, 11 HR, 18 RBI, 16 Runs)
Dan Schuck, Steele's (21-31, .677, 12 HR, 23 RBI, 19 Runs)
Clyde Guy, Superior/Apollo (21-31, .677, 12 HR, 22 RBI)
Bruce Meade, Ritch's/Kirk's (18-27, .667)
Ernie Montgomery, Steele's (12-24, .500, 6 HR, 9 RBI, 12 Runs)
Dewayne Frizzell, Lighthouse (10 HR, 22 RBI)
Craig Elliott, Superior/Apollo (10 HR)
---
FINAL STANDINGS
1. Steele's Silver Bullets, Grafton, OH (4-0)
2. Lighthouse/Sunbelt/Worth, Stone Mountain, GA (4-1)
3. Starpath, Monticello, KY (2-2)
4. Superior/Apollo, Windsor Locks, CT (3-2)
5t. Ritch's/Kirk's Glass, Harrisburg, NC (3-2)
5t. Bell Corp., Tampa, FL (1-2)
7t. Budweiser, San Francisco, CA (2-2)
7t. Williams/Thompson, Houston, TX (1-2)
9t. Premier/Century, Tempe, AZ (0-2)
9t. VIP/Express Transport, Cincinnati, OH (0-2)
9t. Chem-Clean, Lebanon, TN (0-2)
9t. Instant Landscaping, West Palm Beach, FL (0-2)