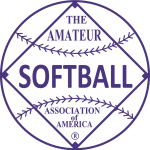 1944 held at Cleveland, Ohio.
---
Champion – Lind & Pomeroy Florists, Portland, Oregon (44-8)
Runner Up – Arizona Ramblers, Phoenix, Arizona
---
2-time defending champ, Jax Maids lost 2 straight, to Erin Brews of Cleveland 1-0 in 14 inn. and Arizona Ramblers 1-0 in 8 inn. They had a tough time finding suitable competition, playing mostly Men's Military Base teams, playing a limited schedule, they were 30-5 against men and 14-3 versus women teams for a total combined record of 44-8.
Nira Deputy's single scored Dottie Moore with the winning run for Portland in the 11th inning of the final. Deputy was 3-5 in the final game.
Alyse Johnson, Lind & Pomeroy went 2-0, 12 IP, hurled a 1-hit shutout and a combined 9-0 no hitter with Betty Evans, Johnson got the win as she entered in the 3rd inning. She did not give up a hit in the 12 innings she pitched.
Lind & Pomeroy went 5-0 and did not give up a run, outscoring their opponents 27-0.
Marge Wood, Erin Brews went 4-2, 60 IP, 70 K, 3 shutouts.
Amy Peralta May, Arizona Ramblers (5-2 hurling 59 innings, pitched 3 shutouts, including 2 no-hitters. She gave up only 4 runs in the 59 innings she pitched. She also went 11 for 19 at the plate.
Louise Curtis, Arizona Ramblers (1-0, pitched 6 innings to gain win, Amy Peralta came in and pitched the last inning).
Betty Evans, Lind & Pomeroy (3-0, 3 shutouts, 25 IP, 42 K, 2 no-hitters), pitched a no hitter in the semis and a 1-0, 11 inn. 3-hitter in final. The 3 hits she gave up in the final game were the only hits she surrendered in the entire tournament. She would have been named the MVP.
---
MVP – N/A
Home Run Leader – N/A
Batting Leader – Amy Peralta May, Arizona Ramblers – . 577
---
FIRST TEAM ALL-AMERICANS
N/A
---
FINAL STANDINGS
1. Lind & Pomeroy Florists, Portland, OR (5-0) (Northwestern)
2. Arizona Ramblers, Phoenix, AZ (6-2) (Pacific Coast)
3. Stamford Nutmegs, Stamford, CT (3-2) (North Atlantic)
4. Erin Brews, Cleveland, OH (4-2) (Host)
5t. Jeep Bars, Omaha, NE (2-2) (Western)
5t. Sunday Morning Class, Toronto, ON (2-2) (East Canada)
7t. Neons, Vancouver, BC (2-2) (West Canada-British Columbia)
7t. Chicago Rock-olas, Chicago, IL (2-2) * (West Central)
9t. Douglass Air Cargoettes, Oklahoma City, OK (1-2) (Southwestern
9t. American Yarn, Mount Holly, NC (1-2) * (Southern)
9t. Fink & Hine, Springfield, MO (1-2) (East Central)
9t. Ambrosias, Denver, CO (1-2) (Rocky Mountain)
13t. United Typewriters, Washington DC (0-2) (Central Atlantic)
13t. Van's TNT Girls, Rochester, NY (0-2) (Mid-Atlantic)
13t. Jax Brewer Maids, New Orleans, LA (0-2) (Defending Champ)
13t. Moose Jaw Royals, Regina, SK (0-2) (West Canada)
* indicates wins by forfeit.
---
NOTES
The Northern Region did not send a team or did not hold a tournament. South Atlantic Region disbanded in 1943. South Atlantic States merged with Southern Regional States. Moose Jaw Royals, Regina, SK did not show up.