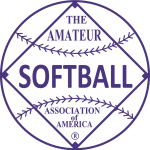 1982 held at Burlington, North Carolina.
---
Champion – Jerry's Caterers, Miami, Florida (93-13)
Runner Up – Howard's/Western Steer, Denver, North Carolina (143-24)
---
This championship was a longtime coming for Jerry's Caterers of Miami, FL.  After Jerry's won their first game over Mann's-Vada of Atlanta 10-2 with Bruce Meade going 3-4, they ran into trouble in their second game losing to defending champ, Howard's/Western Steer 16-11.
Dick Bartell had 2 HR and 5 RBI to lead Howards. Meade was 3-4 again. But this put Jerry's in the loser's bracket.  York Barbell/Ken Sanders won two straight in the winner's bracket 19-9 and 18-17.
Charles Wright (3 HR in 19-9 game) and Craig Elliott (3 HR in 18-17 game) led the offense for the York/Sanders crew.
Howard's won two more in the winner's bracket as Rick Scherr broke the all time single season HR record set by Mighty Joe Young, playing for Steele's Sports in 1980. Scherr hit number 338 to pass Young.  Rick Scherr and Stan Harvey combined for 7 HR and 14 RBI against York-Sanders to win the winners bracket final 33-8.
Meanwhile, defending Major Class Champion, Elite Coatings led by Cecil Whitehead won its second straight as well as Whitehead was 5-6 with 5 RBIs for Elite Coatings in its opening game victory.
Jerry's started its run through the loser's bracket by beating Copher Brothers 9-6 and Garrett & Houck 15-7. Jerry's Mike Bolen had 6 RBI in that last game. After eliminating Elite Coatings 47-13 (Meade was 8-8 in that game and Harold Kelly had 2 HR and 6 RBI in one inning) and York Barbell/Ken Sanders 26-19, Jerry's had to defeat the might Howard's squad two straight games.
Bruce Meade was a one man wrecking crew as he led Jerry's to a 25-11 win in the first final as he clubbed 3 HR and collected 7 RBI.
Then in the Final Championship Game, Jerry's defeated Howards 10-8 to capture the ASA Super National Championship.  Meade was 2-3 in that last game with a double and a single.
---
MVP – Bruce Meade, Jerry's Caterers
HR Leader – Bruce Meade, Jerry's Caterers – 12
Batting Leader – Bruce Meade, Jerry's Caterers – .703
Outstanding Pitcher Award – Greg Fuhrman, Jerry's Caterers
---
FIRST TEAM ALL-AMERICANS
P – Greg Fuhrman, Jerry's Caterers (15-33, .455, 5 HR)
C – Harold Kelley, Jerry's Caterers (17-31, .548, 9 HR)
1B – Stan Harvey, Howard's/Western Steer (13-22, .590, 6 HR)
2B – Bill Meyer, Jerry's Caterers (20-34, .588)
3B – Rick Scherr, Howard's/Western Steer (12-24, .500, 9 HR)
SS – Charles Wright, York Barbell/Ken Sanders (10-16, .625, 4 HR)
OF – Richard Wilborn, Howard's/Western Steer (11-18, .611, 1 HR)
OF – Dick Bartel, Howard's/Western Steer (13-20, .650, 5 HR)
OF – Curtis Williams, York Barbell/Ken Sanders (9-13, .692)
OF – Cecil Whitehead, Elite Coatings (12-19, .632, 3 HR)
UTIL – Bruce Meade, Jerry's Caterers (26-37, .703, 12 HR)
UTIL – Mike Bolen, Jerry's Caterers (19-33, .576, 4 HR)
UTIL – James Washington, Jerry's Caterers  (19-28, .679, 6 HR)
UTIL – Freddie Trice, Elite Coatings (11-16, .688, 6 HR)
SECOND TEAM ALL-AMERICANS
P – Craig Elliott, York Barbell/Ken Sanders (8-15, .533, 5 HR)
C – Mike Parrott, Jerry's Caterers (16-30, .533, 3 HR)
1B – Bill Pollack, York Barbell/Ken Sanders (9-17, .529, 6 HR)
2B – Dennis Myers, Howard's/Western Steer (11-19, .579, 4 HR)
3B – Lacy Brumley, Mann's/Vada (8-15, .533, 4 HR)
OF – Mike Cellura, Howard's/Western Steer (10-21, .476, 3 HR)
OF – Clyde Guy, York Barbell/Ken Sanders (7-14, .500, 1 HR)
OF – Tom Beall, Howard's/Western Steer (10-20, .500, 5 HR)
OF – Mike Nye, York Barbell/Ken Sanders (9-18, .500, 1 HR)
OF – Homer Salazar, Garrett & Houck (9-12, .750, 3 HR)
OF – Perry Kennington, Mann's/Vada (10-15, .667)
OF – Richard Mummaw, Elite Coatings (9-14, .643, 3 HR)
UTIL – Myles Schexnayder, Jerry's Caterers (9-19, .474, 3 HR)
UTIL – Ronnie Ford, Elite Coatings (12-21, .571, 3 HR)
---
FINAL STANDINGS
1. Jerry's Caterers, Miami, FL (7-1)
2. Howard's/Western Steer, Denver, NC (3-2)
3. York Barbell/Ken Sanders, York, PA (2-2)
4. Elite Coatings, Gordon, GA (2-2)
5t. Garrett & Houck, Oklahoma City, OK (1-2)
5t. Mann's/Vada, Atlanta, GA (2-2)
7t. Copher Brothers, Tampa, FL (1-2)
7t. T&K, Lexington, KY (1-2)
9t. Dan's Sports, Tampa, FL (0-2)
9t. Alabama Sports, Birmingham, AL (0-2)
---