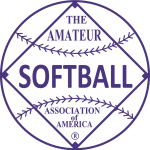 2012 held at Oklahoma City, Oklahoma.
---
Champion: Derby Girls/Combat, Seattle, Washington
Runner Up: U.S. Armed Forces, Fort Sill, Oklahoma
---
Despite the on-going rain at the ASA Hall of Fame Complex, the 2012 ASA Women's Open Slow Pitch National championship trophy landed in the hands of the Derby Girls. The Derby Girls defeated Armed Forces 16-3 in the Championship Game to capture the Women's Open title. Ending the day with a flawless 3-0 record and outscoring its opponents 49-13, the Derby Girls was led by tournament All American and Batting Champion Christian Dowling. The infielder was intentionally walked 10 times with five runs scored, one home run and three RBI. The Derby Girls beat Armed Forces 12-7 in Winner's Bracket final, then won Championship against the same squad 16-3 behind Kat Sherer's Pitching. Nicole Lantau and Darcy Johnson had 3 hits each in the game. Christian Dowling was walked 4 times in the game. She ended up 1 for 3 in the 3 games with a HR and 3 RBIs, scored 5 runs and was walked intentionally 10 times. Heather Post chipped in with a single and a triple along with 4 RBIs in the last game. Post concluded the tournament with (5-8, .625) 6 RBIs and 7 Runs Scored.
---
MVP – Kat Sherer, Derby Girls/Combat (5-8, .625, 2 RBI, 3 Runs)
Batting Award – Christan Dowling, Derby Girls (1-3, 10 Intentional Walks) – .786 OB%
Batting Leader – Candace Dugo, Armed Forces (10-15, 6 RBI, 8 Runs) – .667 (15 AB min)
Home Run Leader – Christan Dowling, Derby Girls (1-3, .333, 3 RBI, 10 (1 IBB) – 1 (fewest AB)
Home Run Leader – Nicole Lantau, Derby Girls (5-10, .500, RBI, 5 Runs) – 1
Home Run Leader – Jennifer Morgan, Whoosh (6-8, .750, 3 RBI, 6 Runs) – 1
Home Run Leader – Margo Hamilton, Whoosh (5-7, .714, 6 RBI, 3 Runs) – 1
---
2012 FIRST TEAM ALL AMERICANS
P – Kat Sherer, Derby Girls Combat (5-8, .625, 2 RBI, 3 Runs, 3-0 Pitching)
IF – Dana Heindon, Whoosh (5-6, .833, 3 RBI, 1 Run)
IF – Jamie Baas, Ideal Hitters/Denison Drywall (7-11, .636, 6 RBI, 6 Runs)
IF – Lindsay Ciullo, US Armed Forces (6-11, .545, 4 RBI, 6 Runs)
IF – Danielle Eakins, Derby Girls Combat (5-10, .500, 5 RBI, 6 Runs)
IF – Tammi Higginbotham, Derby Girls Combat (3-4, .750, 5 Runs, 3 BB)
OF – Candace Dujo, US Armed Forces (10-15, .667, 6 RBI, 8 Runs)
OF – Alyson McWherter, US Armed Forces (7-13, .538, 3 RBI, 4 Runs)
OF – Heather Post, Derby Girls Combat (5-8, .625, 6 RBI, 7 Runs)
OF – Tabitha Hulsey, Derby Girls Combat (4-8 .500, 1 RBI, 5 Runs)
UTIL – Mandy Young, Talapid (6-11, .545, 3 RBI, 5 Runs)
UTIL – Holly Sheriff, Ideal Hitters/Denison Drywall (5-8, .625, 4 RBI, 6 Runs, 4 BB)
UTIL – Kris Hagedorn, Ideal Hitters/Denison Drywall (7-12, .583, 2 RBI, 3 Runs)
UTIL – Christan Dowling, Derby Girls Combat (1-3, .333, HR, 3 RBI, 5 Runs, 10 IBB)
UTIL – Alexis Deverney, US Armed Forces (4-8, .500, 5 RBI, 5 Runs, 5 BB)
---
FINAL STANDINGS
1. Derby Girls Combat, Seattle, WA (3-0)
2. U.S. Armed Forces, Fort Sill, OK (2-2)
3. Ideal Hitters/Denison Drywall, Polk City, IA (2-2)
4. Talapid, Foreman, AR (1-2)
5. Whoosh, Choctaw, OK (0-2)