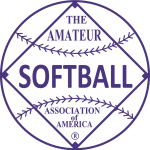 1981 held at Hamilton, Ohio.
---
Champion: Orlando Stars, Orlando, Florida (55-11)
Runner Up: Nashville Express, Nashville, Tennessee
---
After losing to Nashville Express in the winners bracket 5-4, the Stars came back to beat the Express 8-6 and 10-1 to win the title. This is the second time in the last three years Nashville Express has finished 2nd. They were called Straight Arrow in 1979 when the lost the final to Northside Knights of Columbus, out of Cincinnati.
---
MVP – Winnie Dodgion, Orlando Stars (7-1 pitching)
Batting Leader – Hildy Buhrow, Round Table (17-27) – .630
Home Run Leader – N/A
---
1981 FIRST TEAM ALL AMERICANS
P – Winnie Dodgion, Orlando Stars (7-1 Pitching)
P – Mary Jane Garner, THAP
C – Cathy Bauman, Orlando Stars
C – Jill Stenwell, Winn Power
1B – Sara Moore, Nashville Express
2B – Shaman Potter, Houston Stars
3B – Donna Hulton, Orlando Stars (13-26, 500)
SS – Hildy Buhrow, Round Table (17-27, .630)
OF – Josephine Wright, Nashville Express
OF – Beverly Birdsong, Nashville Express
OF – Helen Dent, THAP
OF – Ellie Studer, Winn Power
UTIL – Debbie Glaser, Winn Power
UTIL – Shiela Harris, Tomboys
1981 SECOND TEAM ALL AMERICANS
P – Cheryl Smith, Winn Power
P – Lyla Reibel, IV Carpets
C – Dana Blair, IV Carpets
C – Lauren Ainsworth, Round Table
1B – Kim Gauldin, THAP
2B – Mary Brown, THAP
3B – Jackie Bean, Nashville Express
SS – Linda Jenkins, Nashville Express
OF – Sheree Patrick, Nashville Express
OF – Charlotte Day, Nashville Express
OF – Kelly Sullivan, Houston Stars
OF – Peggy Lewis, Tomboys
UTIL – Michele Scott, Round Table
UTIL – Gwen Phillips, THAP
---
FINAL STANDINGS
1. Orlando Stars, Orlando, FL 7-1
2. Nashville Express, Nashville, TN (5-2)
3. THAP, Martinez, GA (5-2)
4. Round Table, El Monte, CA (6-2)
5t. IV Carpets, Vancouver, WA (4-2)
5t. Legeres, Lynn, MA (4-2)
7t. Lexington Tomboys, Lexington, KY (3-2)
7t. Winn Power, Johnson, NE (3-2)
9t. Houston Stars, Houston, TX (3-2)
9t. Tomahawks, Hollywood, FL (2-2)
9t. Stillwater A's, Stillwater, OK (3-2)
9t. Encore/Miller High Life, Prince George County, MD (3-2)
13t. Miller Time, Salt Lake City, UT (2-2)
13t. Delaware People's Store, Delaware, OH (2-2)
13t. US Armed Forces, Barstow, CA (2-2)
13t. Tuffies, Bloomington, MN (2-2)
17t. Washington Recycling, Everett, WA (2-2)
17t. Signs, Gary, IN (2-2)
17t. Circle K Roadrunners, Tempe, AZ (2-2)
17t. North Maplewood Lions, St. Paul, MN (1-2)
17t. Aloha Lounge, Alea, HI (1-2)
17t. Misfits, Little Rock, AR (1-2)
17t. Enterprise Printing, Mount Pleasant, MI (1-2)
17t. Charlie's Lakerettes, Conneaut Lake, PA (1-2)
25t. Vaughn's Construction, Seattle, WA (1-2)
25t. Norm's A's, Seattle, WA (1-2)
25t. Sequioa Bobcats, Ceres, CA (1-2)
25t. Nelson's Aqualand, Rochester, NH (1-2)
25t. El Dorado, Mankato, MN (0-2)
25t. Fish and Friends, Indianapolis, IN (0-2)
25t. TAD Pistons, Stockton, CA (0-2)
25t. Strang's Siding, Kenosha, WI (0-2)
33t. Union County Dollarettes, Marysville, OH (0-2)
33t. Pulaskie County, Dublin, VA (0-2)
33t. Bushell Pharmacy, St. Louis, MO (0-2)
33t. Ricardo's, San Antonio, TX (0-2)
33t. Outcasts, San Antonio, TX (0-2)