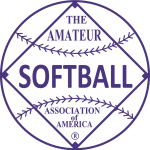 1988 at Oklahoma City, Oklahoma.
---
Champion – Starpath, Monticello, Kentucky (81-16)
Runner Up – Sports Hero's Athletics, Eagan, Minnesota
---
Starpath had to defeat Sports Heros twice to gain the ASA Crown and that's just what they did. The scores were 18-15 and 17-13. Leading Starpath's offense in both games were MVP Dave Johnson, who came up big all weekend. Home Runs for Starpath in the final two games were: Dave Allen (5), Scott Jones (4), Gary Jones (2), and Dennis Graser with 1. Leading Sports Heros was Doug Berfeldt (2) and Gary Morris (2). There were a couple of big outputs in the Tournament. Bruce Rains (John Hanson) and Rick Hollingsworth (Lighthouse) both hit 5 HR in a game.
---
MVP – Dave Johnson, Starpath
HR Leader – Dave Johnson, Starpath – 11
HR Leader – Bruce Bailey, John Hanson's – 11
HR Leader –  Bill Blake, Steele's – 11
Batting Leader – Kevin "Tiny" Giddens, Lighthouse – .818
---
FIRST TEAM ALL-AMERICANS
P – Ted Larson, Sports Hero's Athletics
C – Billy Blake, Steele's Silver Bullets (22-26, .846, 11 HR)
1B – Kevin Giddens, Lighthouse (18-22, .818, 8 HR)
2B – Doug Flynn, Starpath
3B – Greg Whitlock, Starpath
SS – Gary Morris, Sports Hero's Athletics
OF – Greg Schulte, Bell Corp./FAF (14-20, .700, 6 HR)
OF – Dave Johnson, Starpath (21-32, .656, 11 HR, 21 RBI, 20 Runs)
OF – Cecil Whithead, Lighthouse (15-20, .750, 7 HR)
OF – Dennis Graser, Starpath (21-30, .700, 2 HR)
EP – Mack Thompson, John Hansen/Franey & Parr (8 HR)
UTIL – Todd Fuechmann, Sports Hero's Athletics
UTIL – Mark Stumpf, John Hansen/Franey & Parr
UTIL – Bruce Bailey, John Hansen/Franey & Parr (11 HR)
UTIL – Doug Roberson, Steele's Silver Bullets (15-25, .600, 6 HR)
SECOND TEAM ALL-AMERICANS
P – Kenny Carver, Lighthouse (13-20, .650, 5 HR)
C – Sylvain Little, Lighthouse (12-19, .632, 5 HR)
1B – Rich Plante, Superior (14-21, .667, 6 HR)
2B – Mike Macenko, Steele's Silver Bullets (6 HR)
3B – Rodney Woods, Starpath
SS – Ron Parnell, Steele's Silver Bullets
OF – Michael Johnson, Sports Hero's Athletics
OF – Chris Nelson, Utah Players
OF – Dewayne Frizzel, Lighthouse (14-21, .667, 7 HR)
OF – Andy Sanzaro, Superior
EP – Ed Berg, Superior (5 HR)
UTIL – Bruce Meade, Steele's Silver Bullets (8 HR)
UTIL – Tim Fuller, Lighthouse (12-20, .600, 5 HR)
UTIL – Scott Jones, Starpath (7 HR)
UTIL – Danny Holder, Lighthouse (12-19, .632, 6 HR)
---
OTHERS
Doug Brown, Non-Ferrous (10-12, .833, 7 HR)
Rick Wheeler, Howards (5-7, .714, 3 HR)
Bill Gatti, Lighthouse (12-21, .571, 7 HR)
Darrell Beeler, Superior (7-14, .500, 2 HR)
Dave Steffen, Superior (6-12, .500, 2 HR)
Doug Berfeldt, Sports Heros (8 HR)
Dave Allen, Starpath (7 HR)
Danny Williams, Bell (7 HR)
Rick Hollingsworth, Bell (7 HR)
Mike Ambers, Bell (6 HR)
Craig Elliott, Steele's (6 HR)
Gary Jones, Starpath (6 HR)
Britt Hightower, Howards (6 HR)
Rick Scherr, Howards (4 HR)
Clyde Guy, Howards (4 HR)
Larry Fredieu, Steele's (4 HR)
Steve Craven, Lighthouse (4 HR)
Carl Rose, Lighthouse (3 HR)
Steve Williams, Howards (3 HR)
Stan Harvey, Howards (2 HR)
---
FINAL STANDINGS
1. Starpath, Monticello, KY (7-1)
2. Sports Hero's Athletics, Crystal, MN (4-2)
3. Lighthouse, Stone Mountain, GA (3-2)
4. Steele's Silver Bullets, Grafton, OH (3-2)
5t. Bell Corp./FAF, Tampa, FL (3-2)
5t. Superior Softball, Windsor Locks, CT (3-2)
7t. John Hansen/Franey & Parr, Rockville, MD (2-2)
7t. Utah Players, Salt Lake City, UT (2-2)
9t. Las Vegas Aces, Las Vegas, NV (1-2)
9t. Non-Ferrous Metals, Euclid, OH (1-2)
9t. OKC Hunters LYD, Oklahoma City, OK (1-2)
9t. Vernon's, Jacksonville, FL (1-2)
13t. Broken Drum Insulation, Los Angeles, CA (0-2)
13t. Howard's/Western Steer, Denver, NC (0-2)
13t. New Construction, Shelbyville, IN (0-2)
13t. Reb's, North Hollywood, CA (0-2)