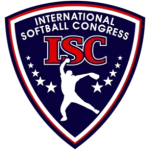 1949 held at Greeley, Colorado on September 3-11.
---
Champion – Kings, Hanford, California
Runner Up – Roundup Bar, Somerton, Arizona
---
A 20-inning game was played between Toronto's Dalton Furs & El Paso's Deal Motors. Cam Ecclestone (Toronto) set the strikeout mark (30) for a game but lost to Paul Lopez 1-0. Both records (longest game & strikeouts) would stand for 18 years until broken by Vern Mauch of Colorado in 1967.
In an earlier game between Taft (3rd) and runner-up Somerton, the game went 16 innings and ended with a steal of home by Somerton 3rd baseman Herman Frauenfelder
for a 1-0 final.
In a game between Gainesville and Taft, Les Haney (Taft) struck out 15 consecutive batters from the 2nd through 6th innings.
Jess Cornwell of Greeley no-hit the Churubusco team from Indiana.
The tournament director for this NSC event was Carrol Forbes who would break with the NSC in December, 1950 and form another organization, the ISL.
---
Cleo Goyette Memorial MVP Award – Paul Thomas, Streit's Bicycle Shop
Leroy Zimmerman Memorial Pitching Award – Kenny Law, Roundup Bar
Leading Hitter – Dave Lott, Anderson Sporting Goods – .519
Most RBI – N/A
---
1949 ISC FIRST TEAM ALL WORLD
P – Kenny Law, Roundup Bar (5-2, 57 IP, 35 H, 5 ER, 83 K, 35 BB)
P – Bill Buckley, Kings (2-0, 14 IP, 6 H, 0 ER, 18 K, 0 BB)
C – Wes Priest, Shamrocks (2-1, 31 IP, 10 H, 1 ER, 46 K, 3 BB)
C – Charles Morris, Shamrocks .190
IF – Whitey Becknell, Kings .000
IF – Jack Reid, Roundup Bar .310
IF – Jerry Cahoon, Roundup Bar .222
IF – Fred Viera, Kings .214
OF – Don Allen, Bluebonnet Laundry .455
OF – Dom Farruzzi, Kings .462
OF – Dave Lott, Roundup Bar .519
UTIL – Lou Ferrero, Kings .467
UTIL – Bud Manchester, Streit's Bicycle Shop .200 (5 RBI)
UTIL – Jim Livingston, Tulsa .333
---
FINAL STANDINGS
1. Kings, Hanford, CA
2. Roundup Bar, Somerton, AZ
3. Shamrocks, Taft, CA
4. Grever Truck Lines, Tulsa, OK
5t. Streit's Bicycle Shop, Gainesville, FL
5t. Rudy & Headland, Salt Lake City, UT
7t. Bluebonnet Laundry, Lubbock, TX
7t. Deal Motors, El Paso, TX
9t. Wells Motors, Greeley, CO
9t. Oilers, Madill, OK
9t. Fred Ward All-Stars, Denver, CO
9t. All-Stars, Stamford, TX
13t. Dalton Furs, Toronto, ON
13t. Leitch Hardware, Churubusco, IN
13t. Gulf Oilers, Crane, TX
13t. American Legion, Windsor, CO
17t. Western Floors, Cheyenne, WY