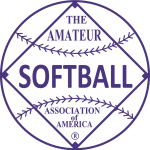 1974 held at Elk Grove, California.
---
Champion: Marks Brothers Dots, Miami, Florida
Runner Up: Budget Rent-A-Car Rebels, Jacksonville, Florida
---
The Rubi-Otts (93-13 record for the year) came through the losers bracket winning 7 games, only to lose a 6-5 heartbreaker to the Rebels in the semifinals. The Rebels were out hit in that game 15-6, but put up enough runs to win and advance to the finals to play the Dots. Bev Shue led the Rubi-Otts with a 24-35 performance (.684). Once again, the Dots pitcher Judy Hedgecock was the difference for the Dots. Rebels won the first final 9-8, then the Dots, behind Leslie Carter's 2-run double to give them a 2-1 lead they would never lose in winning 8-5.
---
MVP – Chris Padgett, Marks Brothers Dots (11-25, .440, 8 RBI, 6 Runs)
Batting Leader – Tiera Edwards, Budget Rent-A-Car Rebels (14-19, 8 RBI, 7 Runs) – .737
Home Run Leader – Karen Krause, Budget Tapes (13-21, .619, 5 RBI) – 2
Home Run Leader – Carol Smith, Dots (13-28, .464, 6 RBI) – 2
Home Run Leader – Sue Digitale (9-21, .429, 10 RBI) – 2
Home Run Leader – Linda Kendrick (8-20, .400, 7 RBI), Jay Cees – 2
---
1974 FIRST TEAM ALL AMERICANS
P – Jami Freidman, Budget Rent-a-Car Rebels
P – Kay Yow, Rubi-Otts
C – Linda Ares, Marks Brothers Dots
C – Teira Edwards, Budget Tapes and Records
1B – Susan Clark, Rubi-Otts
2B – Sherri Pickard, Rubi-Otts
3B – Eileen Carter, Marks Brothers Dots
SS – Chris Padgett, Marks Brothers Dots
OF – Linda McPhee, Budget Rent-a-Car Rebels
OF – Karen Newman, Marks Brothers Dots
OF – Carol Smith, Marks Brothers Dots
OF – Beverly Shue, Rubi-Otts
UTIL – Sue Lambert, Westwood Concrete
UTIL – Debbie McClain, Budget Rent-a-Car Rebels
1974 SECOND TEAM ALL AMERICANS
P – Sandy Patton, Marks Brothers Dots
P – Marlen Ragland, Budget Tapes and Records
C – Linda Kendrick, Elk Grove Jay-Cees
C – Judy Lockhart, Rubi-Otts
1B – Lewanne Fenty, Marks Brothers Dots
2B – Debra Brown, Budget Rent-a-Car Rebels
3B – Stephanie Lankford, Budget Tapes and Records
SS – Jenny Johnson, Sweeney Chevrolet
OF – Holly Peizelle, Donnettes
OF – JoAnn Wimberly, Zep Stars
OF – Pam Grimsteade, Raney Tire
OF – Lynn Boggie, Westwood Concrete
UTIL – Carol Phillips, Marks Brothers Dots
UTIL – Marilyn Busse, Rubi-Otts
---
FINAL STANDINGS
1. Marks Brothers Dots, North Miami, FL (6-1)
2. Budget Rent-A-Car Rebels, Jacksonville, FL (6-2)
3. Rubi-Otts, Graham, NC (7-2)
4. Donnettes, Cleveland, OH (4-2)
5t. Zep Stars, Albany, GA (4-2)
5t. LaRosa's, Cincinnati, OH (3-2)
7t. Westwood Concrete, Bloomington, MN (4-2)
7t. Sweeney Chevrolet, Cincinnati, OK (4-2)
9t. Elk Grove Jay Cees, Elk Grove, CA (4-2)
9t. Raney Tire, Cleveland, OH (3-2)
9t. Budget Tapes & Records, Houston, TX (3-2)
9t. South Park Saints, Santa Rosa, CA (2-2)
13t. Motown Soul Sisters, Detroit, MI (2-2)
13t. Shear & Sons Construction, Hutchinson, KS (2-2)
13t. Elks 350, Ashland, KY (2-2)
13t. Chuck Wagon Inn Americas, Brooklyn Center, MN (2-2)
17t. Hensleys, Charlottsville, VA (1-2)
17t. Niccoli's Italian Grocery, Phoenix, AZ (1-2)
17t. Creekwater Dispensary, Tacoma, WA (1-2)
17t. Glenns Sporting Goods, Huntington, WV (1-2)
17t. Sponsors, Great Falls, MT (1-2)
17t. Forest Park Girls, Forest Park, IL (1-2)
17t. Hounds & Foxes, Long Island, NY (1-2)
17t. Major All Stars, Columbus, OH (1-2)
25t. Boatman, Chattanooga, TN (1-2)
25t. ACY Truck Lines, Jackson, MS (0-2)
25t. Sonnerettes, Oklahoma City, OK (0-2)
25t. Eagles FOE 74, Wilmington, DE (0-2)
25t. Minutemen of America, Little Rock, AR (0-2)
25t. Scotties, Richmond, VA (0-2)
25t. Lynn PAL Drifters, Lynn, MA (0-2)
25t. Fairway, Blair, NE (0-2)
33t. Springfield Robinettes, Springfield, OH (0-2)
33t. Gromans Sport Shop, Manchester, CT (0-2)