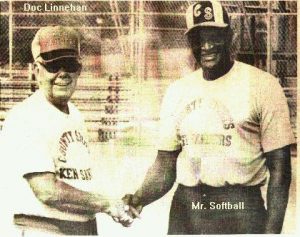 Big Jim Galloway with County Sports boss Doc Linnehan . . . perennial All-Star in the 1960s . . . hit 400-foot home runs with a wooden bat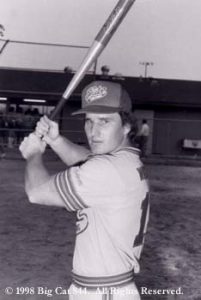 Bruce Meade, Mike Nye, Ronnie Ford and Ray Fleetwood. They played together on the Warren Motors team from Jacksonville that went 94-2 in 1976 and won the ASA national championship. The Warren team won its first 78 games. The only two losses were to Tom's of Columbus, Ga. — in Macon, Ga., and Lynn Haven, Fla. Ironically, Tom's, with such players as Craig Elliott, Charles Wright, James "The Rattler" Boyett, David "Ta Ta" Beaird, Sidney Cooper, James Abercrombie and Greg Smith, was upset in its regional and did not make it to the national tournament.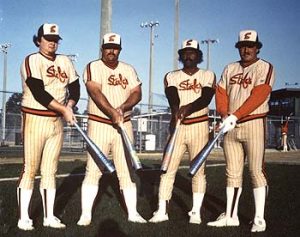 Mike Bolen, Craig Elliott, Joe Young, Mike Macenko. This photo of "The Four Horsemen of Steele's" was taken before the start of the 1986 season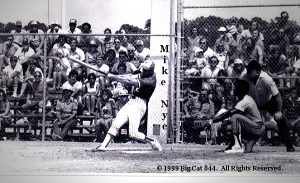 Little guy Mike Nye taking a big swing in the 1976 ASA national tournament before hometown crowd at Jacksonville, Fla. Nye set a record with a .769 season batting average that year. It stood until Jim Fuller batted .774 for Ritch's/Superior in 1992. Fuller made a bid in 1990, but slipped in the final tournament of the season and wound up at .767. Bruce Meade earlier made a couple of bids, finishing at .764 in 1977 and .767 in 1981 (he also had seasons at .757 and .746). Craig Elliott made a bid in 1983, winding up at .765. Jimmy Powers topped Fuller's mark with .790 in 1994, then Jeff Hall batted a stunning .807 in 1997 (his on-base percentage was .817).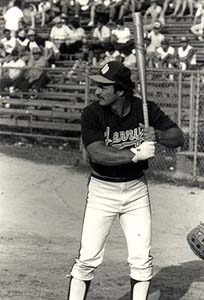 Mike Nye in a Jerry's Catering uniform . . . he played for such teams as Warren Motors, Nelson's Painting, Detroit Caesars (in the pro league), Ken Sanders, Jerry's, Steele's, Ritch's and Vernon's. He earned all-star honors when Ritch's won the ASA Super and Major titles in 1989.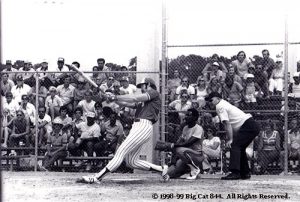 Big Bruce Meade taking a big swing for Warren Motors in the 1976 ASA national tournament at Jacksonville, Fla. The 6-foot-6, 265-pound Meade, from Bradenton, Fla., played for such teams as Manatee All-Stars, Copher Brothers, Warren Motors, Nelson's Painting, Dave Carroll Sports, Jerry's Catering, Steele's, Starpath and Vernon's.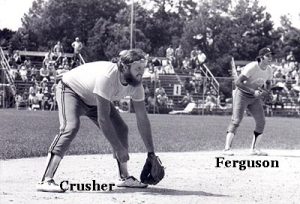 Rick Scherr at third and Bill Ferguson at short for Taylor Brothers of Texas at the 1976 ASA national tournament in Jacksonville, Fla.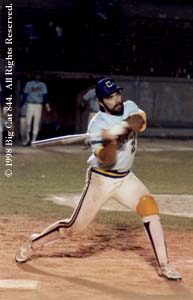 Denny Jones . . . great hitter who earned many defensive awards in left field . . . when Dave Carroll recruited him out of Shreveport, La., in 1977, Mr. Carroll made this comment: "He's got long hair and a full beard, and he hits the ball so far, they call him Jesus Jones." MVP for Campbell's Carpets in the 1978 ASA national tournament.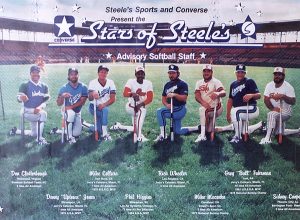 Steele's first promotional poster.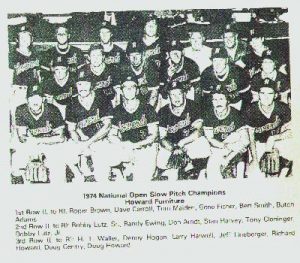 The 1974 Howard's Furniture team from Denver, N.C. . . . winner of the ASA Open national title for the second year in a row.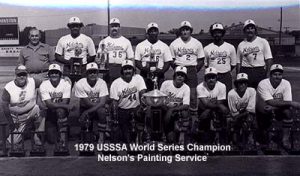 The 1979 Nelson's Painting team from Oklahoma City . . . winner of the NSPC and USSSA . . . the Nelco team, with three of the same players (Bruce Meade, Joe Young and Terry Perryman) won the ASA, surprising such teams as Campbell's and Howard's at York, Pa. Defending champion Campbell's drew three-time former champion Howard's in the first round; Campbell's won, and later eliminated Howard's. Campbell's was runner-up, Howard's third. Left to right, back row: Sponsor and manager R.T. Nelson, Chic Downing, Bruce Meade, Herman Rathman, Myles Schexnaydre, Joe Young, Bill Ferguson; Front row: fan Tom Aldrich Jr., Danny Basso, Donnie Wood, Richard Willborn, Buddy Slater, Terry Perryman, batboy Mark Cantitino, Mike Parrott.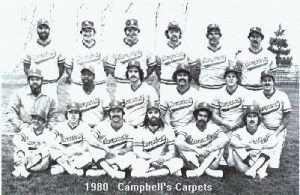 The 1980 Campbell's Carpets team from Concord, Calif. . . . won the Triple Crown in 1980 (NSPC, ASA and USSSA) . . . little pitcher Buddy Slater was the MVP in the ASA and USSSA; Mike Cellura was the MVP in the NSPC. Left to right, back row: Dick Bartel, Greg Fuhrman, Mickey McCarty, Gordon Wheeler, Bill Ferguson, Dennis Myers. Middle row: Sponsor Campbell Strange, Jerry King, Steve Williams, Elby Bushong, Mike Cellura, manager Randy Gorrell. Front row: batboy Robert Baracosa, Buddy Slater, Richard Willborn, Denny Jones, Ron Williams, Larry Lung.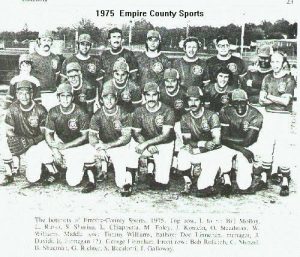 The 1975 County Sports team from Long Island, N.Y. . . . the team was managed by Hall of Famer Doc Linnehan.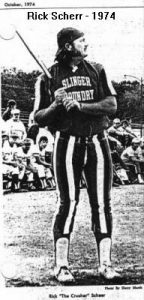 Rick "The Crusher" Scherr in 1974 in his hometown Slinger, Wis., uniform . . . he went on to play for Taylor Brothers out of Corpus Christi, Texas, then joined Howard's out of Denver, N.C., in 1977 . . . he has remained in North Carolina, still working for Howard's Furniture and entering horseshoe tournaments.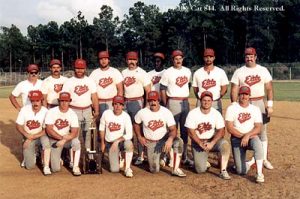 Elite of 1985 . . . one of the strongest teams ever put together, but lost to Howard's in the ISA and Steele's in the ASA, and had to come out of the losers bracket to win the USSSA . . . L-R, back row: manager Charles Hatchett, Steve Williams, Glenn Atchison, Charles Wright, Bruce Meade, Fred Trice, Gary Robertson (an added player from California for the nationals), Doug Brown, Bill Pollock; Front row: Rick Wheeler, Cecil Whitehead, Buddy Slater, Ron Ford, Bill Gatti and coach Barry Long.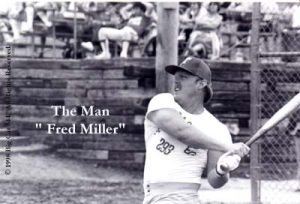 Fred Miller . . . came out of Jacksonville to start at fullback for FSU in the early 1970s . . . a wild and crazy guy who was a cheerleader when he had to sit out a season; later seen on TV at a frigid Cleveland Browns game in the Dawg Pound with no shirt on . . . played for Buddy's of Tallahassee on the slow pitch circuit in 1972-77, then in the pro softball league, winding up with Dave Neale's Nationwide Advertising team in Cleveland; played third base and hit with power from the right side of the plate, despite a glass left eye; died a few years back from a blood clot from an old football or softball injury.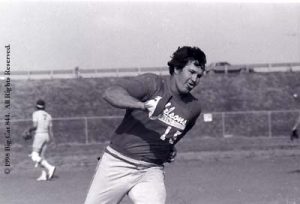 Harold Kelley . . . came out of the tiny community of New Brockton in southeast Alabama to play for Nelson's Painting of Oklahoma City in 1978, and wound up in Miami; he's still playing on the Class A level.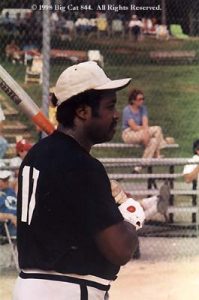 Charles Mitchell . . . came out of the tiny community of Campbellton in northwest Florida to play for Nelson's Painting of Oklahoma City in 1978, and wound up in Detroit.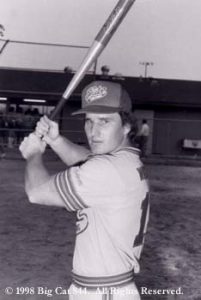 Cecil Whitehead . . . came out of Valdosta, Ga., to play for many championship teams — Elite, Smythe Sox, Steele's, Ritch's/Kirk's, Ritch's/Superior . . . a very good hitter, and a very good left fielder.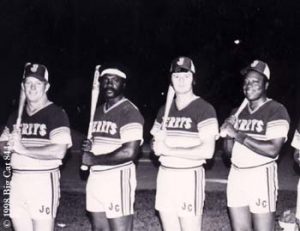 Jerry's Caterers foursome in 1980 . . . Jim Underhill, James Washington, Frank Sorrells, Fred Winston.