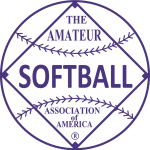 1999 held at Sanford Memorial Stadium in Sanford, Florida on August 10-12.
---
Champion – Team Easton, Burlingame, California (56-27)
Runner Up – Team TPS, Louisville, Kentucky (77-14)
---
The championship was not decided until the "if" game, here is the First Final, Team TPS 20, Team Easton 19. Team Easton, without the benefit of a home run, scored 7 in the top of the first inning. Team TPS managed only one. The last out came when left fielder Robin Higginbotham made a leaping catch at the fence on Randell Boone.
Dan Schuck hit a 2-runner against the wind in the top of the second. Johnny McCraw and Mike Shenk had back to back triples. Team Easton continued to base hit, stretching the bulge to 13-1. Mike Glasscock came out to have a meeting with his team. "Go to a 7-man infield," yelled one of the Team Easton players.
With Team TPS trailing 18 to 7 come into bat in the bottom of the 4th. Jeff Wallace's 3-run home run with 2 outs in the bottom of the fifth pulls Team TPS within 18-17. Wallace, Hank Garris and Todd Martin each have 9 home runs. "We got a ballgame going, let's go," says Team Easton's Jeff Hall. "We got a good game going." "We didn't need that zero in the (top of) fifth," said Brett Helmer of Team Easton.
Team Easton didn't need another blank in the bottom of the sixth, but that's what they got. Rusty Bumgardner and Todd Martin homered to start the bottom of the sixth, giving Team TPS the lead at 19-18. Martin's was his 10th, giving him the tournament lead. "It's a one-inning game," said Dan Schuck as Team Easton comes to bat in the top of the 7th . . . on the short end of a 19-18 score.
Team Easton is at the top of their order, Jeff Hall, Brett Helmer, Larry Fredieu, Todd Joerling and Dan Schuck. It's starting to rain. Hall raps a single. Helmer homers into the teeth of the rain and wind. 20-19 Team Easton. But wait, Hall was caught off the base before the pitch. Dead ball. Do it again, says the head umpire. "You can do it again, Brett," says Robin Higginbotham from the Team Eastons bench. "Go hard, Large," hollers another teammate. "Say you will." Helmer walks. Fredieu steps in. Fredieu flies out, to the fence in left. Joerling's turn.
Glasscock calls a timeout. Stay tuned . . . Joerling flies to deep left center (against the wind) for a sac fly. Darrell Beeler flies out. 19-19 going into the top of the 7th. John Mello leads off the bottom of the 7th with a double to left center and when the ball kicks away from Johnny McCraw and Robin Higginbotham, Mello scores.
Now onto the "IF" Game for all the marbles – Team Easton 16 defeated Team TPS 14, After Team Easton draws a blank in the top of the 6th, Home runs by Randell Boone, Doug Kissane, John Mello and Jeff Wallace put Team TPS ahead 14-12 headed for the top of the 7th. Dewayne Nevitt has 2 HR in the game, giving him 10 for the weekend. Wallace has 12 and a bunch of RBI. Darrell Beeler starts the 7th inning with a single. Johnny McCraw is robbed of a hit on diving grab by Jason Kendrick in center field. Mike Shenk sac fly makes the score 13-14. Ron Parnell gets RBI single making the score 14-14. Greg Harding gets a hit. 2 out, 2 on. J.C. Phelps called on to pinch hit. He hits grounder which kicks off Demond Thomas at third. Everybody safe.
Team Easton bench has their rally caps on. Bases loaded for Jeff Hall. He lines a single to left field, for 2 RBI. 16-14. Brett Helmer walks, bases loaded again.
Team TPS bottom of the 7th: Rusty Bumgardner flies to left. Todd Martin walks. Randell Boone walks. Bill Messina is new pitcher to start this inning. Doug Kissane hits low liner to Ron Parnell at middle infielder. He steps on second, but his throw to first for a triple play is way high. But no triple play needed. Force at second would have bee third out. Big discussion on whether Parnell trapped ball or not, or whether he got the force at secone. Long discussion. Long, long discussion. It was ruled that Boone was safe at second. Phil Jobe up with 2 outs and runners on 2nd and 3rd. Jobe pops up. Game over.
Team Easton wins 16-14 for second Grand Slam title.
---
MVP – Todd Joerling, Team Easton
HR Leader – Jeff Wallace, Team TPS – 12
Batting Leader – Brett Helmer, Team Easton – .833
---
FIRST TEAM ALL-AMERICANS
P – Greg Harding, Team Easton
C – Hank Garris, Team TPS (19-30, .633, 9 HR, 22 RBI)
1B – Dan Schuck, Team Easton (13-18, .722, 14 RBI)
2B – Tim Cocco, Hague/Resmondo/TPS (10-14, .714)
3B – Dewayne Nevitt, Team TPS (9 HR, 13 RBI)
SS – Todd Joerling, Team Easton (15-19, .789, 5 HR, 14 RBI)
OF – Doug Kissane, Team TPS (19-27, .704)
OF – Jason Kendrick, Team TPS (4 HR, 12 RBI)
OF – John McGraw, Team Easton (11-18, .611)
OF – Todd Martin, Team TPS (17-26, .654, 11 HR, 17 RBI)
EH – Brett Helmer, Team Easton (15-18, .833)
UTIL – Jeff Hall, Team Easton (12-20, .600, 3 HR)
UTIL – Ron Parnell, Team Easton (12-18, .667)
UTIL – Jeff Wallace, Team TPS (15-26, .577, 12 HR, 25 RBI)
UTIL – John Mello, Team TPS (6 HR, 13 RBI)
SECOND TEAM ALL-AMERICANS
P – Phil Jobe, Team TPS
C – Keith Brockman, R&D/Easton (11-14, .786)
1B – Tim Linson, Hague/Resmondo/TPS (6 HR)
2B – Rod Hughes, R&D/Easton (10-15, .667, 4 HR, 17 RBI)
3B – David Hood, R&D/Easton (11-15, .733, 5 HR)
SS – Dennis Rulli, JWM/Herb's/TPS
OF – Derek Oliver, Paramount/TPS
OF – Mark Creson, Dan Smith/Worth (9-12, .750, 4 HR)
OF – Dewayne Frizzell, Dan Smith/Worth (5 HR, 14 RBI)
OF – Robin Higginbotham, Team Easton
EH – Randy Kortokrax, R&D/Easton (10-14, .714, 5 HR)
UTIL – Jerald Smith, Paramount/TPS
UTIL – P.J. Jones, JWM/Herb's/TPS (7-10, .700)
UTIL – Larry Fredieu, Team Easton
UTIL – Randy Romagna, Paramount/TPS (10-14, .714)
---
OTHERS
Greg Cannedy, Dan Smith/Worth (7-9, .778)
Jim Devine, R&D/Easton (7-10, .700)
Albert Davis, Dan Smith/Worth (7-10, .700)
Mike Shenk, Team Easton (9-15, .600, 3 HR)
Wendell Rickard, Dan Smith/Worth (7-12, .583, 3 HR)
Paul Drilling, Dan Smith/Worth (5-10, .500)
Scott Striebel, Dan Smith/Worth (6-13, .462)
Robbie Ergle, Dan Smith/Worth (5-11, .455, 1 HR)
Paul Brannon, Hague/Resmondo (8 HR)
Randall Boone, Team TPS (4 HR)
Rusty Bumgardner, Team TPS (4 HR)
---
FINAL STANDINGS
1. Team Easton, Burlingame, CA (4-1)
2. Team TPS, Louisville, KY (5-2)
3. Hague/Resmondo/TPS, Columbus, OH (2-2)
4. R&D/Easton, Lima, OH (2-2)
5t. JWM/Herb's/TPS, Riverside, CA (2-2)
5t. Paramount/TPS, Virginia Beach, VA (2-2)
7t. Dan Smith/Wessell/Backstop/Worth, San Jose, CA (1-2)
7t. Watanabe/TPS, Cincinnati, OH (1-2)
9t. Creative Stucco/Easton, Columbus, OH (0-2)
9t. New/AAA/Worth, Shelbyville, IN (0-2)