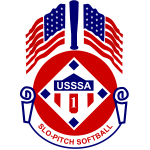 1972 held at Rochester, New York.
---
Champion – Muxworthys Ski Haus, Rochester, NY (64-4)
Runner Up – Pittsburgh Orioles, Pittsburgh, Pennsylvania
---
Stan's Auto was the big talk of this tournament. They came out of nowhere (actually New Castle, PA) and after winning their first game 19-2, lost 2nd round game to FOP Majorettes 4-3, then won 6 in a row outscoring their opponents 69-13 along the way, before being eliminated by the Pittsburgh Orioles by a 5-1 score. Orioles then beat Muxworthy 11-3 in the first final, setting up the winner take all game where Muxworthy prevailed 9-3. Pat Schmitt came into the tournament with an incredible season under her belt. She batted .507 and hit 21 Home Runs. Muxwortthy's was 5-1, The Orioles were 5-2, in third was Stan's Auto at 7-2 and the Louisville Majorettes were fourth. There were 36 teams entered in this years event.
---
MVP – Jenny Bellavia, Muxworthy
Batting Leader – N/A
HR Leader – Veronica Funera, Stan's Auto – 5
---
1972 ALL WORLD TEAM
P – Carol Aselin, Muxworthy
P – Luann Grybowski, Stan's Auto (7-2 pitching, gave up 23 runs in 9 games)
C – Pat Schmitt, Muxworthy (11-20, .550)
1B – Veronica Funera, Stan's (20-36, .556, 5 HR)
1B – Sue Dixon, Pittsburgh Orioles
2B – Linda Donofrio, Muxworthy
3B – N/A
SS – Debbie Cecere, Pittsburgh Orioles
OF – Jenny Bellavia, Muxworthy
OF – Sharon Kowalski, Muxworthy
OF – N/A
OF – N/A
Manager – Duane McCoy, Muxworthy
---
OTHERS
Lynn Runyon, Stan's Auto (14-27, .519)
---
FINAL STANDINGS (Incomplete – 36 total teams)
1. Muxworthy's Ski Haus, Rochester, NY (6-1)
2. Pittsburgh Orioles, Pittsburgh, PA (5-2)
3. Stan's Auto, New Castle, PA (7-2) 100-11 season record
4. FOP Majorettes, Louisville, KY
5. Penn Hills, Pittsburgh, PA