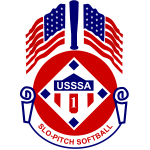 1997 held at Kalamazoo, Michigan.
---
Champion – Taylor's, Glendale, Maryland
Runner Up – UPI/Kinder/TPS, Baxter, Tennessee
---
Taylor's of Maryland came through the losers bracket and did what was though to be impossible, beat UPI/Kinder/TPS two times in a row to claim the title. UPI had beat Taylors 13-6 in the Winner's Bracket final. Taylor's then eliminated Carolina Rockets to gain the title berth. Taylor's had an inning for the ages in the first final as they scored 17 runs on 14 hits and 3 walks to take a commanding lead. UPI came back as close to 22-18, but Taylors responded with 4 more runs to take the first final 26-18. The Final game was much of the same. Taylors jumped out to an 18-7 lead, then UPI chipped away until it was 18-15. Taylor's held on with some great defense to defeat UPI 20-17 and claim the Women's World Series title.
---
MVP – Robin Baxter, Taylor's (12-17, .706)
Batting Leader – Heather McAdam, Uniform Pro Mice (12-15, 1 HR) – .800
Batting Leader – Cheryl Wojcik, Carolina Rockets (12-15) – .800
HR Leader – Bev Lovett, Cannan's Illusions (11-20, .550) – 2
HR Leader – Lynnie France, UPI/Kinder/TPS (14-19, .737) – 2
HR Leader – Tracy Keefer, Carolina Rockets (21-27, .778) – 2
HR Leader – Karen Cella, Uniform Pro Mice (9-17, .529) – 2
HR Leader – Chris Hixon, Lady Zapp (11-18, .611) – 2
Defensive MVP – Paige Nichols, Taylor's
Offensive MVP – Michelle Thompson, UPI/Kinder/TPS (13-18 .722)
---
1997 ALL WORLD TEAM
P – Lois Buckmaster, Taylor's (10-20, .500)
C – Cheryl Wojcik, Carolina Rockets (12-15, .800)
C – Sharon Dudley, Taylor's (12-20, .600)
1B – Carolyn Fierro, UPI/Kinder/TPS (12-17, .706)
2B – Theresa Ruby, UPI/Kinder/TPS (8-16, .500)
3B – Robin Baxter, Taylor's (12-17, .706)
3B – Tracy Kee, Carolina Rockets (17-22, .773)
SS – Tracy Keefer, Carolina Rockets (21-27, .778, 2 HR)
OF – Nancy Archer, Taylor's (15-23, .652)
OF – Kathy Riley, Cannan's Illusions (15-19, .789)
OF – Kayla Miller, Cannan's Illusions (11-16, .688)
OF – Heather McAdam, Uniform Pro Mice (12-15, .800, 1 HR)
OF – Lynnie France, UPI/Kinder/TPS (14-19, .737, 2 HR)
OF – Michelle Thompson, UPI/Kinder/TPS (13-18, .722)
OF – Paige Nichols, Taylor's (12-21, .571)
OF – Allison Cole, UPI/Kinder/TPS (12-18, .667)
Manager – Annette Summers, Taylor's
---
OTHERS:
Pam Nelson, McLaughlin's Oil (11-13) – .846
Lori Erpenbeck, Cannan's Illusions (13-19, .684)
Marie Pesch, Cannan's Illusions (11-19, .579, 1 HR)
Bev Lovett, Cannan's Illusions (11-20, .550, 2 HR)
Sandy MaderCannan's Illusions (11-20, .550)
Leslie Kantor, Carolina Rockets (13-25, .520, 1 HR)
---
FINAL STANDINGS (Incomplete – 16 teams)
1. Taylor's, Glendale, MD (6-1)
2. UPI/Kinder/TPS, Baxter, TN (4-2)
3. Carolina Rockets, Archdale, NC (4-2)
4. Cannan's Illusions/TPS, San Antonio, TX (3-2)
5t. Uniform Pro Mice, East Northport, NY (3-2)