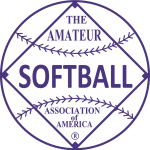 1972 held at York, Pennsylvania.
---
Champion: Riverside Ford, Cincinnati, Ohio (60-11)
Runner Up: Satellite Beach Comets, Satellite Beach, Florida (59-16)
---
Comets forced the championship to a second game with a 4-3 win, but Riverside Ford won the final game 5-4 on a 2-out single that plated the tying and winning runs. Gail Fitzgerald (15-26, .577) and Nancy Oldham (18-34, .529, HR, 9 RBI) lead the Comets.
---
MVP – Sue Malcolm, Riverside Ford (14-27, .529, 1 HR, 4 RBI)
Batting Leader – Susan Smith, Acme Rebelletes (11-19, 1 HR, 4 RBI, 11 Runs) – .579
Home Run Leader – Connie Schnell, Louisville (10-21, .476, 4 RBI) – 3
Home Run Leader – L. Thomas, Detroit (9-12, .429, 12 RBI) – 3
---
1972 FIRST TEAM ALL AMERICANS
P – Judy Hedgecock, Satellite Beach Comets
P – Marsha Replogle, Riverside Ford
C – Marty Sibley, Acme Revellettes
C – Gail Fitzgerald, Satellite Beach Comets
1B – Rita Clanton, Acme Revellettes
2B – Debbie Bush, Acme Revellettes
3B – Sue Malcolm, Riverside Ford
SS – Nancy Oldham. Satellite Beach Comets
OF – Sharon Harris, Satellite Beach Comets
OF – Velma Lehman, Riverside Ford
OF – Connie Schnell, Hi-Landers
OF – Judy Blucker, Fotochrome Dots
UT – Diane Heilman, York Barbellets
UT – Corliss Bivan, Hi-Landers
1972 SECOND TEAM ALL AMERICANS
P – Millie Medina, Fotochrome Dots
P – Ann Paules, York Barbellets
C – Clara Cochran, Springfield Robinettes
C – Vicki Lollar, Motown Soul Sisters
1B – Karen McGrath, Satellite Beach Comets
2B – Charlotte Howza, Motown Soul Sisters
3B – Sharon Johnson, Springfield Robinettes
SS – Linda Polley, Avantis
OF – Vicki Stambaugh, Riversde Ford
OF – Marcia Mueller, Hi-Landers
OF – Beatrice Lollar, Motown Soul Sisters
OF – Susan Smith, Acme Revellettes
UT – Jenny Johnson, Satellite Beach Comets
UT – Sharon Holtzapple, York Barbellets
---
FINAL STANDINGS
1. Riverside Ford, Cincinnati, OH (6-1)
2. Satellite Beach Comets, Satellite Beach, FL (8-2)
3. Acme Revellettes. Montgomery, LA (4-2)
4. Hi-Landers, Louisville, KY (4-2)
5t. York Barbellettes, York, PA (3-2)
5t. Fotochrome Dots, Miami, FL (5-2)
7t. Robinettes, Springfield, OH (4-2)
7t. Motown Soul Sisters, Detroit, MI (3-2)
9t. Willowood Nursing Home, Cleveland, OH (3-2)
9t. Avantis, Minneapolis, MN (3-2)
9t. Rebel Drive-In, Chattanooga, TN (2-2)
9t. Kings, Billings, MT (2-2)
13t. Long Island AC Mice, Long Island, NY (2-2)
13t. Raney Tire, Cleveland, OH (2-2)
13t. Hensley's, Charlottesville, VA (2-2)
13t. Gators, Ft. Lauderdale, FL (2-2)
17t. Alamo National Bank, San Antonio, TX (1-2)
17t. Fox Valley Lassies, St. Charles, IL (1-2)
17t. Frisch's Big Boys, Sidney OH (1-2)
17t. Browne's, Hays, KS (1-2)
17t. East End Debs, Pittsburgh, PA (1-2)
17t. Block-Meeks Jacks, Little Rock, AR (1-2)
17t. The Virginians, Virginia Beach, VA (1-2)
17t. Yellow Jackets, Essex Junction, VT (0-2)
25t. Rock-n-Gans, Kansas City, KS (0-2)
25t. Rubi-Otts, Greensboro, NC (0-2)
25t. Hamilton Towing, Bellingham, WA (0-2)
25t. Salvation Army, York, PA (0-2)
25t. Chavez Construction, Espanola, NM (0-2)
25t. MHA Royals, Santa Rosa, CA (0-2)
25t. Hawaii ASA, Honolulu, HI (0-2)
25t. Allies, East Greenwich, RI (0-2)