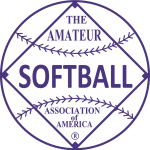 1967 held at Sheboygan, Wisconsin.
---
Champion: Ridge Maintenance, Cleveland, Ohio
Runner Up: Dana Gardens, Cincinnati, Ohio (33-4)
---
Dana Gardens defeated Publix, from Lakeland, FL to win their 6th game of the tournament. They needed to win the 7th and 8th to win it all. It wasn't meant to be. The Best Women's Slow Pitch team ever assembled that previously won National Championships in 1957 and finished 3rd in 1958. Then in 1962, started a string of excellence that would have them win National Titles in 1962, 1963 and 1964. Their national record was 14-0. In 1965, they finished 5th, but came back in 1966 to go 7-1 and capture the title once again. This year, 2nd place is the best they could do (6-2 record). The teams national record in the 1960s was 29-5. it took a good young team like Ridge Maintenance to defeat the Cincinnati squad. They did so by defeating the defending champs 6-4 in the winner's bracket final and then 4-3. In the final game, Ridge scored 3 runs in the 4th inning to take a 4-1 lead they would never relinquish. The Cincinnati club came back and scored 2 runs in the 7th inning, but fell just short in the 4-3 loss. Ida Jean Hopkins was named MVP for her exceptional play and leadership. This tournament was so balanced, that only one team placed more then one player on the all tournament team. The championship team, Ridge Maintenance from Cleveland had one player on the team, MVP Ida Jean 'Hoppy' Hopkins. Hopkins went 1-2 and scored a run in the championship game. BeeJay Tausch of Ridge scored the tying run and drove in the winning run for Ridge.16 year old Shortstop Jenny Johnson had 2 hits to lead Dana Gardens, She was 11-22 (.500) in the tournament and batted .502 on the season.
---
MVP – Ida Jean Hopkins, Ridge (1-2 with run scored in 4-3 final)
Home Run Leader – Sue Palmer, Peterson (.410) – 4
Batting Leader – N/A
---
1967 FIRST TEAM ALL AMERICANS
P – Betsy Harrill, Publix Tigers (5-2 record)
C – Erma Richardson, Dana Gardens
1B – Susan Clark, Steele Concrete
2B – Pete Brown, Steele Concrete
3B – Foxie Kellum, Carter Furniture
SS – Ida "Hoppy" Hopkins, Ridge Maintenance
SF – Marsha Smaltz, Portsmouth Merchants
LF – Millie Ruen, Columbus Redbirds
CF – Marilyn Busse, Publix Tigers
RF – Kathy Walz, Rutenschroer Florist
---
FINAL STANDINGS
1. Ridge Maintenance, Cleveland, OH (6-0)
2. Dana Gardens, Cincinnati, OH (6-2)
3. Publix Tigers, Lakeland, FL (5-2)
4. Rutenschroer Florist, Cincinnati, OH (5-2)
5t. Merchants, Portsmouth, VA (5-2)
5t. Soul Sisters, Detroit, MI (4-2)
7t. Peterson, Oconomowoc, WI (3-2)
7t. Carter's, Jacksonville, FL (3-2)
9t. Rebel Drive-In, Chattanooga, TN (3-2)
9t. Steele Concrete, Burlington, NC (3-2)
9t. Jerry's, Lexington, KY (3-2)
9t. Jeffersonville, Louisville, KY (3-2)
13t. Windy Tap, Milwaukee, WI (2-2)
13t. Avanti's, Minneapolis, MN (2-2)
13t. All-Sports, Great Falls, MT (2-2)
13t. Martin, New Orleans, LA (2-2)
17t. Redbirds, Columbus, OH (2-2)
17t. Casey's, North Little Rock, AR (2-2)
17t. Poolettes, Sheboygan, WI (1-2)
17t. Berry Jinx, Omaha, NE (1-2)
17t. Toni, St. Paul, MN (1-2)
17t. Lassies, St. Charles, LA (1-2)
17t. Continentals, Indianapolis, IN (1-2)
17t. Fansler, Garden City, KS (1-2)
25t. First Methodist, Atlanta, GA (1-2)
25t. Hofbrau, Brooklym Center, MN (1-2)
25t. Jorgen Giesler, St. Louis, MO (1-2)
25t. Spindler, Columbus, MS (0-2)
25t. Andrew, Rome, GA (0-2)
25t. Park, Charleston, WV (0-2)
25t. Maumee, Toledo, OH (0-2)
25t. Moosettes, Anchorage, AK (0-2)
33t. Royals, Monroe, MI (0-2)
33t. Merry Players, Fargo, ND (0-2)
33t. Remington, Bridgeport, CT (0-2)
33t. Nonotuck, South Hadley, MA (0-2)