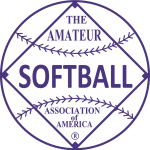 1958 held at Cleveland, Ohio.
---
Champion – East Side Sports, Detroit, Michigan
Runner Up – Sheffield Bronze, Cleveland, Ohio
---
In 1958 the Open and Industrial were combined into one tournament. East Side defeated Sheffield 8-5 in the winners bracket final on the strength of Frank Panski's 2 triples, a home run and 4 RBI. accounting for half the teams runs.  East Side had just defeated Helf Builders 17-7 on the strength of home runs by Panski, Joe Gauci and George Banchui. Sheffield advanced to the championship game by defeating Boone's Bar of Kentucky 10-1 as Ron Annotico hit a pair of 3-Run HR for Sheffield. In the Championship game, East Side Sporting Goods beat Sheffield 7-4. George Corona of East Side pitched the victory, hit 2 HR and added 4 RBI to lead the Detroit squad to the title George Branchui chipped in with a solo HR for good measure. Corona led the East Side bats in both homers and batting average. East Side's Joe Gauci, who played the season with Sox's Inn and was a pickup for East Side for the National Tournament helped the defense turn multiple double plays from his short fielder position. East Side went 6-0 in the tournament. The Detroit squad won their first game rather easily over Staten Island Stape Darts 7-1. They then came from behind and defeated Dapper Dan's of PA 6-5 on a walk off Home Run by pinch-hitter Carl Cantinella. The  next game saw the same situation as Detroit defeated defending champ, Gatliff Auto of KY. Gatliffs had 17 hits in the game, but only 6 runs, due to the defense of the Detroiters who turned six double plays in the game. With the game tied at six, going into the bottom of the 10th inning, two outs and third basemen Phil Gallo came to bat. He got a hold of one of Vern Robert's pitches and when it landed on the other side of the left field fence, the East Side team had done it again.
---
MVP – Joe Gauci, East Side Sports (Clutch hits and great defensive plays from short fielder position)
HR Leader – Ron Annotico, Sheffield Bronze – 6
Batting Leader – Ron Annotico, Sheffield Bronze (13-21) – .619
Industrial MVP –  Milt Kress, Turbine Jets
Industrial Home Run Leader – Dick Luken, Cincinnati Firefighters – 6
Industrial Batting  Leader – Ralph Rengering, Cincinnati Firefighters (17-25) – .680
---
1958 ASA MEN'S OPEN SLOW PITCH ALL-AMERICAN FIRST TEAM
P – Chuck Jacobs, Sheffield
C – Dick Luken, Cincinnati Firefighters – (Industrial Player)
1B – Frank Panski, East Side Sports
2B – Roy Lombardo, East Side Sports
3B – Milt Kress, Turbine Jets – (Industrial Player)
SS – Walt Wherry, Boone's Bar
SF – Joe Gauci, East Side Sports
LF – Chuck Comella, Sheffield
CF – Ron Annotico, Sheffield (13-21, .619, 6 HR)
RF – Walt Kunz, Turbine Jets – (Industrial Player)
---
OTHERS
Sam Minnitti, Hamilton Tailors (6-2 Pitching)
---
FINAL STANDINGS
1. East Side Sporting Goods, Detroit, MI (6-0)
2. Sheffield Bronze, Cleveland, OH (5-2)
3. Boone's Bar, Covington, KY (5-2)
4. Hamilton Tailoring, Cincinnati, OH (6-2)
5t. Ghezi Chevrolet, Spencer, MA (4-2)
5t. Helf Builders, Cleveland, OH (3-2)
7t. Gatliff Auto Sales, Newport, KY (3-2)
7t. Mt. Carmel Rec, Worcester, MA (3-2)
9t. Lambrecht's, Milwaukee, WI (3-2)
9t. Dapper Dan's, Vandergrift, PA (3-2)
9t. Viking Insurance A.C., Wantagh, NY (3-2)
9t. McAdenville Reds, McAdenville, NC (2-2)
13t. Parker's Market, Portsmouth, VA (2-2)
13t. Woody's Market, Dayton, OH (2-2)
13t. Manuel & Poulos Construction, Biloxi, MS (2-2)
13t. Warren A.C., Warren, OH (2-2)
17t. House of Champions, Syracuse, NY (1-2)
17t. Contract Plating, Stratford, CT (1-2)
17t. South Knoxville Merchants, Knoxville, TN (1-2)
17t. Snafu Club, Sheboygan, WI (1-2)
17t. Willie's Tavern, Mobile, AL (1-2)
17t. Arlington A.C., Pittsburgh, PA (1-2)
17t. Jordan Motors, San Antonio, TX (1-2)
17t. Scarsdale Black Sox, Scarsdale, NY (1-2)
25t. Cincy Mat Stoppers, Staten Island, NY (0-2)
25t. B&B Tavern, Grove City, OH (0-2)
25t. Northern Scrap Iron, Minneapolis, MN (0-2)
25t. Ted's Place, Toledo, OH (0-2)
25t. South Albany, Albany, GA (0-2)
25t. Stape Darts, Staten Island, NY (0-2)
25t. Homer's Boys, Louisville, KY (0-2)
25t. Mt. View, Fredericksburg, VA (0-2)