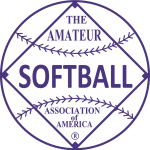 1950 held at Austin, Texas.
---
Champion – Clearwater Bombers, Clearwater, Florida
Runner Up – Tip Top Tailors, Toronto, Ontario, Canada
---
Charles Justice, Tip Top Tailors (5-2, 40 K, 49 IP, won 3 straight on last day, including a 4-0 shutout over Houston, before losing the final 1-0 to the Bombers, Justice gave up a run in the first inning, then pitched shutout ball for the rest of the game. His team could not get anything going against Clearwater's John Hunter as he pitched a 2-hitter and struck out 13 batters. Justice was one of the Toronto players to get a hit off Hunter, along with teammate, Roy Palmeri). The other loss Justice had was against the Bombers in one of the opening round games, 1-0.
Herb Dudley and John Hunter, Bombers (both 2-0, Combined for 4 shutouts, Hunter with a 1-0 two-hitter in final, 13 Ks). Dudley also batted .444 (he was 4 for 9 and played OF one game)
Herb Dudley (2-0, 19 IP, 25 Ks, gave up 0 ER, -no hitter) and John Hunter, Bombers (2-0, 14 IP, 29 Ks,0 ER/3 hits) won 4 of the Bombers 5 wins. The Bombers other win was a 7-0 forfeit win over Grumman Yankees.
Buster Zeigler drove in Eddie Moore with the eventual winning for Clearwater in the 1-0 Championship game. Both Zeigler and Moore were 2-3 in the game
Percy McConner (From Pontiac, MI), Tip Top Tailors – Pitched the other 2 victories for Toronto, one was a 1-0 perfect game over the Phillips 66 Oilers.
The Bombers were awarded a win via forfeit over the Grumman Yankees. Clearwater scored a run in the 5th inning on a close play and the Grumman catcher argued the call and was ejected by the umpire. The Grumman players left the field and when they did not return by a specified time, the game was awarded to Clearwater 7-0. Herb Dudley and Roy Stephenson were both engaged in a nice pitcher's dual at the time of the forfeit. No stats counted for this game.
The 1950 Clearwater Bombers went through their local District, State, Regional and National tournament without allowing a single run to be scored on them.
---
MVP – Charles Justice, Tip Top Tailors
Batting Leader – Eddie "Tyranski" Tyson, Briggs Beautyware – .615
Sportsmanship Award – Roy Stephenson, Grumman Yankees (5-1, 34 K, 37 IP)
---
FIRST TEAM ALL AMERICANS
P – Charlie Justice, Tip Top Clothiers
P – Herb Dudley, Clearwater Bombers
P – Julian Kujawa, Downtown Chevrolet
C – Harry Hancock, Clearwater Bombers
1B – Pat Marotta, Grumman Aircraft
2B – George Fowler, Grumman Aircraft
3B – Eddie "Tyranski" Tyson, Briggs Beautyware (8-13, 3 Runs)
SS – John Chestnut, Clearwater Bombers
OF – Herman "Buddy" Weise, Nixon Clay
OF – Shelly Miley, Tip Top Clothiers
---
FINAL STANDINGS
1. Clearwater Bombers, Clearwater, FL (5-0) * (Southern)
2. Tip Top Tailors, Toronto, ON 7-2 (Defending Champ)
3. Downtown Chevrolet, Houston, TX (3-2) (Texas)
4. Grumman Aircraft Yankees, Bethpage, NY (5-2) * (Mid-Atlantic)
5t. Briggs Beautyware, Detroit, MI (2-2) (East Central)
5t. Napa Merchants, Napa, CA (2-2) (North Pacific Coast)
7t. Friberg Electric, Portland, OR (2-2) (Northwestern)
7t. Phillips 66 Oilers, Okmulgee, OK (2-2) (Southwestern)
9t. Stephens-Adamson Sealmasters, Aurora, IL (2-2) (West Central)
9t. Trenton Democrats, Baltimore, MD (1-2) (Central Atlantic)
9t. Nixon Clay, Austin, TX (1-2) (Host)
9t. VFW Post #61, Pueblo, CO (1-2) (Rocky Mountain)
13t. Club Chapulyepec, Mexico, City, Mexico (1-2) (Mexico)
13t. Hickham Field Flyers, Honolulu, HI (0-2) (US Air Force)
13t. Raybestos Cardinals, Stratford, CT (0-2) (North Atlantic)
13t. Union Wire Rope, Kansas City, MO (0-2) (Western)
17t. Chicksan Club, Brea, CA (0-2) (South Pacific Coast)
17t. Rossevelt Grill, Bismarck, ND (0-2) (Northern)
* Clearwater was awarded a forfeit victory over Grumman leading 1-0 in the 5th inning. There was a close play at the plate when the Bombers scored their run and an argument ensued. The Grumman catcher was ejected. The Grumman players left the field and when they did not return by the specified time limit, a forfeit victory was awarded to Clearwater.
---
NOTES
Canada Champ – Peoples Credit Jewelers, Toronto, ON (Canada) could not attend. Chicksan Club, Brea, CA went in place of Crown Carpets, San Diego, CA, who could not attend.